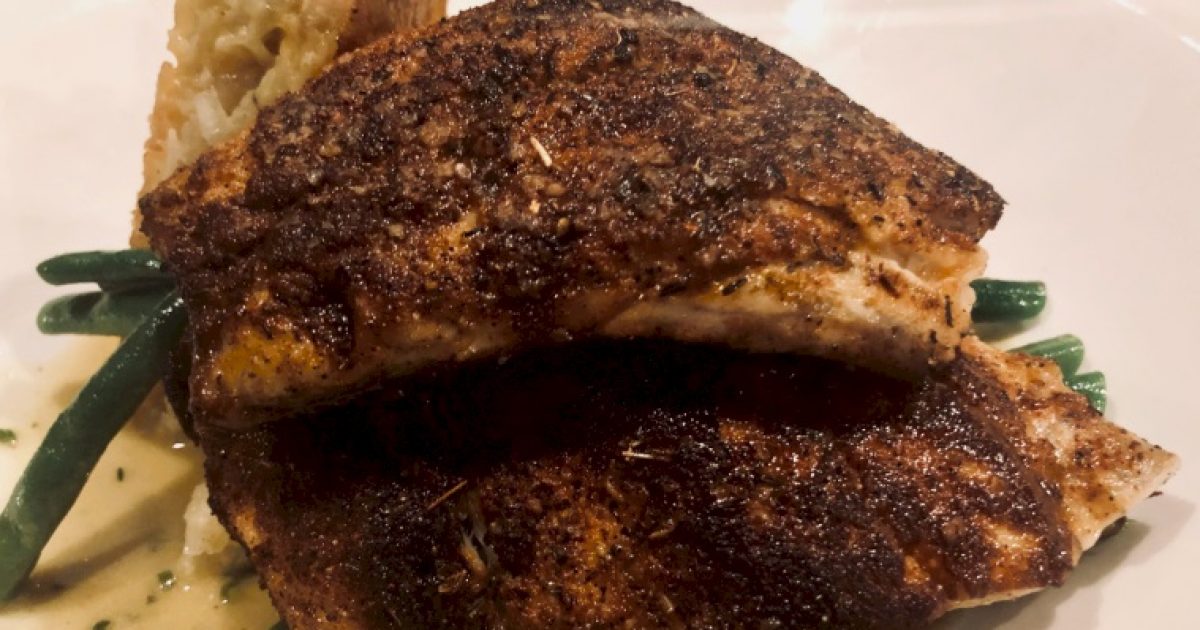 Who knew the New York subway system had installed time machines on certain lines. How else to explain a seafood grill cum oyster bar in nearby Astoria that features oysters at $1 a piece every Monday and clams at equally pre-inflationary prices on Thursdays?
Those are just two of the attractions at Off the Hook, a cozy haunt owned and operated by Albanian-born Glenn Fejzulla, who doubles as chef, and Bes Levonja, who works the front of the house. The restaurant prides itself on locally sourced fish and produce. Even the drink mixers are made in house.
You enter to the rustic bar and past a pair of rough-hewn swings on large chains to the narrow dining room beyond. Butcher-block tables are quite cheek-to-cheek, which doesn't make for much private conversation, but we did enjoy stealing a peek at the next table's dinner choices, and making a few friends as the evening progressed.
The cocktail menu features unusual twists on classics, including a dark n' stormy with a fresh ginger reduction and a not so-old fashioned that adds sorrel and sour cherry to the standard whisky tipple. The bisongrass martini, made with bison grass vodka, picks up a vegetal note from muddled cucumber and has just enough jalapeño and lime to tickle your taste buds. Rum flights and an extensive menu of both exotic and domestic rums, as well as a hearty selection of beer and wine, round out the liquid offerings.
The selection of those buck-a-pop oysters varies from day to day. The day of my visit there were blue points, which were large and lightly briny. The raw bar also features little necks, a shrimp cocktail, and the shareable "all in platter" — three clams, three oysters, mussels, three shrimp, and cocktail sauce. Lump crabmeat and snow crab are also available to add on, if you're feeling expansive.
The lobster mac n' cheese combined sharp and mild cheddar, panko breadcrumbs, and pancetta along with sweet and tender chunks of the aforementioned crustacean. The dish arrived bubbling hot, with just enough cheese to create a gooey, luxuriant texture while letting the pasta remain al dente.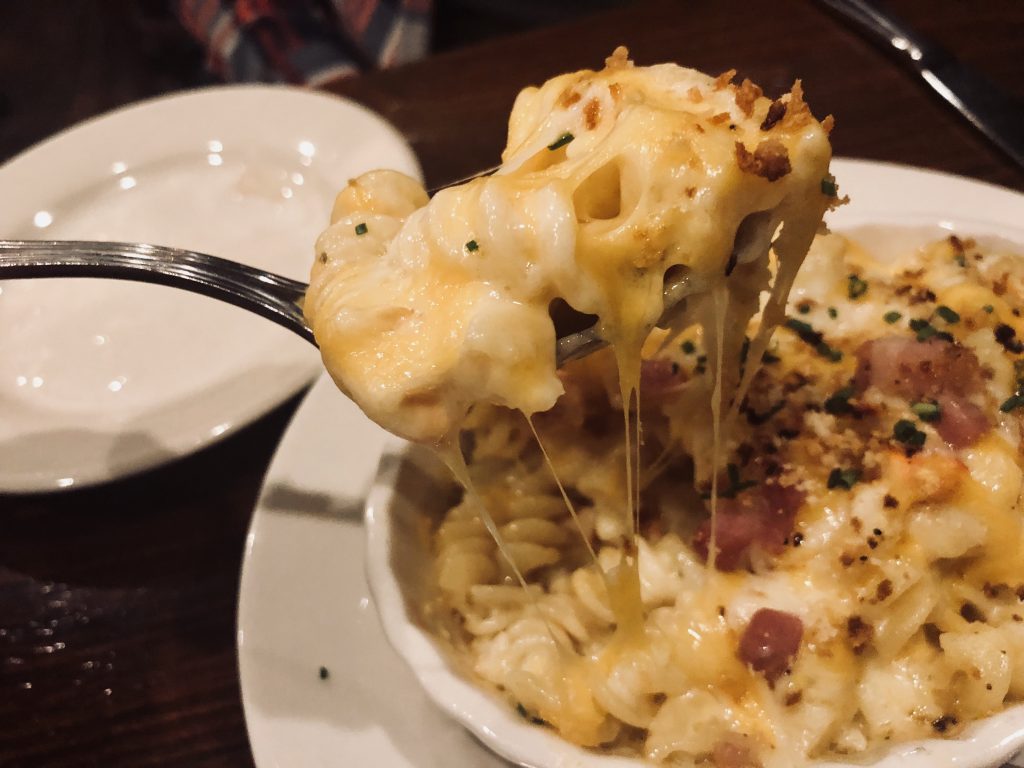 The catch of the day when I visited was barramundi moistened by a fruity coconut-basil sauce. This light, flaky white fish has a tendency to dry out quickly, but Off the Hook nailed it cooking-wise. The blackened, spice-rubbed exterior gave way to a moist interior. A house-made cassava cake, a Vietnamese staple that is similar in texture to a quiche but with a crunchy bite, made for an interesting and unusual starch.
Myers's [sic] spiced chicken was a hearty half grass-fed chicken marinated in a blend of Myers rum, jerk seasoning, and tamarind sauce. The result tasted like a Jamaican answer to BBQ, with a slightly warming spice, courtesy of the rum. The chicken was accompanied by rice and beans and mango coleslaw.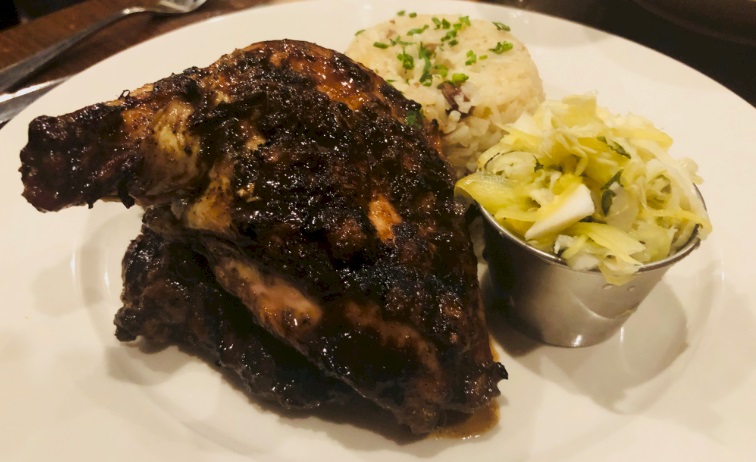 We experienced some serious main course envy when an order of "Off the Hook boil" was delivered to the next table. The powerfully fragrant mélange featured Maryland blue crabs, mixed seafood, rice, and Argentinian sausage. The Maine lobster roll is also on our list for our next visit.
Price range: $9 to $15 for starters and sandwiches; $19 to $25 for mains, $6 to $13 cocktails and drinks.
Off the Hook, 28-08 34th Street, Astoria, Queens; 718-721-2112, Open for lunch and dinner seven days a week, brunch on weekends. Get there via the N and Q to 30th Ave or Astoria Blvd. All major credit cards accepted.