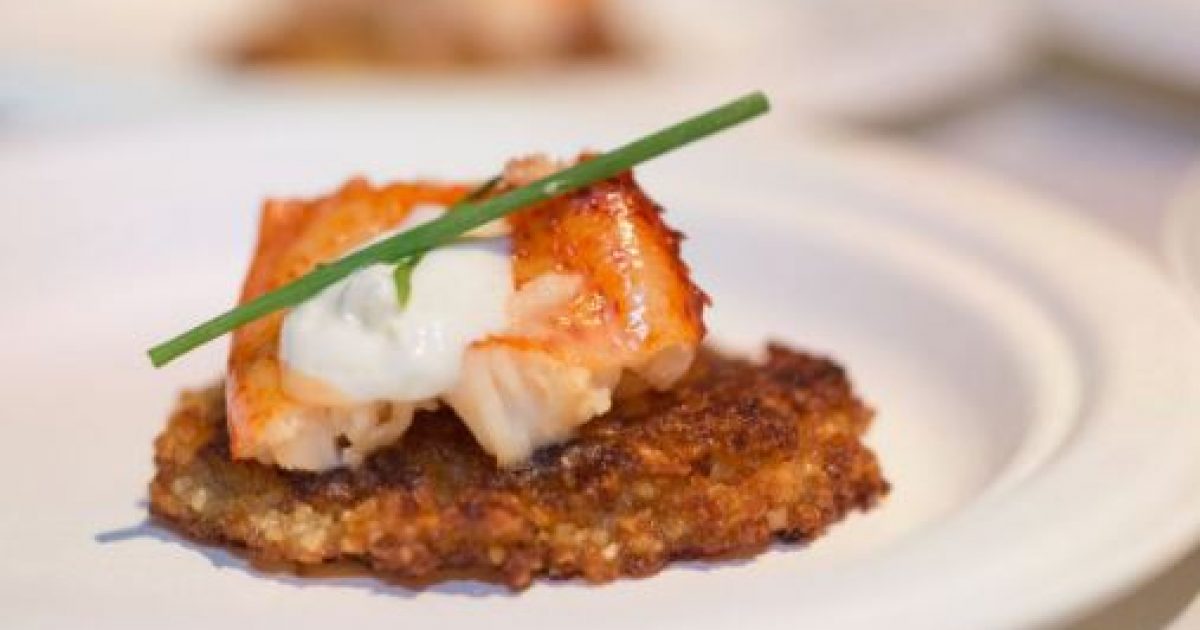 The ninth annual Latke Festival, one of the tastiest events on New York City's foodie calendar, will celebrate the scrumptious versatility of the potato pancake on Monday, Dec. 18 at the Brooklyn Museum.
Presented by Great Performances, the sustainability-oriented New York City catering company, the beloved Hanukkah tradition will showcase twenty-plus latke creations, from the classic to the decadently imaginative.
Popular Latke Festival veterans such as Baz Bagel, Benchmark, Burger & Lobster, Kulushkat, Shelsky's of Brooklyn, and Veselka will join first-timers like FryGuys, Loreley Beer Garden, and Tudor City Steakhouse in the museum's stunning glass-enclosed lobby pavilion.
Among the offerings competing for top latke honors at the ninth edition of the event will be a daikon radish latke with tea-smoked duck and orange hoisin (Kings County Imperial); a beet latke with onions, carrots, and horseradish (R&D foods); a plantain latke with shrimp ceviche and jalapeño cilantro crema (The Norm at the Brooklyn Museum); and a potato latke (natch!) with rock shrimp and spicy lobster sauce (Garden Court Café).
Latke lovers will vote for their favorite to determine "People's Choice" Best Latke, while a panel of influencers and food experts will determine the "Judges' Choice" Best Latke. This year's judges include: Jimmy Carbone, restaurateur and Heritage Radio Network host; Peter Kim, executive director of the Museum of Food and Drink; David Sugarman, CEO of Manischewitz; Scott Wiener of Scott's Pizza Tours, and Sarah Zorn, food editor of Brooklyn magazine. Returning for a second consecutive year to the panel of judges are Alicia Glen, deputy mayor of the City of New York, and David Berliner, the Brooklyn Museum's president and COO.
As in past years, proceeds from the Latke Festival will benefit The Sylvia Center, a nonprofit dedicated to inspiring young people to become healthy eaters and advocates for healthful food in their communities.
Tickets can be purchased here for $70, which includes unlimited latke tastings; wine, beer, cocktails and non-alcoholic beverages. A $120 ticket grants exclusive access to the VIP Lounge, which boasts specialty cocktails and bar snacks.
The Brooklyn Museum, 200 Eastern Parkway, Brooklyn.