Last week we suggested giving the booze-lover in your life who has everything a subscription to HOOCH, a service that provides members with a drink a day at top bars and restaurants.
But what if there's more than one alcohol enthusiast on your gift list? You don't want to look like thoughtless or unimaginative by giving everyone the same present. Here is a way out of that dilemma.
Belt Buckle Beer Holder
This is an essential for the three-fisted drinker. Made of a zinc alloy, this handsome belt accessory is not only decorative but practical. As the video below demonstrates, the buckle opens into a holder for a bottle or can of beer (or any beverage, for that matter).
The novelty item is available for $29.99 at This Is Why I'm Broke.
Gin-Making Kit
We're well past the era of bathtub gin, but we're also into the era of home-brewing, which has become a multi-million-dollar industry. And if you're going to brew your own beer, why not distill your own gin?
The Bootleg Botanicals Gin Infusion Kit ($35), available at World Market, will allow your favorite martini enthusiast to handcraft his own Prohibition-style gin. Well, actually it's not quite Prohibition-style, which is to say that making honest-to-pete moonshine is still illegal. What this kit makes is "compound" gin (aka, infused vodka), which still tastes pretty close to the real thing.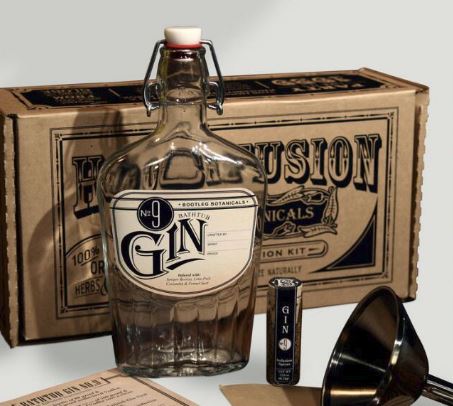 Booze-Infused Jerkygram
"Beef jerky and alcohol are the twin pillars of human sustenance," begins the spiel for this gift idea at Man Crates. Whether you or anyone on your holiday shopping list shares that sentiment, we've sampled the end product — i.e., "inebriated" meat — and it's pretty tasty.
The assortment includes beef jerky beef infused with the flavor variously of dark ale, Cabernet, Caribbean rum, and whiskey. The assortment sells for $44.99.
Zirkova One+Together
Some vodka aficionados prefer drinking the elixir straight up. Others appreciate it mixed. This gift idea from Zirkova, is targeted at both.
The brand is offering a holiday package called Zirkova One+Together that combines a bottle of Zirkova One and another of Zirkova Together in an attractive case.
Zirkova One is meant to be enjoyed neat, on the rocks, or in a martini. We tried it straight-up and chilled, and found it to be remarkably delicate, with a smooth finish and velvety mouth feel.
Zirkova Together is made for mixing. We sampled it in both a Moscow mule and a cosmopolitan and found that it blended nicely, exhibiting none of the sharp edges we've encountered with other vodkas.
The set is actually $75.00, with a single bottle at $35.00. It can be found at Astor Wines & Spirits.
See also…