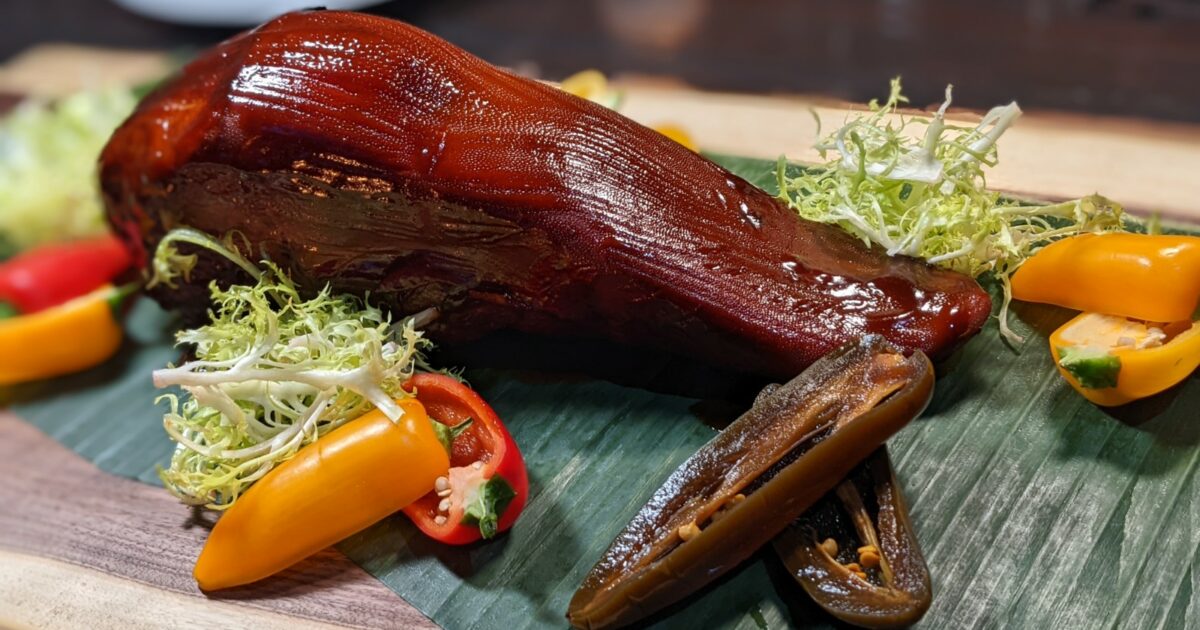 Although I love most offal, tongue is not an organ I go out of my way to eat, probably because my first exposure to it as a young child was to the pickled variety acquired from a kosher-style deli. I guess my prejudice against attempting to chew any food with the tensile strength of shoe leather has stayed with me despite my discovery decades ago that tongue in the right hands can be wondrously tender.
One pair of hands that has it right are those belonging to Chung Chow, chef and co-owner of the Michelin-recognized Hawaiian restaurant noreetuh. Chow recently added a whole full-format beef tongue to the menu, which he prepares by sous viding it for eight hours, then roasting and painting it with char siu.
The finished tongue is presented to the table whole, then taken back to the kitchen and sliced into thin strips. When it returns minutes later, it is in the company of steamed split buns, house-pickled vegetables, kimchi, a scallion herb salad, and a hoisin mustard sauce. The tongue itself is remarkably buttery, not dissimilar in flavor to pork belly.
The whole tongue feeds 4 to 6 people and requires 24 hours advance notice. The price is $195.
noreetuh, 128 First Avenue (bet. E. 7th St. and St. Marks Place), 646-892-3050, is open Wednesday through Sunday for dinner and Saturday and Sunday for brunch.
See also…