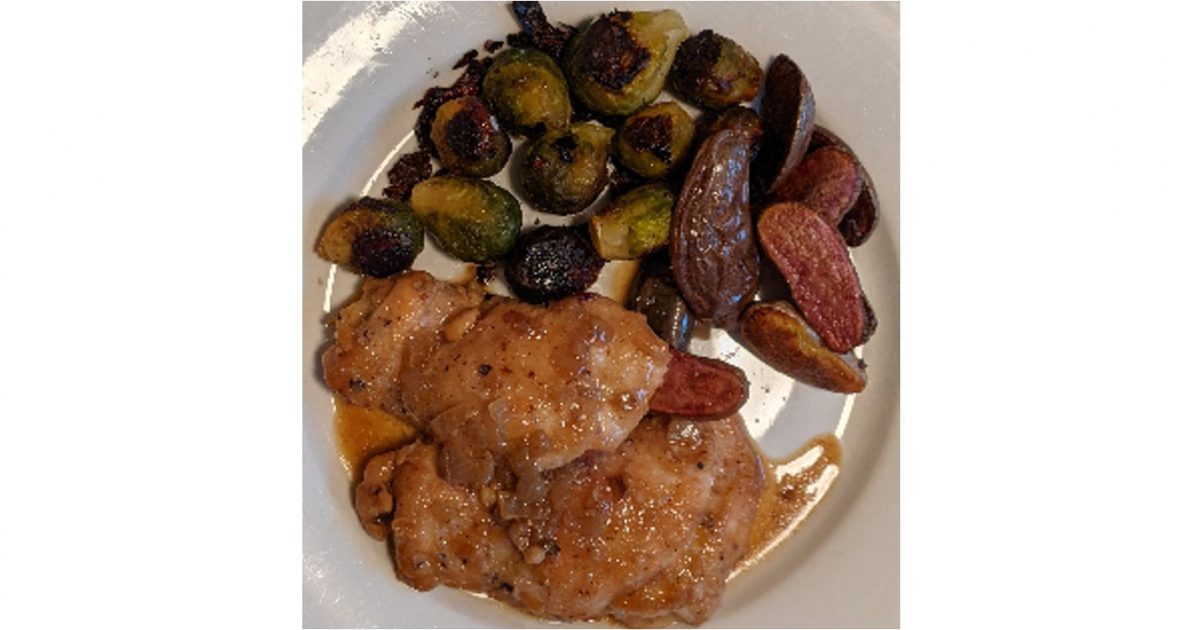 Back in the day, Hell's Kitchen was home to some two dozen moderately priced French bistros. One of them, the late, great Café des Sports on 51st Street, served a unique role. It provided a haven on Sundays for the chef-owners of the other places who would gather there for dinner on their day off.
The menu offered all the dishes the Frenchmen had grown up with and featured in their own restaurants — escargots, brains in black butter, sweetbreads, steak frites, simple sautés of chicken or fish.
New York still has a scattering of such places — Le Parisien in Murray Hill comes to mind — but recreating many of these dishes at home is less daunting than you may think. The recipe that follows, for  chicken with shallots, cognac, and cream, for example, can be made in under an hour. It consists entirely of ingredients you can find in your supermarket, plus a stop at the liquor store if you don't keep Cognac on hand (which you should).
Chicken with Shallots, Cognac, and Cream
Ingredients
8 chicken thighs, boneless and skinless (about 2 pounds)
3 Tbsp. all-purpose flour
Salt
Pepper
Olive oil
Butter
2 medium shallots, diced
¼ cup Cognac
½ cup chicken stock
¼ cup heavy cream
Directions
Thoroughly dry the chicken with paper towels, then add it along with the flour and a generous amount of salt and pepper to a clean plastic storage bag. Shake to coat all pieces.
Place a sauté pan over medium-high heat. Once hot, add two tablespoons of olive oil and one of butter. When the foam from the butter subsides, add the chicken pieces, taking care not to crowd the pan.
Cook the chicken till lightly browned — about 10 minutes. Then flip it and brown briefly on the second side.
Remove the chicken to a holding platter, and add the shallots. Cook until shallots are beginning to brown.
Lift the pan away from the flame and add the Cognac. Return pan to the fire, and use a wooden spatula to scrape and loosen all the browned bits. (Safety tip: Always add spirits off the flame and from a cup or glass, never directly from the bottle.)
When the pan is nearly dry, return the chicken along with any juices that have accumulated. Add the chicken stock and cream. Lower the heat to medium-low. Cover and continue cooking till the sauce has thickened slightly. If the sauce is too thick, add a little water or stock. If it's too thin, remove the chicken to a serving platter, tent it with aluminum foil, and continue cooking the sauce until it reduces to the desired consistency.
When ready to serve, arrange two thighs on each plate. Spoon some of the sauce and shallots over the chicken. Serve with roasted vegetables or rice.
Yield: 4 servings