If there's one thing that cannot be said about Jorge Guzman, the driving force behind the eponymous hospitality group, it is that he is a creature of habit. In January, the Dominican native opened his first Spanish restaurant in Chelsea. The menu featured a number of variations on the small plate theme: There were pintxos (the Basque-language word for "tapas"), imported tinned items (such as mussels escabeche, and cockles with white beans and pork belly), and montaditos (little sandwiches).
The venture proved successful. So when it came time to open a spinoff, Guzman kept the name, Lamano, but the menu at the West Village installation is something of a departure from the original. Small plates remain, though now they are restricted to classic tapas (think patatas bravas, gambas al ajillo, and ham croquettes). Plus a section of the menu is given over to full-size main courses.
A family resemblance is discernible in the physical trappings, which include rustic reclaimed wood, brick wainscoting, and hi-tech lighting. On one wall is a vaguely mystical line drawing of a pair of human hands — la mano — one face-up, the other face-down.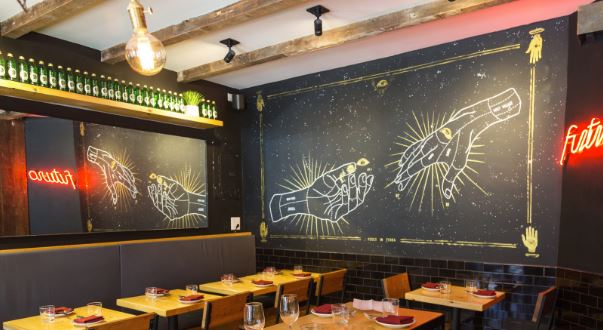 The business of conspicuous consumption is transacted at bare-topped tables, including one high-topped refectory table straddled by stools.
If you've already located your appetite when you arrived, you can keep it at bay while studying the menu by ordering one or two items from the Para Picar ("nibble") section of the menu. Here you will find toasted Marcona almonds with sea salt and mixed olives that pick up added brininess from preserved lemon.
Don't be misled by the listing tortilla found among the tapas. It is short for tortilla española, the famed kitchen-sink omelet of Spain, done here with potato confit, caramelized onions, and a fragrant drizzle of truffle oil.
On some nights, the house offers giant langoustines, served cold with the heads on. To get the most out of the sweet and delectable crustaceans, pick them up and suck the ambrosial "meat" out of the heads. There is marvelous poached octopus paired with crispy slices of fingerling potato and pimentón, the entirety dusted with sweet and smoky Spanish paprika.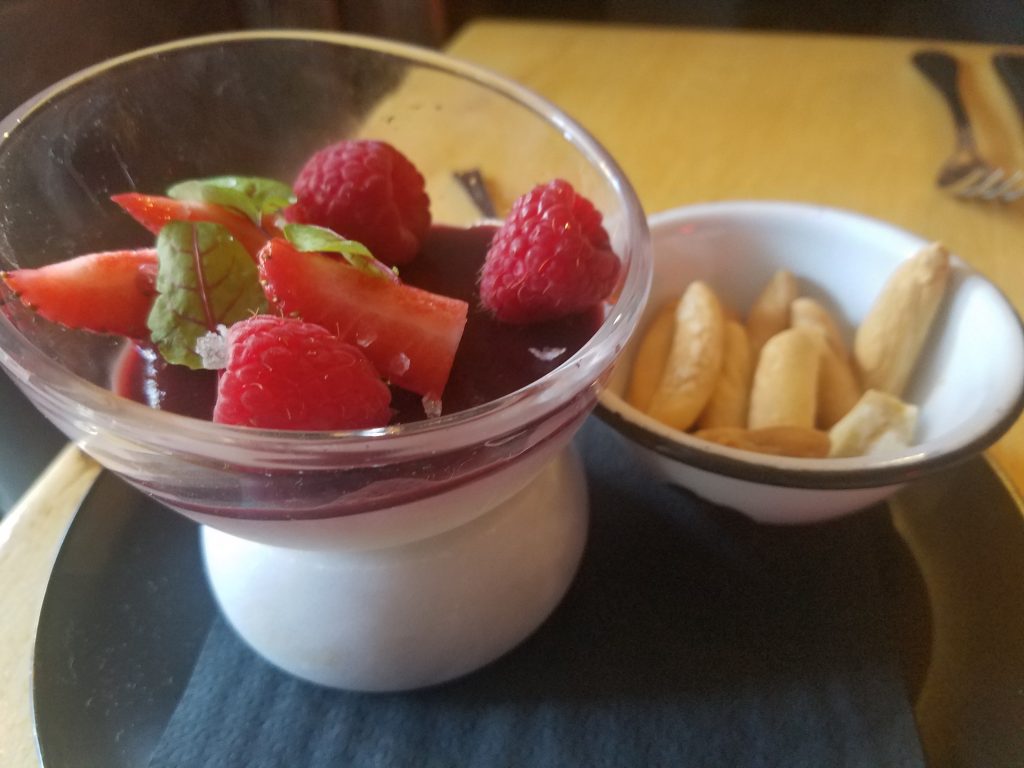 An unusual offering pairs whipped foie gras and wild berries, the two elements segregated by a cool tart layer of Amontillado aspic. To help you prolong the decadent experience, tiny finger-size baguettes are served alongside.
Main courses include a thick, crisp-skinned section of immaculately fresh sea bass, set down in a creamy salsa verde that is studded with whole and shelled peas. One dish carried over from the original Lamano is the roast suckling pig: moist tender meat encased in crunchy skin, here accompanied by heirloom beets and a huckleberry jus.
A single dessert is offered each night. On a recent visit the lone offering was a croquette secreting creamy rice pudding within its crisp exterior, the still-warm orb partnered with a dollop of passion fruit sorbet and a streak of good chocolate.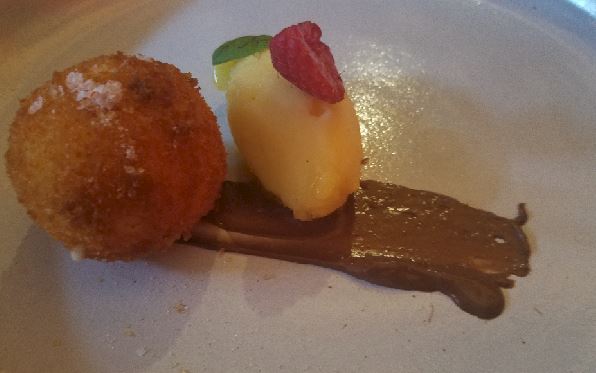 Prices range from $8 to $18 for first courses and tapas, and $28 to $32 for main courses, Desserts are $10.
Lamano is open Monday through Friday for lunch and seven days for dinner with brunch on weekends. The restaurant has a happy hour daily from 4 p.m. to 6:30 p.m.
Lamano, 39 Christopher Street, bet. Waverly Place and Seventh Avenue South, 212-243-3200.