Considering that the Indian subcontinent boasts 4,671 miles of coastline, it is somewhat surprising that seafood is treated almost as an afterthought in New York's Indian restaurants. Chola, on East 58th Street, appears bent on changing that perception. Although the menu embraces many of the more familiar meat, poultry, and vegetarian offerings, the emphasis here is squarely on today's catch.
If your experience with Indian dining is limited to one or another of the narrow storefronts that line E. 6th Street, prepare to have that perception altered as well. You will find no kitschy felt tapestries of harems, no cheek-to-cheek tables straddling a narrow central aisle. Instead you enter to a commodious space. One wall is flanked by a cream-colored tufted banquette, the driftwood gray wall above it graced by black-and-white hand-painted photos of Indian artisans plying their trades. The opposite wall is mirrored, further opening up the room. The lone gesture to Hindu culture, a bronze Ganesha, holds court from a pedestal at the rear.
From the subsection of appetizers labeled "Seafood," choose khekda nariyal and you are brought a timbale of crabmeat threaded with coconut and mustard seed. You insert spoonfuls of the fragrant seafood into torn-off shards of the hot flat bread served alongside and eat with your fingers: a good first course.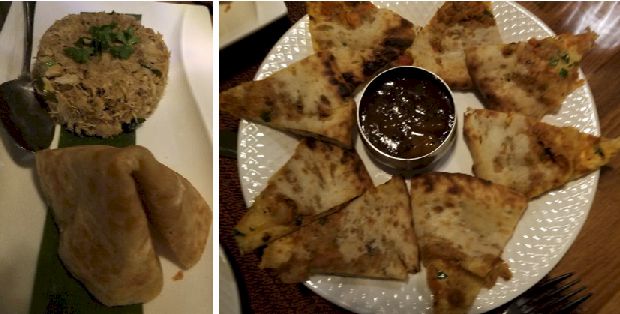 For something you won't encounter everywhere, start with the excellent butter murgh naan, a culinary cousin to chicken pot pie in which the leavened flat bread naan stands in for the pastry crust.
That the house knows its way around finfish is evident in meen moilee, a perfectly cooked slab of branzino in a creamy sauce enlivened with turmeric. A dappling of deep-fried curry leaves and side of crisp-fried banana discs complete the presentation.
Lobster ghee roast consists of large chunks of the crustacean's tail, painted in clarified butter, then coated in a vaguely hot-spiced garam masala: an elegant dish.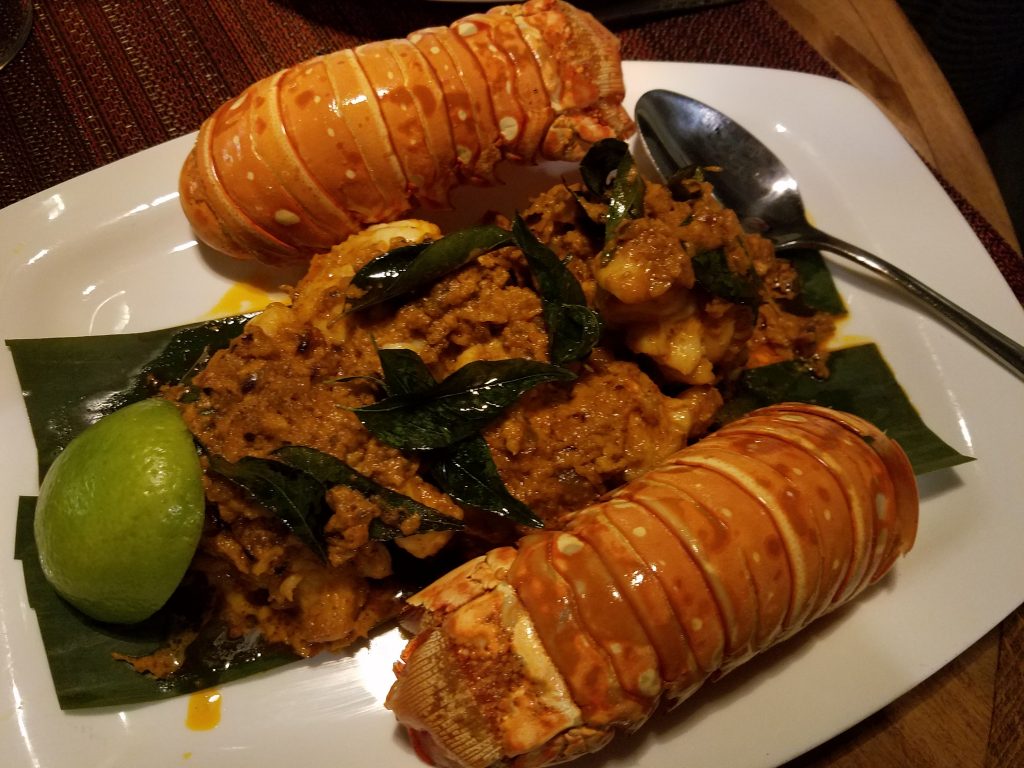 The pot pie theme you encountered in your first course is sounded again in the lamb biryani, which atypically emerges under a top crust of browned flat bread. Your waiter pulls back the crust to reveal an aromatic, mildly spicy pilaf studded with fork-tender chunks of lamb.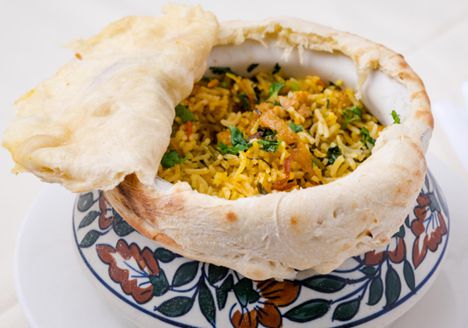 Price range: Starters—$8 to $18, mains—$12 to $31, dessert—$6 to $9.
Chola, 232 E. 58th Street, 212-688-4619, is open for daily for lunch and dinner.