It hasn't yet reached a point where New York's diehard carnivores devolve into shouting matches over which steakhouse serves the best norimaki, but we're edging ever closer to that day. The latest addition to the city's bustling steakhouse scene, Atto (Italian for "act"), takes us a step closer still, offering not only sushi and sashimi but crudo — Italy's variation on the raw fish theme. The house even sets aside space for a six-stool crudo and sushi bar for those who come to red meat emporia to eat healthy.
The kitchen at Atto is presided over by Rogelio Limon, an alumnus of the iconic Peter Luger in Brooklyn, and much of what he brings to the table will be familiar to Luger aficionados: Witness a 45-ounce porterhouse for two or more (I'd err on the side of "more" when ordering), and, among the sides, German-fried potatoes.
Give the crudo its due by sampling perhaps the black sea bass, shimmering slices of the fish dressed with olive oil and Japanese "seven spice," cilantro, and slivers of jalapeño. If you choose to indulge your carnivorous side from the outset, opt for steak tartare: The shreds of beef tenderloin are moistened simply with mustard and lemon, and glisten with good fruity olive oil.
If you can't find a partner or two to go in on that porterhouse, you'll still find contentment in the prime New York sirloin, which arrives on the de rigueur sizzling platter, carved into fat cross-sectional slabs with an intense beefy essence. Atto does a very good veal chop, the pale meat buttery and tender, though mine arrived pinker inside than requested.
As odd as it may sound to wax rhapsodic over a side dish, the aforementioned German-fried potatoes are nothing short of spectacular here. The chunks of tuber are gloriously browned around tender cores, the entirety interleaved with sweet, lightly blackened caramelized onion. A single order will serve two and then some.
The restaurant is still perfecting desserts at this early stage, but if you lost the battle with yourself over whether to finish your potatoes, you likely won't have room for anything more.
The dining room at Atto exudes a clubby old-meets-new-New-York sensibility with richly grained walnut walls and mirrored columns. Tables, cloaked in white linen, provide enough real estate to accommodate the plethora of platters, dishes, and plates that are part of the business of a steakhouse dinner.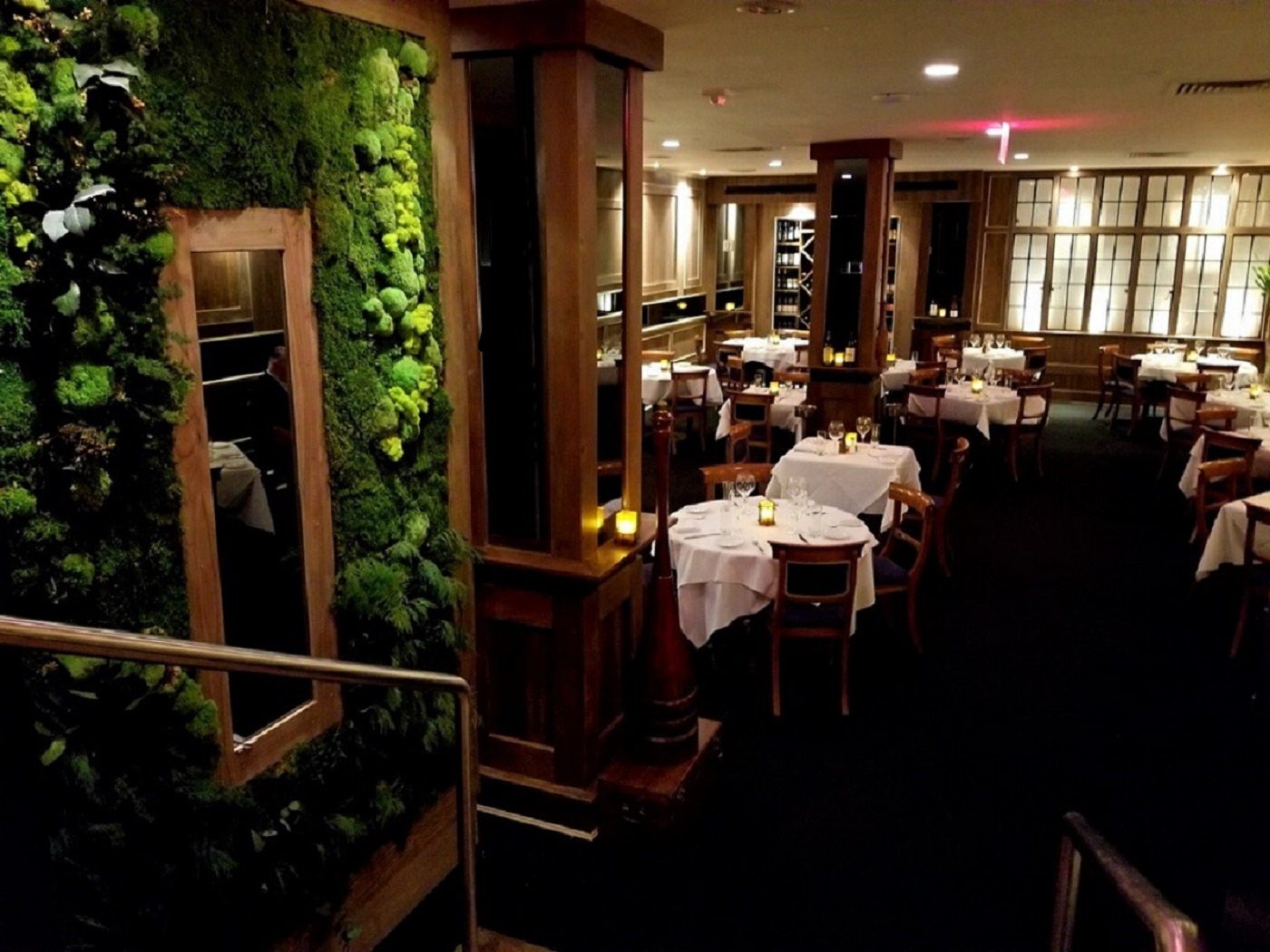 In addition to the main dining room, Atto makes the 1,500-square-foot rooftop of the Tuscany Hotel, where it is situated, available for private functions. The space includes a chef's kitchen, fireplace, and wrap-around terrace. There is no additional charge for the skyline views.
Starters at dinnertime range from $13 to $19, main courses from $20 to $46 ($94 for the porterhouse for two), and sides from $10 to $12. Desserts are $10.
Atto is open seven days for breakfast, lunch, and dinner.
Atto, 120 E. 39th Street, in The Tuscany Hotel, 212-433-4393.