Restaurant-goers are a restless breed, forever looking for new culinary thrills and spills, something to stimulate a jaded palate.
Sometimes the hook is the restaurant's location — on top of a mountain peak or buried 20,000 leagues under the sea.
The claim to fame of a new London restaurant is its dress code … or more strictly speaking the absence of one. Say hello to The Bunyadi, London's (and possibly the world's) first all-nude restaurant.
The Bunyadi, which opened this past June, has lockers like the ones found in a gym, where patrons shed their outermost skin (if they like: nudity is optional) before sitting down to dinner in the buff.
The idea of eating in your altogether has had sufficient allure to keep the reservations book full, which currently contains 40,000 advance entries, extending well into the future. If you do manage to land a table and plan to record a little soft porn for your scrapbook, think again. The dining room is technology free. Cell phones and cameras must be stored in your locker.
Still it appears that a few enterprising souls managed to sneak their cameras in, judging from the lead picture, which one enterprising diner snapped.
The menu (for those hung up on food) is light, consisting of much in the way of raw and cured food—lots of veggies and pickled and smoked meat and fish—all artfully presented.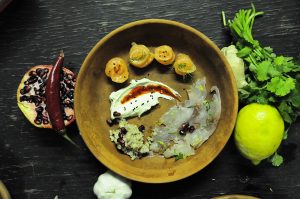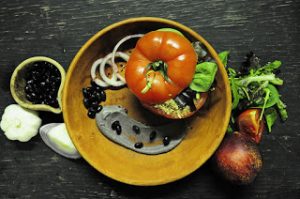 For dessert there is a fig and dark velvet avocado cacao mouse served with nutmeg and hazelnut crumble and a drizzle of vanilla salt.
All edibles are served on or in clay, and there are no utensils, which may be designed to help you achieve a "back-to-nature" experience. (Hard to get more natural than this!)
So what's next in the world of unclothed entertainment … apart from the obvious? The Independent hazards some guesses about the next frontier.
A five-course menu will set you back between £55 and £65, which according to today's rate of exchange works out to approximately $72 and $85 respectively.
The Bunyadi, 18 Harper Road, London SE1 6AD, +44 20 3488 1678.