Anyone who sets out to create a restaurant is confronted with several basic questions. Among these are "What will the hook be?" and "How will we take it from conception to actualization?" The first question is relatively easy to answer, the second not so much. A restaurant needs to re-invent itself every night, and to do that requires a sure, strong hand in the kitchen.
At nine-month-old Cooks & Captains, the answer to the first question is farm to table, which is a great answer because, unlike fads and trends, the notion of obtaining locally sourced, sustainable ingredients has been around for centuries; it has long informed just about every restaurant in France and Italy.
The answer to the second question is embodied in Executive Chef Tristen Epps, who is one of the most promising cooks to come along in some time. Having trained with Marcus Samuelsson, Chef Epps is captain of his kitchen.
He is especially gifted in his handling of seafood. Witness a starter of raw fluke selected from the crudo menu — fat slivers of the fish, immaculately fresh and wrapped around three hillocks of whipped sweet potato, the pairing glistening with brown butter and finished with quinoa "popcorn."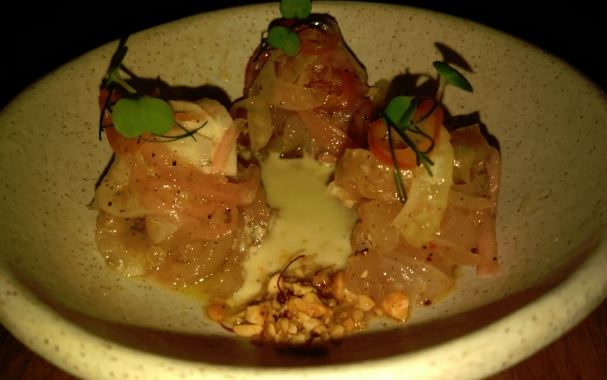 Athough the restaurant bills itself as American, the culinary scope of the menu at times takes you beyond the nation's borders. Some nights there is brandade, the classic Provençal blend of potato and salt cod, served up with slices of good, coarse sourdough. The hot gratineed purée makes for a savory first course.
The menu changes frequently, so what you see here may not be available the night of your visit. If hearth-roasted whole black bass is on the menu, don't miss it. The chef manages the minor miracle of bronzing the sweet chili-glazed exterior while keeping the flesh within moist enough to fall into sweet, snowy tufts at the slightest prodding of your fork.
The same mastery is evident in butter-poached lobster. The meat of the crustacean is meltingly tender, and its creamy sauce does double duty as a moistener for the house-made ravioli, stuffed with braised greens and freshly made ricotta.
Grass-fed New York strip arrives as crusty slabs of accurately cooked beef, each sporting a rosy center. The steak is accompanied by black garlic, cipollini, an irresistable onion crumble, and a sprightly confit of honeynut squash.
Under the listing "Farmstead" you will find sides, among them smashed and fried potatoes, which you'll definitely want with your steak, and roasted brussels sprouts, which you'll want with everything. Dressed with anchovy butter and Upstate maple, the dish is infectious.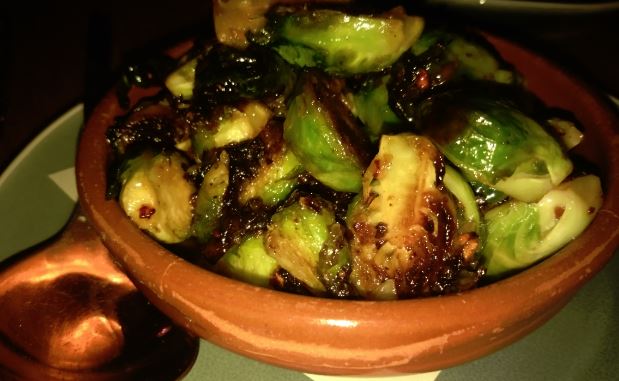 Hot apple cobbler sprinkled with coarse sugar is meant to capture the fall season, an idea reinforced by a dollop of sweet potato gelato: Hard to beat. Light and shimmering coconut panna cotta is presented in the company of a tuile scented with garam masala.
Cooks & Captains makes its home in simply appointed quarters. White-washed brick walls are lined on one side with a tufted blue banquette. Lighting is diffuse, provided in part by hanging fixtures that look like inverted woks.
Price range: $10 to $14 for starters, $22 to $45 for main courses, $10 to $16 for desserts.
Cooks & Captains, 254 Fifth Avenue, bet. Carroll St. and Garfield Pl., Brooklyn, 347-721-3801. Hours: Tuesday to Thursday, 5 p.m.–11 p.m.; Friday, 5 p.m.–12 a.m.; Saturday, 11 a.m.–3 p.m., 5 p.m.–12 a.m.; Sunday, 11 a.m.–7:30 p.m.