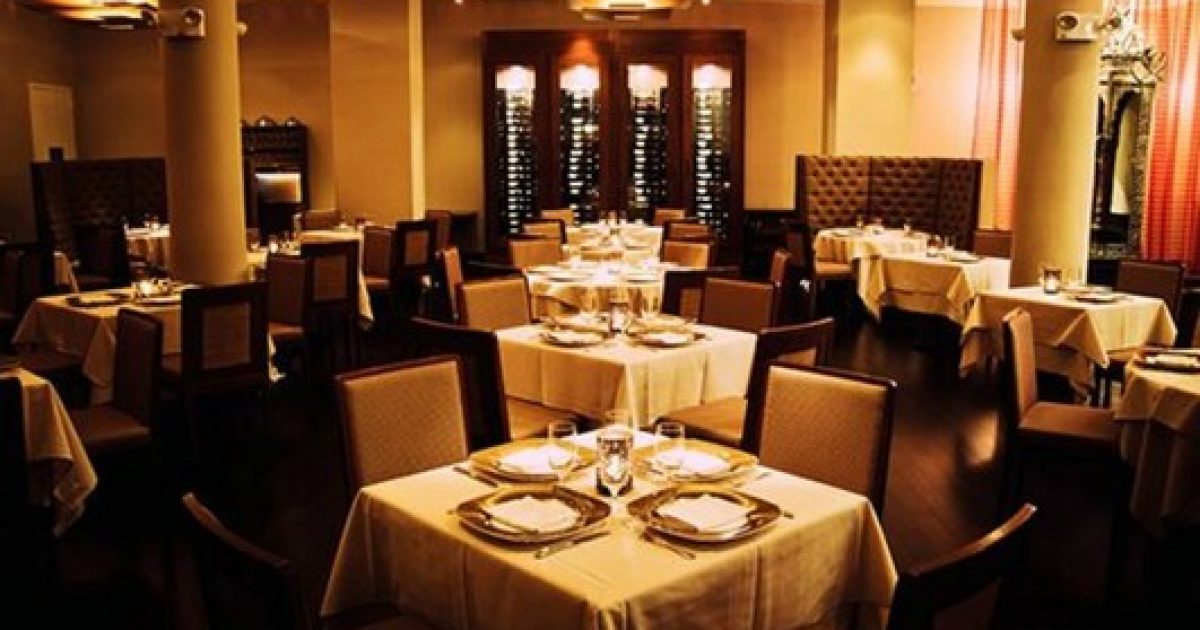 The countdown to the New Year's Eve ball drops in Times Square is now T – 15 days and counting. If you haven't made a reservation yet, you had better get busy.
One cuisine you might not normally think of in connection with ringing in the New Year is Indian. If so, be advised that the up-market restaurant  Junoon (reviewed here) is pulling out all the stops. Choose either a five- or six-course tasting menu ($95 and $145 respectively). Among the offerings, expect to find the likes of octopus with quinoa, scallions, tamarind, and mint chutney and a surf-and-turf of sorts, consisting of lobster moilee, chicken gassi, jackfruit masala, and daal makhni. Junoon 27 W 24th Street, 212 490-2100.
If price is no object — which is a condition of dining in or near Times Square — consider the branch of the Italian chain Buca di Beppo at Broadway and 45th. The family-style affair commences with passed hors d'oeuvres (spring rolls and hamburger sliders may not be what your mind conjures up when you think of Italian food) and moves on to Caesar salad, fettuccini Alfredo, chicken limone, eggplant parmigiana, and more. Prices begin at $369 a head, regardless of age. Buca di Beppo, 1540 Broadway, 212-764-6527.
For something a little more approachable pricewise, there is The Counter, which advertises itself as the "closest venue to the live ball drop." An outlay of $289 per person brings you face-to-face with five hours of open bar and two hours of the restaurant's "gourmet" (their word) sliders and fries. A DJ will be be on hand, and a champagne toast is included. The Counter's promo also mentions "a live feed of the Ball Drop on state of the art screens," which should have you asking why you spent all that money if you're going to experience the big event via closed circuit. The Counter, 7 Times Square, 212-997-6081.
If you prefer to eat far from the madding crowd, Tuome in the East Village is worth remembering. The restaurant, overseen by Eleven Madison Park veteran Thomas Chen, features Chinese-influenced American fare. A seven-course, prix-fixe menu will include Kabocha squash soup, oxtail dumplings, and caviar on crab. There are two seatings, at 5:30 p.m. ($105) and 7:15 p.m. ($150). An optional wine pairing is $65. Tuome, 536 E. 5th Street, bet. Avenues A and B, 646-833-7811.
Out with the old, in with the new. That's literally the case if you choose to usher in 2018 at La Contenta Oeste, which opened about a month ago. The restaurant's New Years Eve celebration will feature two seatings, one at 7:30 p.m., the second at 9:30 p.m. The cost of the four-course dinner, including special cocktails, plus sparkling wine at midnight for the later seating, will run $70 and $100, respectively. Menu choices will include tacos of shredded beef and potatoes drizzled with cream among starters and rack of lamb with a huitlacoche crust among the mains. La Contenta Oeste, 78 West 11th Street, 212-533-2233.
At rock star rising chef Esther Choi's latest venture Ms Yoo, party guests will feast on an intriguing selection of  passed hors d'oeuvre that include the likes of beef sliders topped with house-made bacon kimchi jam; and American cheese or tofu sliders with shiitake mushrooms, alfalfa sprouts, and tofu tahini sauce. The $125-per-person event will feature a four-hour open bar, a DJ, and festive New Year's party favors. Tickets are $125 per person. Ms. Yoo is located at 163 Allen Street, 917 261-2490. Open daily from 5 p.m. Major credit cards are accepted.
See also…