First there was the cronut — a croissant-donut hybrid — and then the ice cream-filled cruff, which took its name from a mashup of the words cream and stuffed. Now comes the latest rival for your donut dollar. Its name is Bear Donut, and it is seeking to distinguish itself from the competition in two ways. First is freshness. Bear donuts are baked fresh twice daily, the first batch arriving at the counter at 10 a.m., the second at 2 p.m.
Second is the product itself. At once chewy and crispy, Bear Donuts are made from sweet rice flour and are available not only in the conventional ring shape but as a bubble ring (envision a half dozen donut holes joined at the hip) and as "cream puff donuts." Made using brioche dough, these are double the height of classic donuts and filled with such atypical options as double milk tea, matcha, and "dirty choco" (filled with Nutella and glazed with semi-sweet chocolate).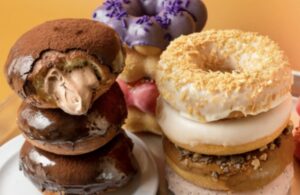 Bear also features soft serve (in milk and Thai tea flavor) and freshly brewed coffee and coffee drinks.
Bear Donut is open from 10 a.m. to 6 p.m. Tuesday through Sunday.
Bear Donut, 40 W. 31st Street, New York, 646-476-5199.
See also…