There was a time not too long ago when nearly every doorway on the block of Sixth Street between First and Second Avenues opened onto an Indian restaurant where, moreover, the cost of a meal represented one of the biggest food bargains in the city. The added fact that all were BYO explained the long waits for a table, especially on weekends.
Then around the turn of the twenty-first century came the "Indian invasion." Savvy businessmen from Mumbai began arriving in New York, introducing locals to the kinds of restaurants they were accustomed to frequenting back home. Sixth Street began to decline. The NYU students who had once waited in line with their bottles of plonk now had their MBAs. When the urge to "eat Indian" came, they'd dine uptown at places where the price of a cocktail would have bought an entire dinner back in the day.
Having spent many Fridays and Saturdays of my own in that queue, I recently made a pilgrimage to the old block, driven in equal parts by nostalgia and curiosity. Apparently I wasn't alone. When I reached the entrance to Malai Marke, one of the last two Indian holdouts on the block, the place was full.
Not everything about Malai Marke will strike a familiar chord in those who remember the block in its heyday. Those hoping to find the ubiquitous black tapestries depicting harem scenes on the walls and wailing sitar music in the air will be disappointed. The restaurant has clean, contemporary lines. It also has a liquor license: Drinkers of jug wine be warned.
The menu, however, affords a stroll down memory lane. You can still begin your meal with crisp, craggy onion fritters (bhajia) or with luchi bhaji, stewed chickpeas that you scoop up with shards torn from a puffy balloon of deep-fried bread. The legumes here are so intensely flavored of cumin as to evince a smokiness reminiscent of Texas-style barbecue beans.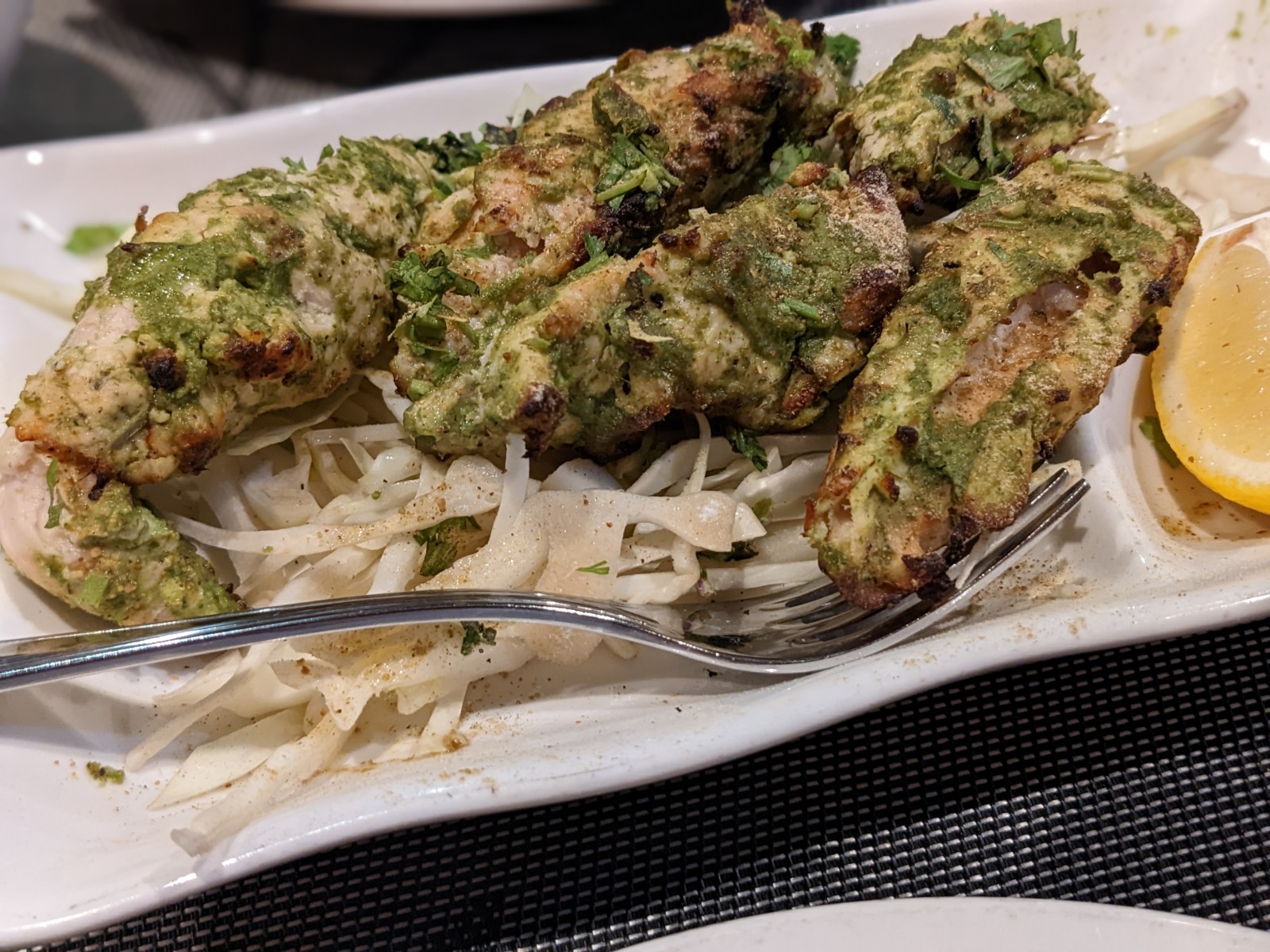 Murgh haryali, selected from "kabab starters," derives its green coloration from the abundance of fresh mint and cilantro that figure in its preparation, but the chicken itself is dry. Evidently, the house hasn't heard that chicken thighs are moister (not to mention cheaper) than chicken tenders.
Some of the dishes are based on recipes borrowed presumably from friends and family. I'm not sure what distinguishes "Aunt Murlis [sic] chingri malai curry" from other versions of the dish around town, but this is a good one — the shrimp large and sweet, the creamy sauce of tomato and strained yogurt adding richness.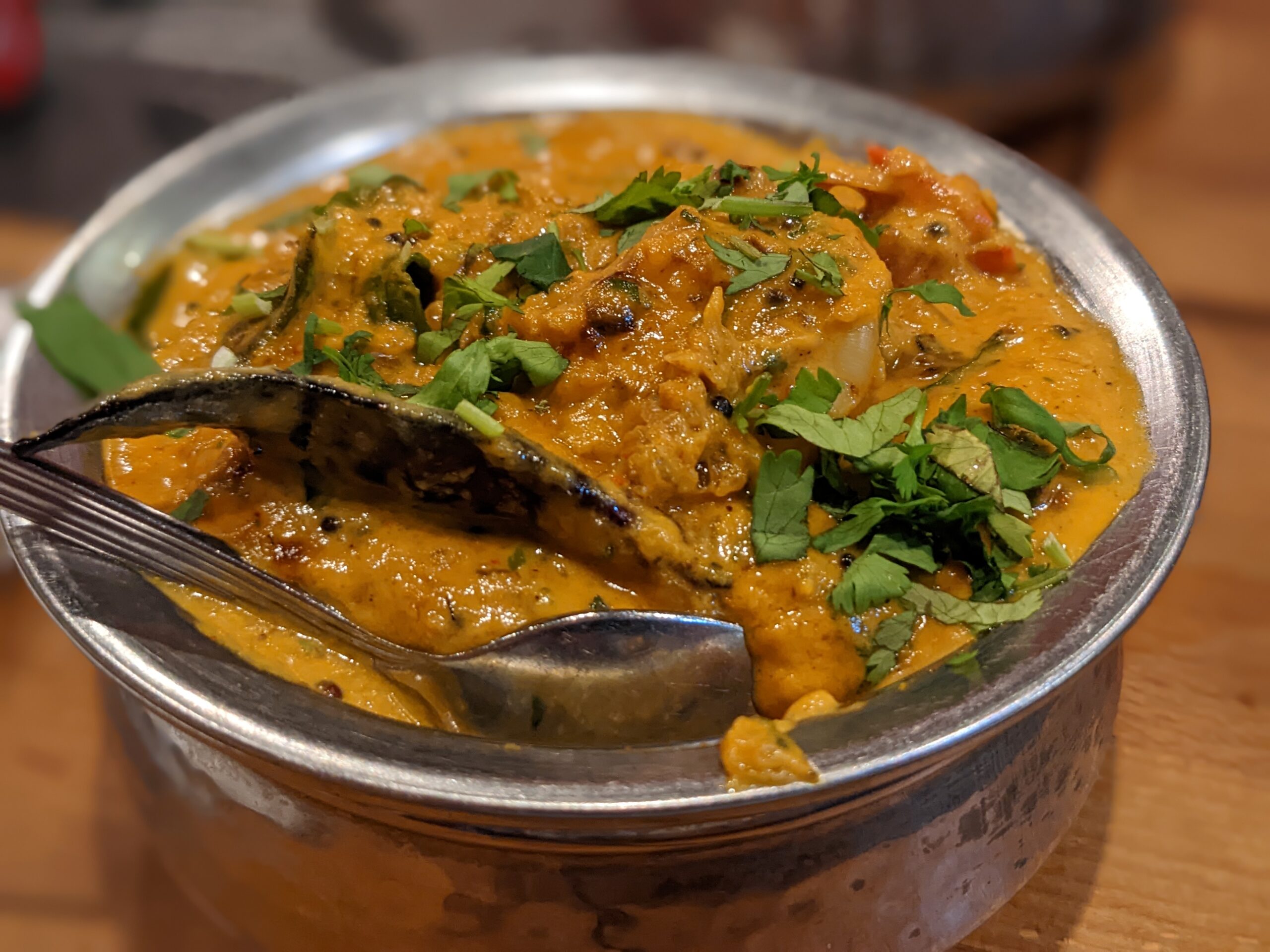 One subcategory on the menu, "Spicy Club," features the kitchen's hottest dishes, numerically ranked by spice level. Chicken chettinad ("Spicy level one") is relatively tame, at least by New York restaurant standards. Chunks of the bird prior to cooking are coated with a paste of crushed pepper and aromatics, chiefly ginger and garlic, delivering a warming jolt of spice. Lamb dhansak, despite not being a member of the "club," strikes me as a level one also. Cubes of lamb are combined with stewed lentils that bear traces of the dry red chilis that were cooked along with them.
There is a disconnect between the online menu, which advertises a walnut brownie and lemon cheese pastry among the desserts, and the in-house menu, which is limited to all the old standards: the rice pudding, gulab jamun, and the rest.
Price range: Appetizers—$6.95 to $13.95; main dishes—$16.50 to $26.50; desserts—$6.
Malai Marke, 318 E. 6th Street, 212-777-7729, is open seven days for lunch and dinner.
See also…