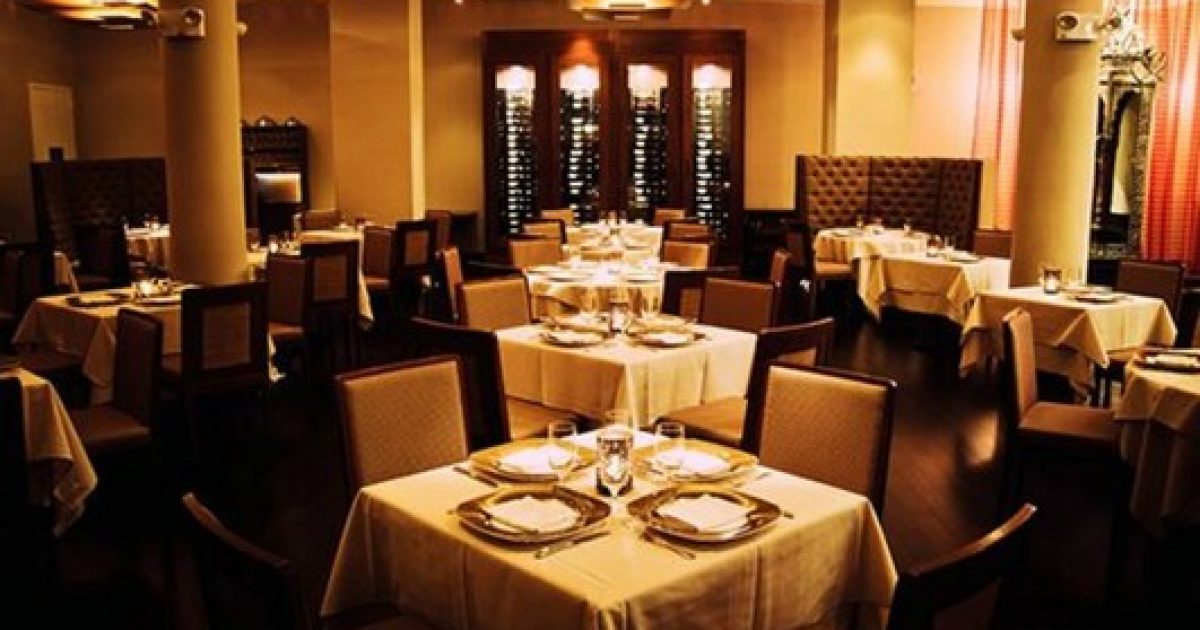 Let's play a game of word association. I say, "New York Indian restaurant." You say, "Sixth Street between First and Second." If you have been a decades-long patron of the eateries in that East Village enclave (yo!), you probably also know that every storefront has roughly the layout of a Greyhound bus (with twice the seats), an unfailingly cordial wait staff, decent enough food, and prices so gentle that you and yours can eat voluminously and walk out for under $35.
If that is your sense of sub-continental dining in the Big Apple, prepare to have your perceptions altered. For starters, Junoon (Hindi for "passion") is nowhere close to Tompkins Park. Its Michelin star should be a clue that it makes its home in a tonier ZIP code.
Its appointments, moreover, are anything but ongepotchket, bordering as they do on understated elegance: plush tufted tan booths and chairs of a nubby fabric, abstract paintings on spare beige walls, the occasional carved screen for authenticity. And that $35 won't clear the cost with tax and tip of a single plate from the upper-echelon listings on the menu. Think lobster curry at $40, or wild striped bass in a sauce of fresh coconut, green chilies, and cilantro at $34.
If you're really flying, you can spring for the $85 five-course tasting menu (the wine pairing, which is a must, will set you back an additional $50). Those who do will commence with a chaat. Now if you've been to any number of New York's Indian restaurants, you are familiar with the term chaat, which translates roughly to "nosh," which on the streets of Mumbai means food from a sidewalk vendor. This is unlike any chaat you've ever encountered, however. Its centerpiece is wafer-thin overlapping slices of opalescent sea scallop that have been cured in sweet chili and lime, paired with pearl onions and cilantro: an elevation of a classic to the sublime.
More remarkable still is a second course of Arctic char, a fat crisp-skinned finger of the delicate fish mated with saffron-tinged baby fennel, rhubarb chutney, and a Meyer lemon purée. You eat it slowly to prolong the pleasure.
The "duck lollipop" in course three is a plump Long Island duck leg that has been confited, its richness admirably offset by a tart cherry gastrique. A hillock of kale and fingerling potatoes complete the plate.
Far and away the most compelling course is the lamb Pasanda, the name of which will also strike a familiar chord among Sixth Street frequenters. But the dish presented to you at Junoon is not your father's lamb Pasanda. A mound of slow-braised meat, formed into a dome at the center of the plate, is almost impossibly succulent and tender. The moat surrounding is an intensely creamy Korma, streaked with an apricot gelée and a masala glace.
Dessert on Sixth Street generally translates to fried cheese balls or rice pudding, but by now you have been conditioned to expect the unexpected. Witness a raspberry brown butter tart, accompanied by raspberry confit, pistachio crumble, and vanilla ice cream.
You sit at one of two dozen or so well-spaced crisply linened tables set with polished flatware. Service, too, is polished, provided by a staff that has eschewed the standard mourner's suits for spiffy black shirts. The whiny strains of the sitar you have come to expect are supplanted by soft jazz.
Junoon 27 W 24th Street, 212 490-2100. Lunch and dinner are served daily.