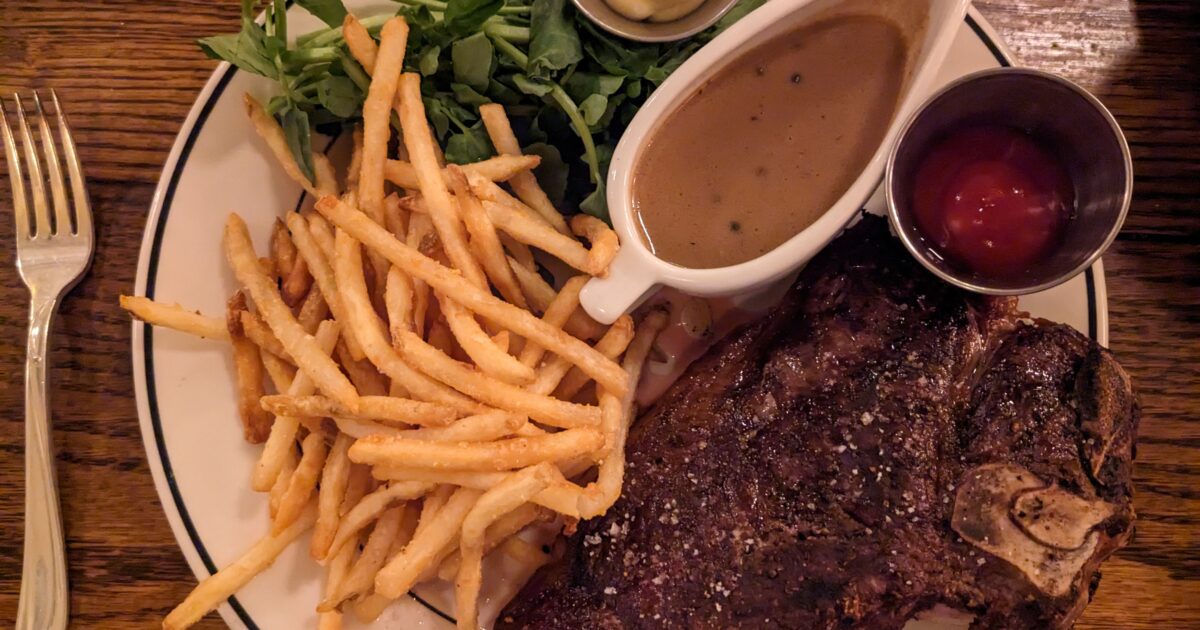 It's too soon to declare it a visceral reaction to the vegan movement, but we seem to be in the throes of a steak revival. A few months after the launch of Le Gratin, Daniel Boulud's love song to his native Lyon, the veteran chef announced that his next project would be a mammoth 16,000-foot steakhouse in the Flatiron District. Around the same time, Sungchul Shim, the creative force behind the popular modern Korean eateries Kochi and Mari, shared his own plan to open an ambitious, city block-long steak restaurant.
While Steak Frites Bistro, which opened last month, can't compete in scope, it is every bit as serious about its steak, which makes up close to half of its main course offerings.
Hell's Kitchen, the neighborhood the restaurant calls home, was once densely populated by authentic French bistros. The interiors of Steak Frites recall the look and feel of those places. The floor is paved with barbershop tiles, milk glass globes hang from the ceiling on stiff rods, and a slick marble-topped bar flanks one side. Among the photos and other assorted memorabilia that dot the walls are several mirrors that have lost much of their silver: et voilà — instant antiquity.
You can kick off your dinner in true steakhouse fashion with raw oysters or a shrimp cocktail. To give the place's Gallic side it's due, however, consider starting with plump escargots or a Lyonnaise-style salad of lardons, crisp paper-thin slivers of fingerling potato, and a runny poached egg all bound together in a dense thicket of frisée. Note to kitchen: Kindly remove the greens from the fridge sooner to take the chill off.
When it comes to ordering steak, and almost everyone does, you are faced with four choices, two of which — the côte de boeuf and the chateaubriand — require a partner. A bone-in dry-aged New York strip, billed as weighing in at a pound, is fully an inch and a half thick and extends over the edge of the plate it is served on. Like all steaks, it is accompanied by maître d'hôtel butter (which you can upgrade for a few dollars more to au poivre, béarnaise, or red wine with marrow) and a mound of good crispy fries.
Selections for the non-steak-inclined include half a handsomely bronzed roasted chicken. The bird arrives knee-deep in a puddle of its natural roasting juices with a hillock of creamy pommes purée.
The kitchen turns out an estimable cherry clafoutis. The confection, which lies somewhere along the continuum ranging from flan to pastry, is served warm with lightly sweetened whipped cream.
During Restaurant Week, the dessert options are extended to include a rich and intensely chocolatey chocolate pot de crème.
Considering the restaurant's tender age (those mirrors notwithstanding), it seems to have attracted a following judging from the capacity crowd we encountered on a recent weeknight.
Price range: First courses—$14 to $22; main dishes—$17 to $65; dessert—$12 to $14.
Steak Frites Bistro, 496 Ninth Avenue (bet. 37th and 38th Sts.), 929-614-5070, is open seven days for dinner and weekends for brunch.
See also…