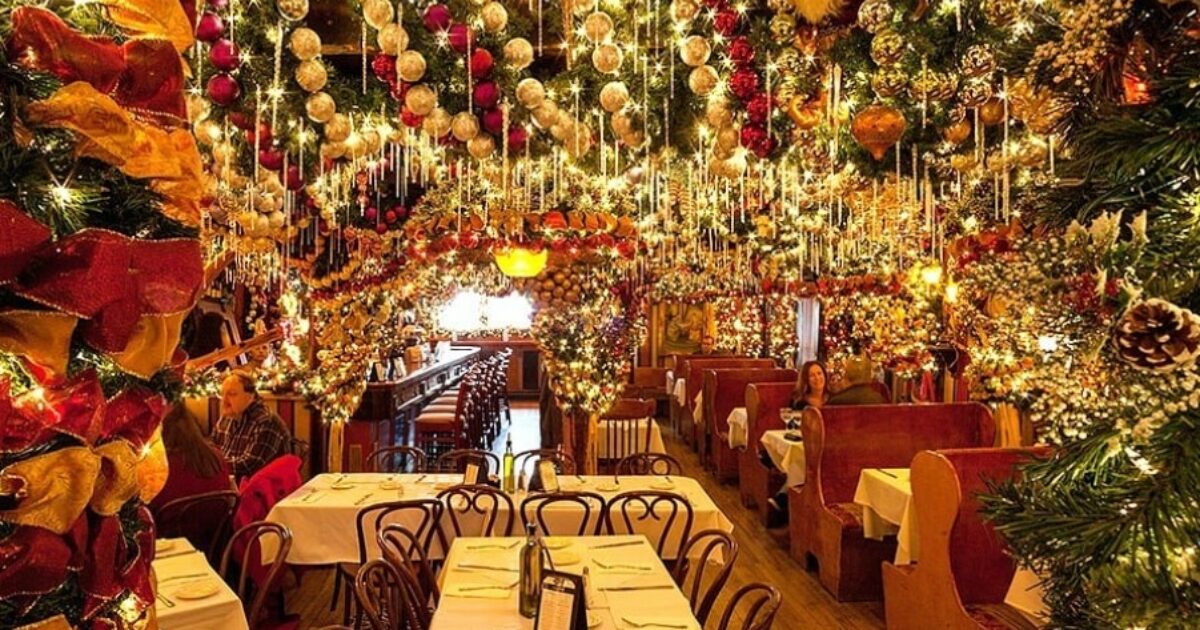 For many New Yorkers I know it's no contest. When it comes to a choice between cooking Christmas dinner for a crowd or making a reservation — especially now, with so close to the labors of Thanksgiving — they take the path of least resistance. If that includes you, here are some places that will be happy to do the cooking for you.
Ci Siamo in Hudson Yards is celebrating Christmas in true Italian fashion with a four-course, family-style Feast of the Seven Fishes. (There is an alternative Feast of the Seven Vegetables if that's the way you roll.) Baccala mantecato, with dried fava beans and mint pesto, and octopus puttanesca with Calabrian chilis are highlights of the menu, served in compliance with tradition, on Christmas Eve only. Both feasts are priced at $185, $58 for children under 10. Reservations can be made at Resy. Ci Siamo, 100 Manhattan Plaza West, 212-219-6559.
Roman's in Fort Greene will be doing its own take on the Feast of the Seven Fishes with shared antipasti, pasta, main course, and dessert. Crostini with trout conserva and pickled fennel, and linguine with swordfish, olives and capers are featured items on the holiday menu, which is served not only Christmas Eve but Christmas Eve Eve (Dec. 23). Reservations can be made via Resy. Roman's, 243 Dekalb Avenue, Brooklyn, 718-622-5300.
"Fried chicken" usually doesn't come up as a word association with Christmas dinner, but that doesn't mean it can't. GG Tokyo, the tiny izakaya located in the Park South Hotel in Kip's Bay, will be spreading joy on Christmas Eve with its Golden Gai Fried Chicken Experience. The menu, which is definitely not your father's Christmas dinner, opens with miso soup, pickled cucumbers, and GG rolls and proceeds to a fried chicken bucket, comprised of both light and dark meat. Sides of mac and cheese, mashed potatoes, coleslaw, biscuits, and even a dessert of matcha ice cream round out the meal, which is also available as take-out. The cost is $55 per person. Reservations can be made through Tock. GG Tokyo, 120 E. 28th Street, 212-204-0200.
Those seeking a more traditional Christmas spread — one that encompasses the likes of a butternut squash velouté, honey ham with mashed potatoes, and a classic bûche de Noël — will find what they seek at Michelin-recognized Sweetbriar, also in the Park South Hotel. Executive Chef Bryce Shuman, formerly of Eleven Madison Park, is offering a Christmas Day "Fireside Roasting & Toasting." The three-course Christmas  package, available on Christmas Day, is priced at $110 per person. Reservations are available through Resy. Sweetbriar, 127 E. 27th Street, 212-204-0225.
Alain Ducasse's Benoit will be serving Christmas dinner on both Christmas Eve and Christmas Day. Lightly seared sea bream with spicy lentils and bottarga is listed among the starters. Mains include stuffed guinea fowl with ginger and parsnips. The three-course meal, which goes for $95 a person, is available from noon through 8:30 p.m. Reservations can be made here. Benoit, 60 W. 55th Street (bet Fifth and Sixth Aves.), 646-943-7373.
The upscale Asian fusion restaurant Hortus NYC, meanwhile, is offering a five-course prix fixe menu available both on Christmas Eve and Christmas Day at the approachable price of $80 per person. Wontons filled with pulled duck, truffles, and spicy mango make for a dynamic first course, followed perhaps by king crab with fettuccine in a sauce of cream, shallots, and scallions given a fiery kick via an addition of the palate-numbing Sichuan spice mala. A la carte options include the Hortus Royal Platter, featuring chilled lobster tail, tuna tataki, and a shrimp cocktail. Hortus NYC, 271 Fifth Avenue (bet. 29th and 30th Sts.), 646-858-3784.
As Madeline Price noted in her round-up of the most city's festive cocktails this time of year, Rolf's, in Gramercy Park, proclaims itself to be New York's "most festive restaurant." The restaurant, which sports Christmas decorations the year round, lays it on especially thick as the target holiday approaches. The food, which is German, tends to be heavy — a condition intensified by the servings, which run XL — but as the mercury dips it can also be soul-satisfying. I'm partial to the rahm schnitzel, tender veal in a cream sauce tinged with paprika, served with spätzle. Reservations via phone only. Rolf's, 281 Third Avenue (at 22nd St.), 212-477-4750.
See also…