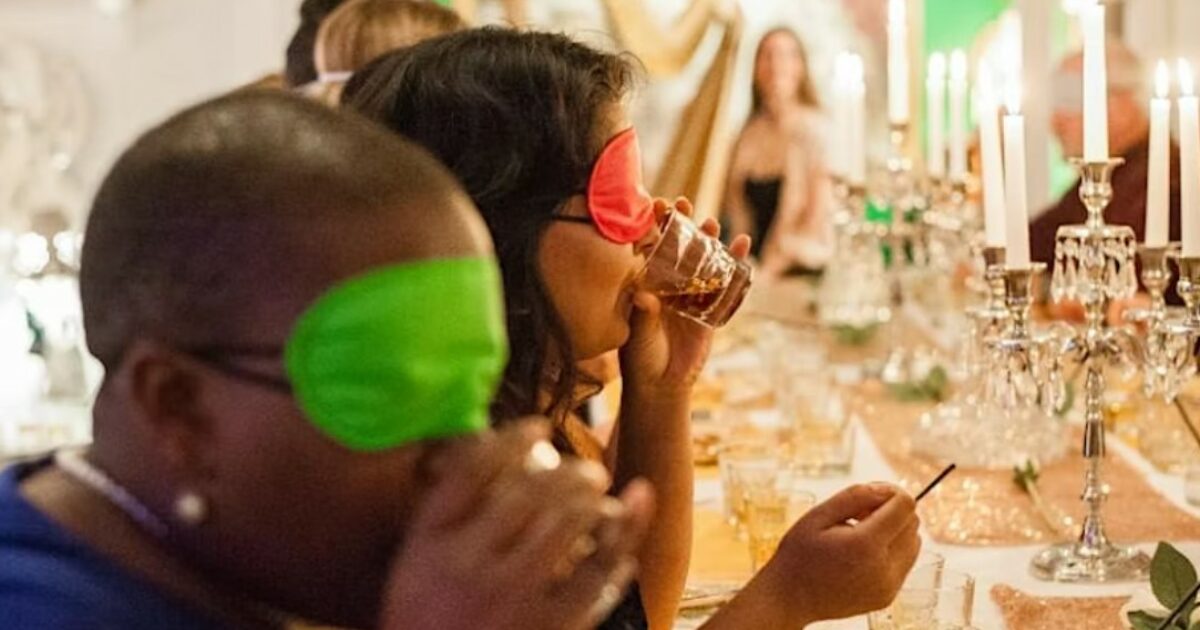 Have you ever wondered what dinner would be like if the city underwent a blackout and you were fresh out of candles? Chef Abigail Hitchcock has been helping New Yorkers answer that question for years with her "dark dinners" — dining adventures where guests are blindfolded throughout the meal.
Now a companion to dark dining has emerged. It is known as "Whiskey in the Dark®" and it is offered by Whiskey Stories®, a Michelin Guide-recommended purveyor of high-end hooch. As the website notes, the company was founded in 2014 by whiskey connoisseur Rachna Hukmani, who observes, "We are 2000+ experiences in and no two experiences are alike!"
As with dark dinning, participants are blindfolded and forced to rely on the senses of sound, touch, olfaction, and taste to "tease apart the flavors in a whiskey that are imparted by grain, barrel, region, water source, and more!"
Dark tastings start at $115.92 per person. For a calendar of upcoming tastings or to arrange a private tasting, click here. (Note that the Oct. 8 tasting is sold out.)
Whiskey Stories, 161 Stockholm St, Ground Floor, 3742 Brooklyn.
The Secret Eats of Arthur Avenue
It's no secret that Arthur Avenue in the Bronx (aka Little Italy North) has some great Italian restaurants, not to mention cheese shops, bakeries, and appetizing shops. There are, however, a number of lesser-known mom-and-pop establishments that denizens of the "old neighborhood" recognize as "da best."
If you'd like to unlock these secrets, on Nov. 12 the New York Adventure Club is conducting a food crawl of the avenue that promises to explain why hungry New Yorkers from all the boroughs have been making regular pilgrimages up here for over a century.
Tickets, which may be purchased here, are $71.35 after miscellaneous fees have been factored in. The tour, which starts at 10:45 a.m. and runs to 1:15 p.m., originates at Nabila Inc. News Stand, 413 East Fordham Road, The Bronx.
See also…