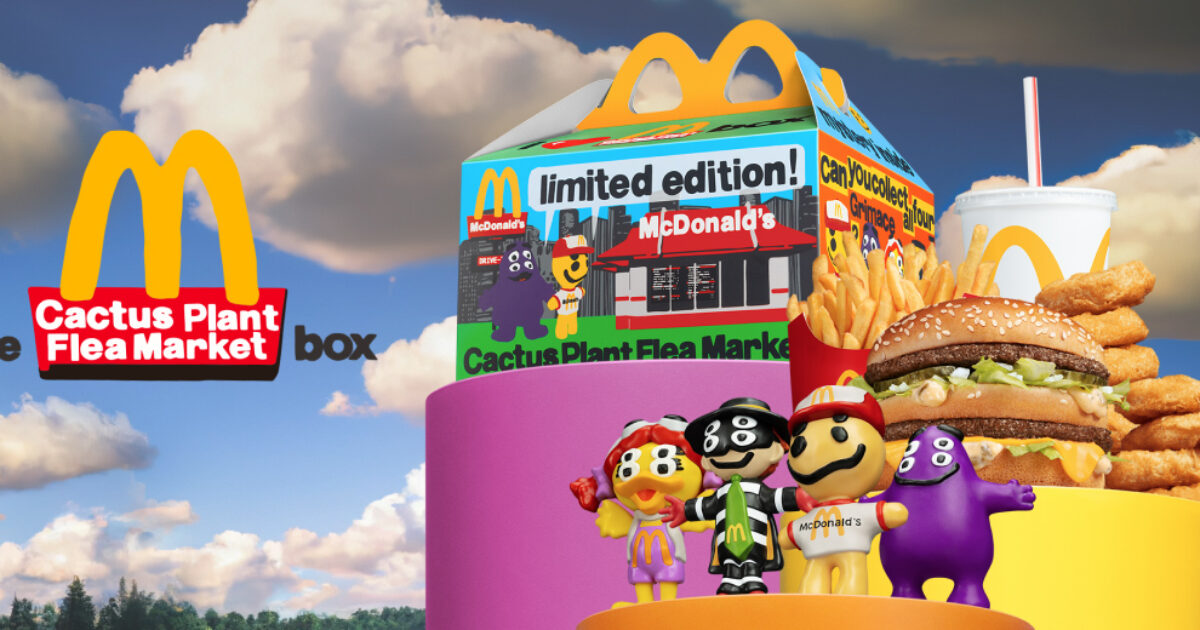 "What is it about dining out that for some the experience evokes a longing to return to childhood?" I wrote those very words last year in a report on cafes in the United Arab Emirates of cafes that sell iced coffee and other cold drinks in baby bottles. Complete with nipple.
The question is now appropriate again in the context of McDonald's latest promo: Happy Meals for grownups. Clothing brand Cactus Plant Flea Market (CPFM) is collaborating with the fast food giant to design the cardboard boxes in which the meals are sold.
The boxed meals, which went on sale yesterday and will continue to be offered while supplies last, come with either a Big Mac or 10-piece Chicken McNuggets, plus fries and a drink. The meals also come with one of four toys — Birdie, Grimace, Hamburglar, or Cactus Buddy, designed by CPFM.
Order using the McDonald's app and you will automatically be entered for that day to win limited-edition CPFM x McD's merch.
Michelin Announces 18 New Bib Gourmand Restaurants in New York
In anticipation of its Oct. 6 awards ceremony, when the Michelin Guide divulges the identity of New York restaurants that have received one or more of its coveted stars, the Guide has released the names of the 18 new restaurants in the city to be added to a list of 125 establishments worthy of a Bib Gourmand designation.
"While not quite a star, but most definitely not a consolation prize," the Guide informs, "the Bib Gourmand — named after Bibendum, the friendly Michelin Man and the official company mascot for the Michelin Group — is a just-as-esteemed rating that recognizes friendly establishments that serve good food at moderate prices." More specifically, the designation is reserved for restaurants that "offer a full menu of a starter, main course and dessert, making it possible to order two courses and a glass of wine or dessert for $49 USD or less (tax and gratuity not included)." As Broken Palate observes, "it's the restaurants with Bib Gourmand designations that prove to be the true winners."
Here without further ado are the newcomers with the Michelin inspector's notes for each.
Antoya (Korean cuisine)
With ties to Seoul's long-established Samwon Garden, founded in 1976, this Midtown hangout now operates under a different name. Nevertheless, it continues to deliver a reliable roster of barbecue hits.
Chick Chick (Asian cuisine)
Asian cooking with Korean leanings is what this team does best, so await — with bated breath — the likes of piping-hot fried chicken, its crisp amber skin and ivory meat permeated with spicy gochujang and sweet peanut sauce.
Chutney Masala (Indian cuisine)
This longstanding restaurant in idyllic Irvington is a rather special place, from Chef/co-owner Navjot Arora. Local, organic produce star in such complex, boldly spiced dishes as bhindi masala (imbued with tangy amchoor) and Punjabi eggplant curry.
Covacha (Mexican cuisine)
Every item offered here is an amalgam of smoky, sweet and unique flavors. Think of delicious and messy shrimp ajillo with hollandaise to torta ahogada with birote salado, pork and oregano-spiked tomato sauce.
Dhamaka (Indian cuisine)
This rousing Indian restaurant in Essex Market is refreshingly unapologetic with its complex flavors, fierce heat levels and inspired preparations. The kitchen grinds many of its spices daily, and the crowds have been quick to recognize such attention to detail.
Dumpling Lab (Chinese cuisine)       
There are flashy dishes, like uni dumplings made with squid ink-tinted wrappers and dusted with gold powder, though some of the best dishes are dressed down and offer amped-up flavor.
Jiang Nan (Chinese cuisine)   
One Fulton Square in Flushing is fast becoming the address for the area's most compelling restaurants. But unlike its neighbors, which stick to a single specialty like Sichuan and soup dumplings, Jiang Nan delivers hits from all regions of China.
Le Fanfare (Italian cuisine)    
The communal tables encourage lingering, perhaps over the likes of on-site baked breads and fresh pastas. Speaking of, the spaghetti alla carbonara is a toothsome feast; followed by white wine-glazed meatballs with lemon and parsley.
Porcelain (Asian cuisine)        
Chef Kate Telfeyan plates ace Chinese-leaning dishes with a twist. Save room for the steamed egg, a triumphant square buried under a fiery mix of scallion oil, spiced granola and chili oil.
Rolo's (American cuisine)       
By day, the front is a bakery and bodega. By nightfall, the room morphs into a spacious cocktail bar. An adjoining space also comes to life as a roaring wood-fire grill bathes the room in flickering amber hues and signals the start of dinner service.
Runner Up (American cuisine)          
Next-door sibling Winner may earn the trophy for its bread and desserts (also served here) but Runner Up is likely number one in many Park Slope residents' hearts given its serious focus on fresh, seasonal produce anchored by savory heavy-hitters.
Sami & Susu (Middle Eastern cuisine)        
On busy Orchard Street, this neighborhood gem hides in plain sight, anchored by a kitchen that doesn't even have a proper gas stove. Seasonal, bright and unfussy, the menu is small but endlessly tempting as it roams the Middle East for inspiration.
Sobre Masa (Mexican cuisine)           
Chef-owners and husband-and-wife Zack and Diana Wangeman are humble about the only appetizer on the menu, but what a start it is. The chips are freshly fried, made in-house where you can watch the team nixtamalize, mill and knead heritage Mexican corn into beautiful, soft tortillas.
Soda Club (Vegan cuisine)     
The name is derived from Italy's tradition of hand-crafted sodas; and its spirit from the turbulent Prohibition era. On the menu, house-made pastas are a focus. There are also natural wines to accompany the seasonal, deftly executed vegan dishes.
Szechuan Gourmet (Chinese cuisine)          
This long-established haunt has finally rebuilt and reopened after a terrible fire in 2018. Miraculously, the kitchen hasn't missed a beat, and those who long for the tingly heat of Sichuan peppercorns and the burn of bright red chili oil will not leave disappointed.
TVB by: Pax Romana (Italian-American cuisine)
There is a classic rusticity to the setting, not unlike its cuisine, which focuses on Roman-inspired items. Chef Cristian Petitta prepares some of the best pinsa in town, its puffy and crispy crust topped with a well-balanced tomato sauce, mozzarella and basil, full stop.
Yellow Rose (Tex-Mex cuisine)         
Amid this setting of weathered wood and stained-glass chandeliers, diners can be found devouring Tex-Mex food with a focus on tacos and inspired cocktails. Flour tortillas are made in house daily and feature in myriad deliciously dressed-down creations.
Zaab Zaab (Thai cuisine)     
Elmhurst is rich with talented Thai kitchens, but this one stands out for its fiery Isan-style cooking and prowess with seafood. It would be a mistake to show up without friends — or at least a very serious appetite.
See also…