Tasca opened in November 2020, a time when many New York restaurants were going under or just barely surviving under the weight of the COVID pandemic. Jay and Norisa Espinal, the owners of the new venture, were no strangers to the trade, having owned and operated the popular East Side restaurant Don Pedro's for ten years. Maybe the couple knew something industry forecasters didn't, but a year later Tasca is still standing and, judging from the size of the crowd on a recent evening, doing a very healthy business.
The restaurant's culinary focus is on the Caribbean and Spain, regions most notable geographically speaking for their many miles of coastline. Accordingly, seafood figures prominently in the offerings at Tasca, comprising 7 of the 11 small plates and half the main courses.
You would be wise to follow their lead, perhaps opening with the incredibly tender grilled octopus in a sauce perfumed and tinged orange by sweet Spanish paprika. You prolong the experience by alternating bites of the charred meat with forkfuls of purple Peruvian potato.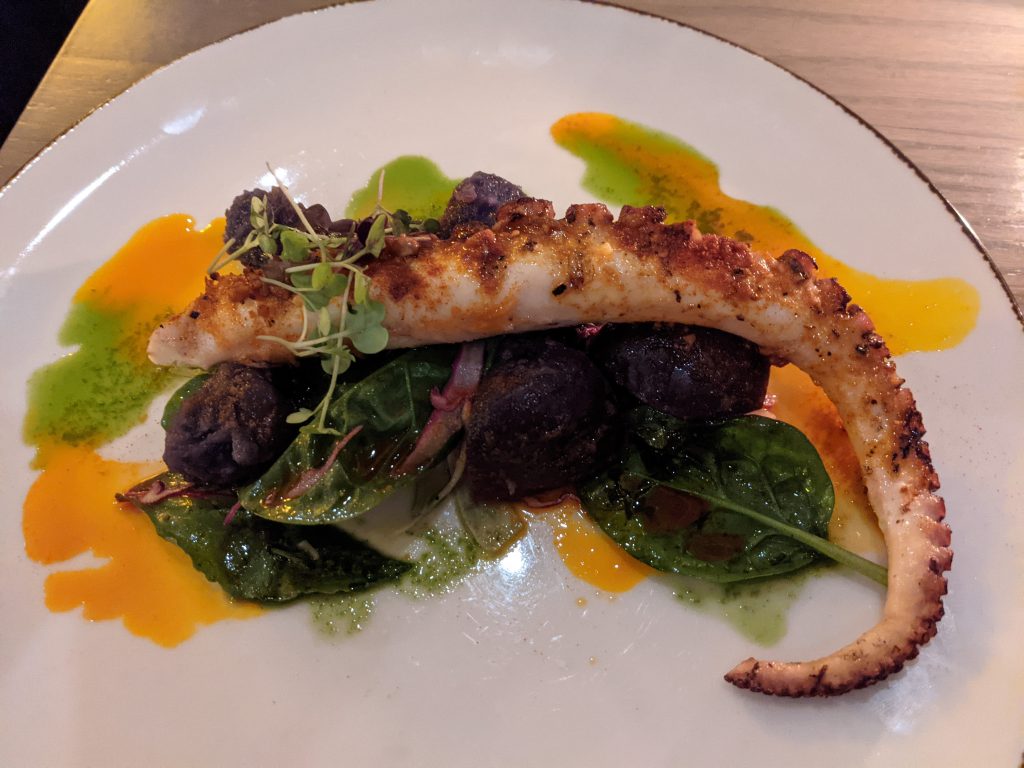 Empanadas are a staple throughout the Spanish-speaking world and beyond, having originated in the Middle East. Tasca does three variations on the hand pie theme, but don't miss the version with brisket, a shatteringly crisp pastry shell encasing shreds of the warming beef and bits of sweet red pepper.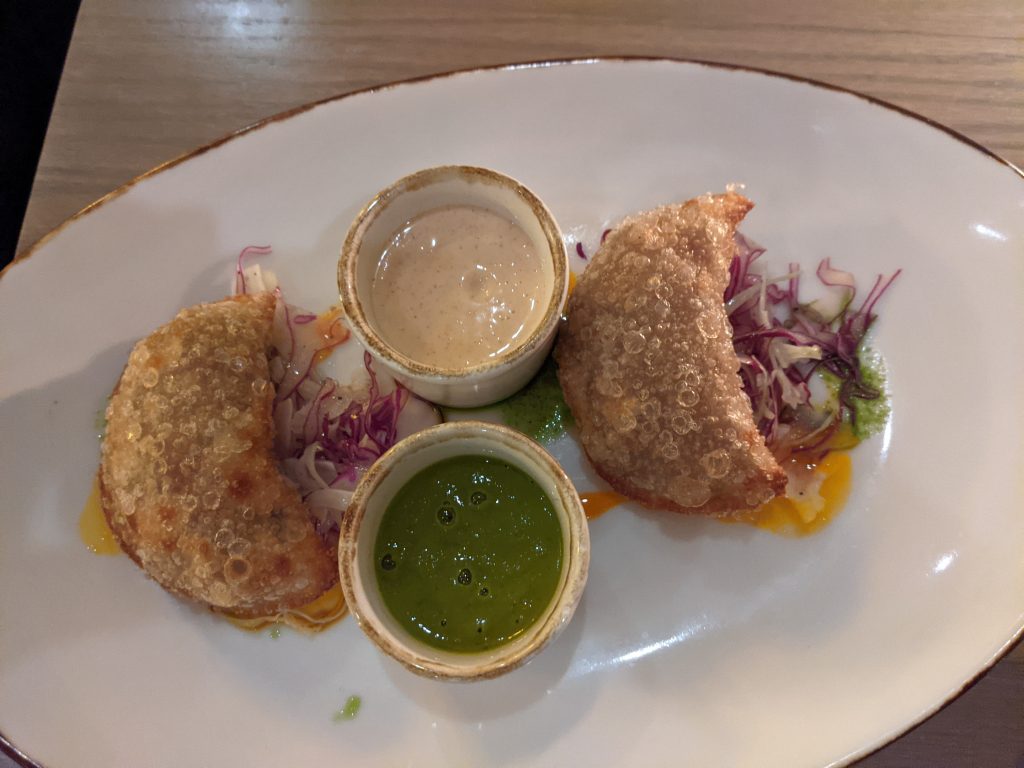 If you come here only once, the one dish to have is the codicia de pescado y mariscos — an assortment of seafood (large shrimp, plump clams and mussels, tender calamari, and slices of buttery scallop), all knee-deep in a lobster-stock and brandy reduction scented with licoricey fennel. If you eat the dish as is, it will put you in mind of a good bouillabaisse. But if you mix in some of the superb saffron rice offered up on the side, it takes on some of the character of a paella.
Fat slices of spice-rubbed duck magret arrive on a mound of mashed sweet plantains studded with chunks of goat cheese that have been macerated in Zinfandel. The meat itself is cooked with care, ensuring that each slice of breast has a rosy core.
Dessert is not a strong suit of Caribbean cooking. I have long maintained that tres leches cake — sponge cake poked with holes that permit the three "milks" (evaporated, condensed, and heavy cream) to soak in — is an acquired taste. The recipe as interpreted by Tasca receives style points for its artful presentation beneath a ring of crunchy pasty and a ball of guava sorbet.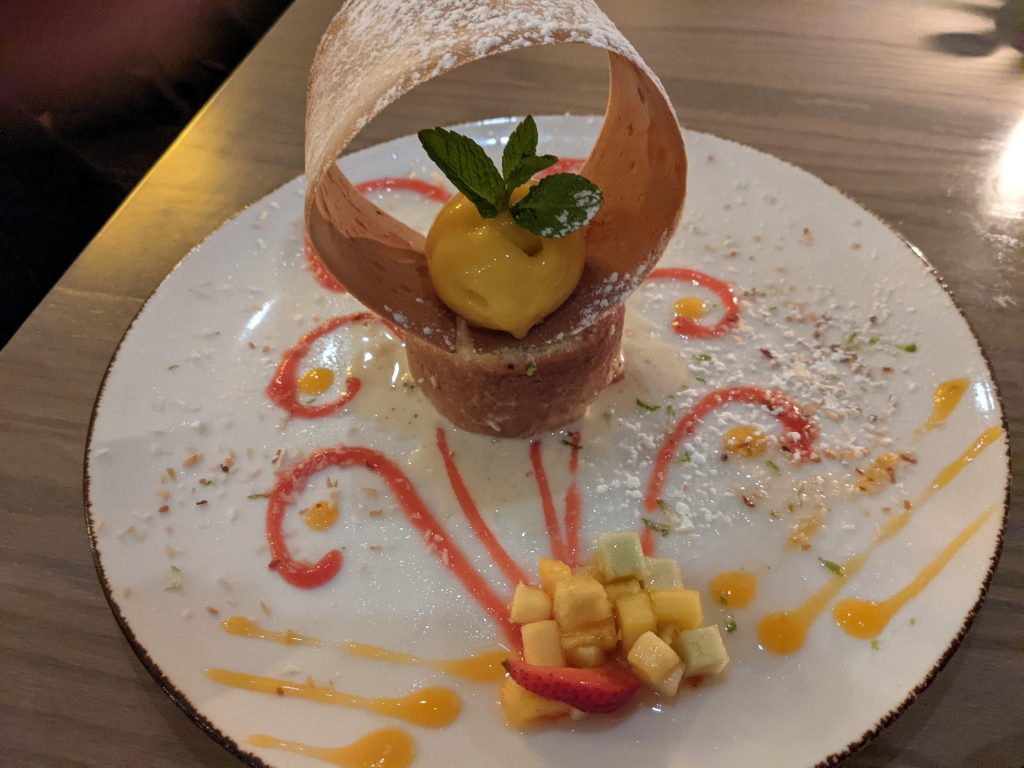 A banana bread pudding, glazed with sweetened rum and topped with rum-soaked raisins, is a step in the right direction, but the sweet is defeated by its weightiness.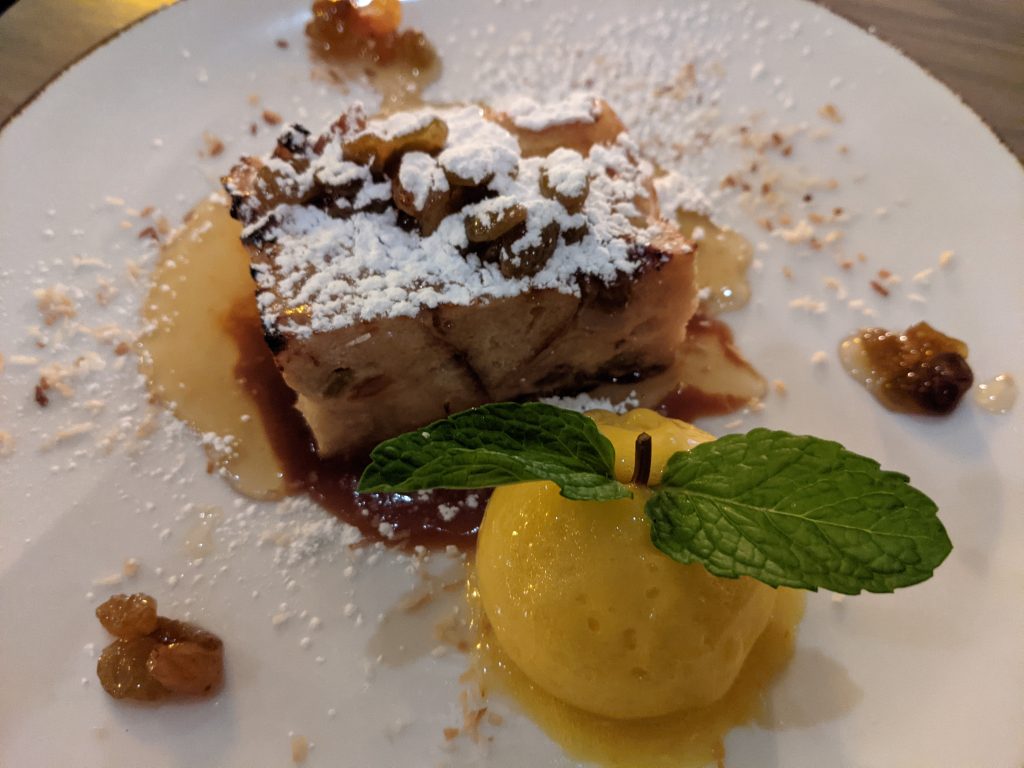 The wait staff at Tasca is uncommonly knowledgeable, fielding questions about the menu without repeated trips back to the kitchen. It is a refreshing change from today's all-too-frequent "laid-back" service.
Price range: $15 to $21 for starters, $28 to $35 for main courses, and $12 for dessert.
Tasca, 505 Columbus Avenue (bet. 84th and 85th Sts.), 212-362-2211, is open for dinner daily and brunch on weekends.