Many cultures of the world boast rites of passage, real or symbolic journeys that one embarks on as a child and emerges from theoretically as an adult. For adventurous New York diners, sampling some of the foods of other cultures may be viewed as a rite of passage of sorts — a coming of age gastronomically speaking.
As you read the descriptions below, decide whether you have the culinary cojones to try these dishes, which are consumed without a second thought in their native cultures.
Balut. This Southeast Asian delicacy is identified on the menu of Jeepney (201 First Avenue, 212-533-4121), a Filipino gastropub in the East Village, as "fertilized duck egg," though it can technically be any developing bird embryo that is boiled and eaten from the shell. In the Philippines, balut is commonly sold as street food.
If you'd rather feast on something a little more developed, try the sisig tacos, whose contents include pig ears, cheek, snout, belly, and sili(?). You'll also find crispy pork ruffle fat (chicharon bulaklak) among the starters, which isn't really fat, though it is fatty. It's the pig's mesentery — the membrane that attaches the intestine to the abdominal wall and holds it in place. Here's what it looks like in its natural state: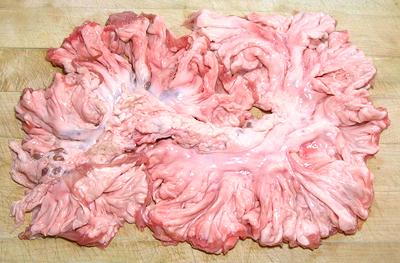 Nama-Senmai (Raw Third Stomach). Would you have been more inclined to rush over to the Japanese restaurant Takashi (456 Hudson street, bet. Morton and Barrow Sts., 212-414-2929) if the stomach specified were the first rather than the third (cows have four all told)? Perhaps the idea that the item is consumed raw is more of a stumbling block, in which case you're probably no more keen on trying the raw liver with sesame oil and roasted rock salt (namagimo). The liver is described on the menu as "utra-fresh," if that's any inducement. The menu specifies that the "calf's brain cream" is "in tube," but maybe you'd prefer to move on.
Live Octopus. Do you recall your first bite of octopus? I remember mine — feeling my face flush as my tongue came into contact with one of the suckers on the tentacles. I have since come to love octopus, though I can't say I've ever consumed the beast raw, much less while it was still living. If you're game to give it a shot, then the Korean restaurants Sik Gaek in Queens (there are two — one in Woodside at 49-11 Roosevelt Avenue, at 50th St., 718-205-4555, and one in Flushing at 161-29 Crocheron Avenue, 718-321-7770) have your number. The seafood is freshly caught, meaning still moving when it arrives at your table. A photo of the dish follows, but if you're bent on watching it squirm, this link will take you to a video of the same.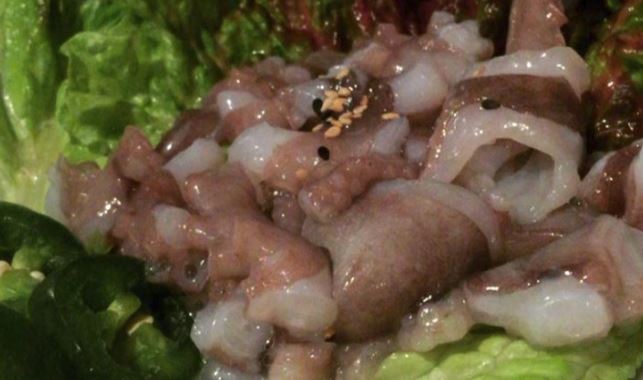 Chapulines (Grasshoppers). We're talking the Jiminy Cricket — not the cocktail — variety here. The little beasties are on the menu at The Black Ant, a Mexican restaurant in the East Village (60 Second Avenue, 212-598-0300), where they are served with shishito peppers, avocado, and queso fresco. Look on the bright side: At least they are cooked.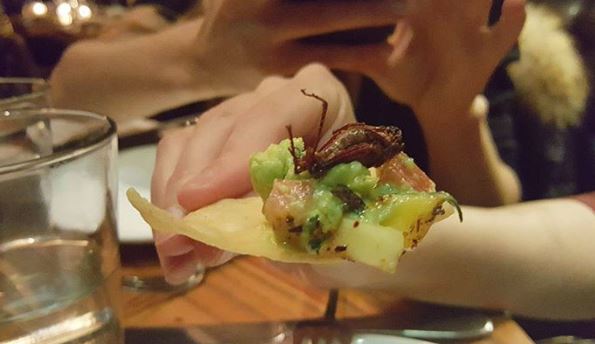 See also…