Some theme restaurants embrace their theme outright. Like the now-defunct Shula's Steak House chain, they imprint the menu on a regulation NFL football. At others, the theme might be said to come with the turf.
A case in point are so-called haunted restaurants, like il Buco (47 Bond Street, 212-533-1932). Edgar Allan Poe is said to have found inspiration for his short story "The Cask of Amontillado" after several visits to the establishment at the same address. Legend has it that wine cellar was the scene of the murder of a young woman. Whether she was sealed up behind a brick wall, as befell one of Poe's characters, remains to be seen.
For a more Hollywoodized version of a haunted restaurant, there is Jekyll and Hyde (91 Seventh Avenue South, bet W 4th and Barrow St, 212-989-7701), where the spooks are prefab. So sadly is the food, mostly bar snacks and burgers, but no one comes here to eat, just to be "entertained."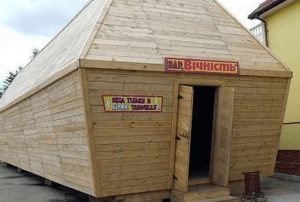 If the thought of breaking bread in a cemetery doesn't give you the creeps, you get even more up-close and personal at Ukraine's Eternity Restaurant, which is housed in a coffin. Lest you feel cramped, the pine box, which measures at 65.6 feet by 19.6 feet, is spacious enough for you and several other hungry corpses. The structure is windowless, but votive candles on the tables provide all the light you need.
If you're not ready to dine in the great beyond, perhaps Taiwan's DS Music Restaurant (7, XinSheng N Rd, Sec 3, 02-2587-3226) is more your speed. The restaurant is decked out to resemble (wait for it!) a hospital. Waitresses are dressed in old-fangled white nurses' uniforms, and cocktails are set up in an IV drip suspended from above. "Table 12 needs an order of Thai-style sautéed prawns! Stat!" Is the food as yummy as actual hospital fare? You'll have to make the trip yourself to find out.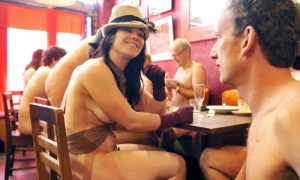 If you're into the "farm-to-table" craze, why not take a further step toward all-natural edibles by dining au natural. That's the policy at The Bunyadi, London's (and possibly the world's) first all-nude restaurant. The idea of eating in your altogether has had sufficient allure to keep the reservations book full, which currently contains 40,000 advance entries, extending well into the future.