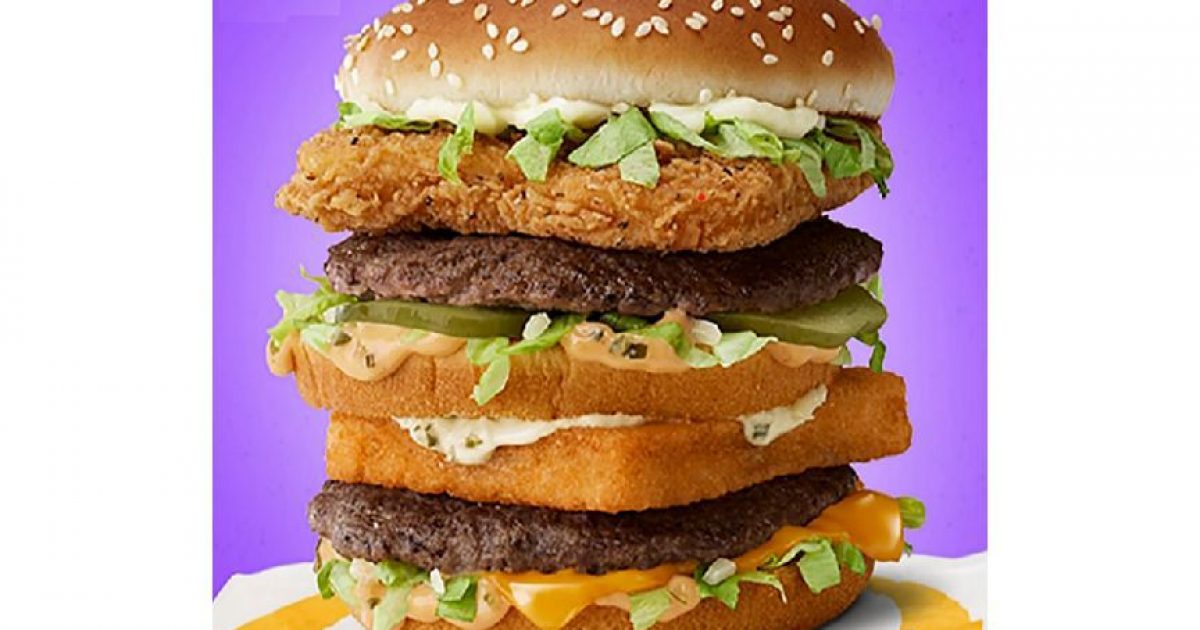 If you're one of those McDonald's traditionalists who dashed off an angry email when the chain debuted its P.L.T. (Plant Lettuce Tomato) sandwich in June of 2020, here's proof the fast food gods have not forsaken you. Beginning tomorrow, the company will be offering four new sandwich combinations based on the meal-time habits of fans like you.
Customers who are fond of stacking a hash brown on their breakfast sandwich will find manna in the ready-made "Hash Brown McMuffin," a Sausage McMuffin with Egg topped with a hash brown. Or consider the "Surf and Turf," a triple-decker sandwich that boasts a cheeseburger on each of the first two floors, a Filet-o-Fish on the third.
Are there actually customers who combine a Big Mac with a McChicken sandwich and a Filet-o-Fish at a single meal? Apparently there are, and McDonald's has just made life more convenient with its "Land, Air & Sea." The skyscraper sandwich provides 1,330 calories, 69 grams of fat (89% of your recommended daily intake), and 123 grams of carbs.
The new items (which also include a "Crunchy Double" — a double cheeseburger mounded high with Chicken McNuggets and BBQ Sauce) will be on sale for a limited time.
Who's not lovin' it?
See also…