Just when you thought you had seen it all, along comes New York's first restaurant specializing in topokki. Make that restaurants — plural. Shortly after the new installation opened in Flushing last December, a satellite branch opened in Bayside.
Topokki, should the name fail to ring a bell, is a do-it-yourself Korean hotpot. A helpful graphic on the website of Witch Topokki, the name of the new venture, provides the basic procedure you follow in assembling your meal.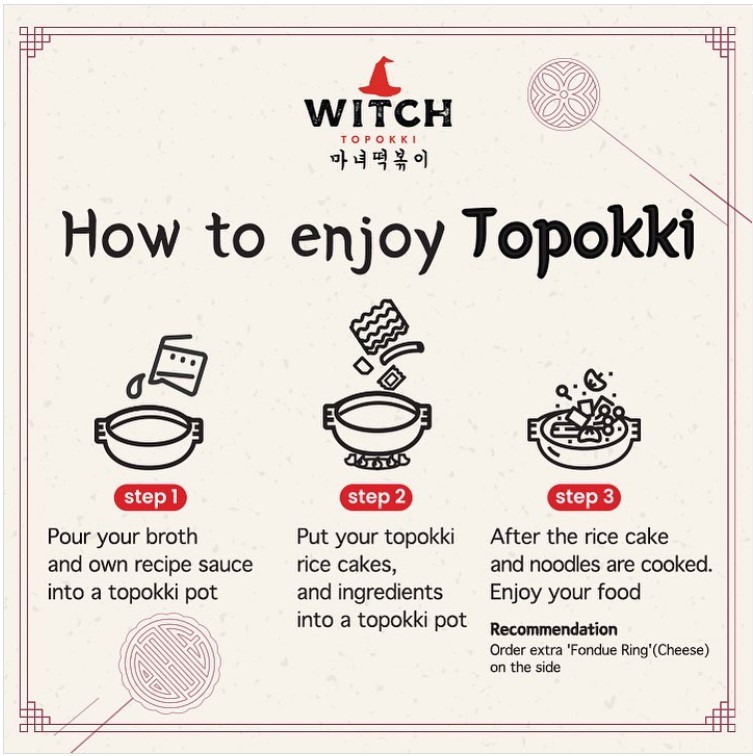 As shown, you begin your visit to the buffet-style food bar by selecting a broth based on your spice tolerance, followed by a type and flavor of rice cake. Next comes the choice of noodle and, finally, the "toppings." These include aromatics, such as cabbage, onion, and cilantro, and protein sources: minced sausage, lobster balls, uncooked eggs — you get the picture. You can avail yourself of a few premium toppings, such as four ounces of Angus sliced beef or "fondue" cheese, for an additional $5 per item.
Because the restaurants are all-you-can-eat, you can begin the process again as many times as you like. Be advised however that there is a 90-minute time limit, after which  diners will be assessed a 20% surcharge for each additional 30 minutes of consumption.
Base prices are $22.95 for lunch and $25.95 for dinner. Children eat for half-price.
Witch Topokki, 146-13 Northern Boulevard, Flushing; and 209-35 Northern Boulevard, Bayside.
See also…