You'd think that in these health-conscious times, the appeal of "all you can eat" deals would have gone the way of the Model T. You'd be wrong. New York still boasts dozens of AYCE restaurants, and most nights they are jammed with people who think they can put away enough food to justify the cost. In rare cases they do, though they usually end up with a story they can tell their grandkids.
This is not to say that even the most refined food lovers aren't occasionally seized with the urge to tie on the old feedbag. If that includes you, here are ten places you should know about.
1. Hyun
This two-year-old Korean barbecue in the heart of K-town distinguishes itself from other restaurants of that description by serving not only Wagyu beef but the best quality you can find. As I noted in my review of Hyun, beef in Japan is judged along four dimensions, the most important being marbling, which is scored on a scale from 1 to 5, with one of the letters A, B, or C designating yield. The best USDA prime available equates to about a 4 on the Japanese scale. The Wagyu the restaurant sells is A5.
There are two AYCE options: 5 to 6 cuts for $99 or 8 to 10 cuts for $135. A third option is the omakase menu, which also includes 8 to 10 cuts for $180, but if you're here to see how much top-grade beef you can scarf down in 90 minutes (I neglected to mention there is a time limit) why not focus on steak?
Wherein lies the rub. Wagyu beef is so heavily marbled as to be almost intolerably rich; you're apt to throw in the towel long before you ingest a pound or whatever milestone you were looking to achieve. Hyun, 10 E. 33rd Street.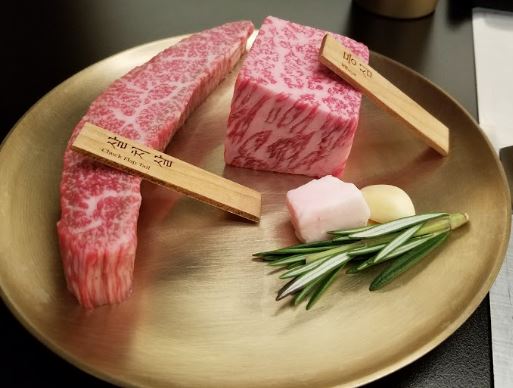 2. BXL Café
BXL Café, a moderately priced Belgian restaurant in the Times Square area, also imposes limitations on its AYCE offering. The deal is offered only on Sundays and Mondays, only at dinner, and is limited to steamed mussels. Nevertheless, the tariff — $29 — also covers a serving of good Belgian-style frites and a Stella Artois. Not a bad little deal when you think about it. BXL Café, 125 W. 43rd Street, 212-768-0200.
3. Churrascaria Plataforma
If you glimpse the website of Churrascaria Plataforma, you won't immediately find the all-you-can-eat offer, which is tucked away under "prix fixe," but if you've eaten at one of these Brazilian steakhouses before, you probably know the routine. Skewers of beef, lamb, pork sausage, and chicken hot from the grill are paraded around the dining room and served to patrons who display the green side of the color-coded paddle they are presented with (red means no mas). The cost of lunch ($45 a person, $49 on weekends) or dinner ($72) includes endless trips to the "gourmet" salad/appetizer bar, which you'll want to limit if you came for the meat. Most customers do. Churrascaria Plataforma, 316 W. 49th Street (bet. Eighth and Ninth Aves.), 212-245-0505.
4. Let's Meat
Like Hyun, Let's Meat is a Korean barbecue and your meal is timed: You have a 100-minute allotment. Unlike Hyun, you won't find Wagyu beef in any size, shape, or form, nor is the menu limited to beef. Sure, there are brisket, ribeye, and hanger steak (spelled on the menu with two g's), but there is also pork belly, pork jowls, and chicken teriyaki. If you order from the higher-priced "signature" menu ($45.99 compared with $39.99 for the "classic" menu described above), you have access to beef small intestine, beef entrails (don't knock them till you've tried them), and strip steak (one per person). Let's Meat, 307 Fifth Avenue (bet. 31st and 32nd Sts.), 212-889-0089.
5. Koko Sushi
What sets Koko Sushi in the East Village apart from its AYCE Japanese competitors is the drink option. The cost of dinner by itself — which includes unlimited sushi and teriyaki — is $38. For $12 more, you can add unlimited wine, beer, or sake. The deal is valid from Sunday to Thursday and participants are held to a two-hour limit. Koko Sushi, 214 First Avenue (at 13th St.), 212-533-3030.