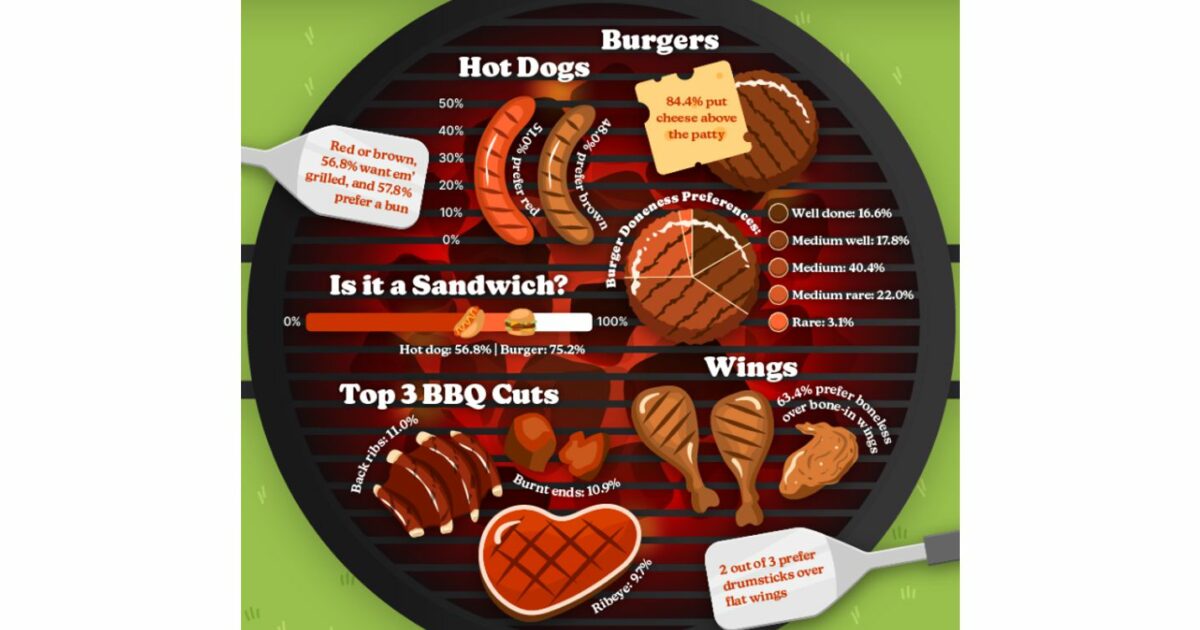 Thursday, Aug. 25, is National Burger Day. America loves its burgers, but there is a debate over how we like them cooked and whether the cheese goes above or below the burger patty. A study released by RTAOutdoorLiving.com provides data about this and other preferences in the foods that unite — and divide — us. The findings that follow are based on a nationwide survey of 1,000 respondents.
When it comes to cheeseburgers, 15% of those queried believe the cheese should go under the burger! That includes almost 19% of men.
The most desirable level of doneness for a burger is medium, with 40% of respondents agreeing. More men (43.1%) than women (36.8%) preferred their burgers cooked medium, while more women (23.2%) than men (11.6%) wanted well-done burgers.

Wing "drumsticks" are the clear favorite among wing eaters, far ahead of "flats."

56.7% of respondents say grilling is the best method to prepare a hot dog. Grilling is 10% more popular with females (62.5%) than males (52.2%). Surprisingly, 12.6% think microwaving is the best way. Even worse, 27% of those ages 18-23 feel that boiling is the best method. (If anything makes you despair over the Gen Z population, this might be it!)
Image: RTAOutdoorLiving.comIf you have plans to attend a cookout between now and the end of summer, be sure to bookmark and share this post, and watch the feathers fly.
See also…
Miller Lite Grill Share Is Coming to Brooklyn ― and It's Free