Sometimes your late-night munchies are non-specific. You're just plain hungry and any number of foodstuffs will quiet your stomach growls. At other times, your craving is for one target item. It may be pizza or a Reuben. It might even be something sweet that drags you out of bed at a quarter to three.
Rosa's Pizza. This unassuming pizzeria on Metropolitan Avenue in Brooklyn has been  around for nearly half a century, so they must be doing something right. And what they have been doing is serving fat, crusty slices of Sicilian pie (the house specialty) under a thick zesty sauce. Rosa's also does round pies for those who prefer a wedge over a rectangle. Best of all, unless the hunger pangs came after 2 a.m., Monday through Friday, or 4 a.m. on weekends, Rosa's has got you covered. Rosa's Pizza, 374 Metropolitan Avenue, Brooklyn, 718-963-2378.
P.J. Clarke's. Occupying the same midtown corner since 1884, P.J.'s is the neighborhood tavern that refused to budge when plans for a 47-floor skyscraper were announced in the mid-1960s. The building was subsequently built around and above the bar. You can discuss this bit of real estate history with one of the amiable bartenders as you tuck into your Reuben, made using caraway sauerkraut, Gruyère, and Russian deli mustard, all on seeded rye. Clarke's is open till 4 a.m. P.J. Clarke's, 915 Third Avenue (at 55th Street), 212-317-1616.
Insomnia Cookies. Have you ever awakened in the middle of the night with an overpowering urge to bite into a chunky, gooey warm chocolate chip cookie? If so, Insomnia Cookies has just what the doctor ordered. The bakery, which has 15 locations spread around the city, will deliver hot cookies to your door up until 3 a.m. (Note that some locations post closing times of 1 a.m. on selected weekdays, so be sure to check.)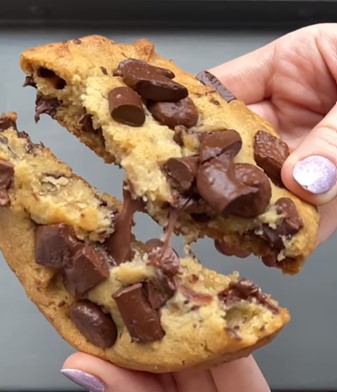 Rice to Riches. I have never personally been roused from sleep by a burning desire to eat rice pudding. For those who have there is Rags to Riches, which not only traffics exclusively in rice pudding, but offers up some imaginative flavors, such as "Coconut Coma" and "Take Me to Tiramisu." (If you don't get the pun, don't berate yourself. They need better joke writers.) Flavors change regularly, so be sure to check the day's (night's?) offerings. Rags to Riches is open till 1 a.m. on weekends only, so try to time your cravings. Rags to Riches, 37 Spring Street (bet. Mott and Mulberry Sts.), 212-274-0008.
See also…