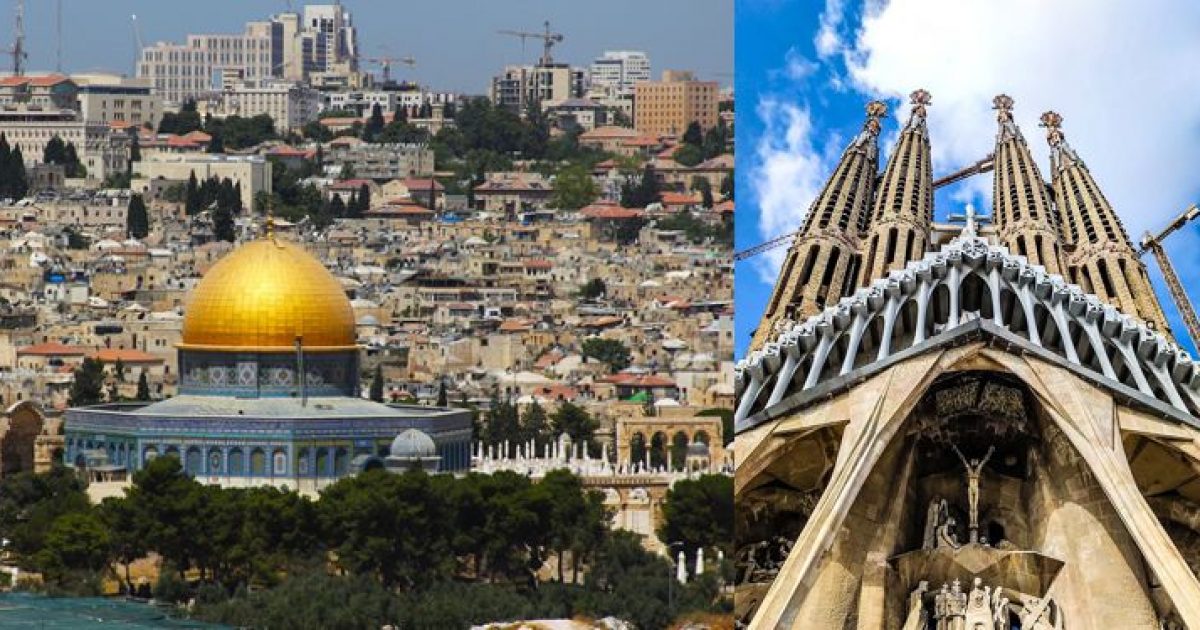 Do you have plans to travel abroad any time soon? Whether you do or not, you can now book passage to Spain and Israel for a one-evening excursion on April 30. The trip is virtual but will include a guiding tasting tour: Yes, you actually eat while visiting famous sites.
The nine-course menu is designed by two Michelin star chef Oscar Gonzalez, who is also executive sous chef at the weight loss outfit NutriFit. (As you may have guess the menu, which appears below, includes healthy choices.
In Spain you will explore one of Barcelona's best-known attractions, La Sagrada Familia, designed by architect Antoni Gaudi.
Choose either a vegetarian or "omnitarian" menu for your eating adventure. The food is delivered to your door the morning of April 30. The event begins at 6:30 p.m. and is accessed via Zoom.
Tickets, which may be purchased here, run from $74.95 to $134.95 per person. Add a wine pairing of three 3 ounces each of rare, highly rated wines for an additional $20.
Omnitarian Menu
Aubergine salad with egg, tahini, tomatoes and spicy mango yoghurt dressing
Spring vegetable Gallette de Rois — Asparagus, summer squash and red bell pepper with a mix of Israeli feta and farmers cheese.
Fideua Valenciana with Squid ink Pasta Paella with king prawns, gefilte fish and Spanish chorizo
Solomillo in Boletus and Port sauce. Filet Mignon with chanterelle mushroom sauce with apple and shaved brussels sprouts.
Sweet potato and kale Latkes with Green Goddess dressing and whipped goat cheese
Sweet Lime Crepe
Basque Cheesecake
Chocolate churro Rice Pudding with "white negev sand"
Currant Pistachio Halvah
Vegetarian Menu
Aubergine salad with egg, tahini, tomatoes and spicy mango yoghurt dressing
Spring vegetable Gallette de Rois — Asparagus, summer squash and red bell pepper with a mix of Israeli feta and farmers cheese
Fideua Valenciana. Pasta Paella with Garden Vegetables and Spanish soyrizo
Solomillo" in Boletus and Port sauce Lentil terrine with Chanterelle sauce with apple and shaved brussels sprouts
Sweet potato and kale Latkes with Green Goddess dressing and whipped goat cheese
Sweet Lime Crepe
Basque Cheesecake
Chocolate churro Rice Pudding with "white negev sand"
Currant Pistachio Halvah