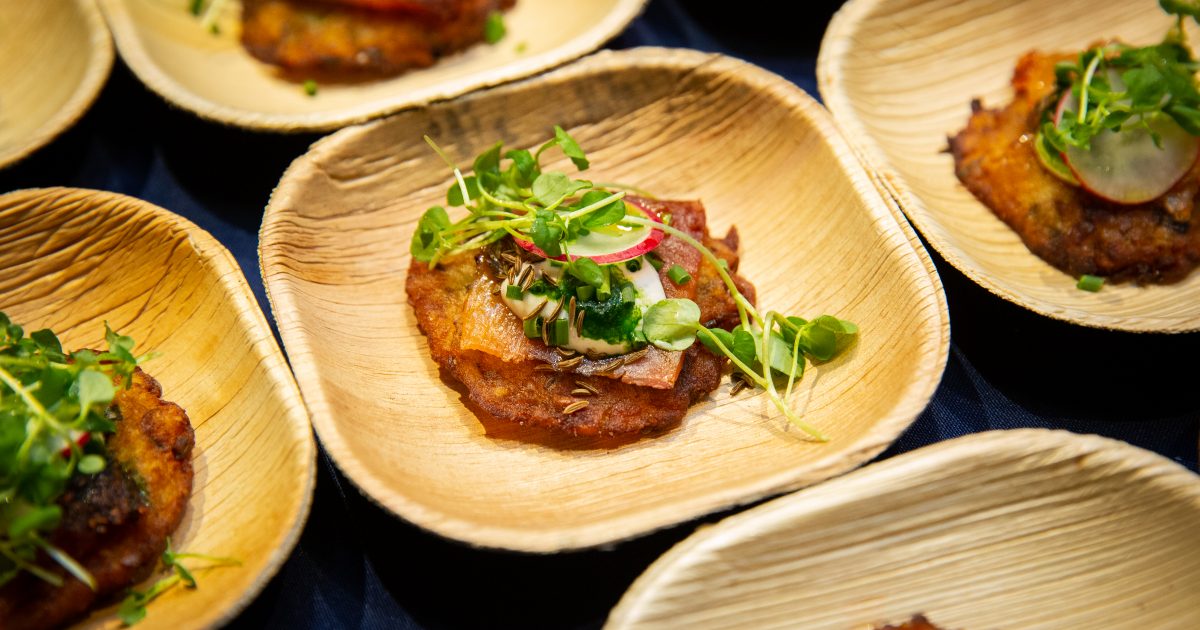 And the winner is … you! Even if you didn't attend Great Performances' 11th Annual Latke Cookoff (and you should have — this year's turnout was record-setting), you come away a winner because the winning latke cooks have been gracious enough to share their recipes with AppleEats readers. (The recipes can be found below.)
The purpose of the annual event is to raise funds to support The Sylvia Center, a nonprofit dedicated to nutrition and healthy cooking education for children in underserved neighborhoods throughout New York City and in Columbia Co., N.Y.
As was the case last year, Veselka tied for the People's Choice Best Latke with its Veggie (or Smoked Ham) Reuben Latke with homemade sauerkraut, homemade Russian dressing, and Swiss cheese. It was a savory contrast to the other People's Choice winner, the Sweet Potato Latke proffered by Vanay Coffey, the chef of The Bankers Club at 120 Broadway.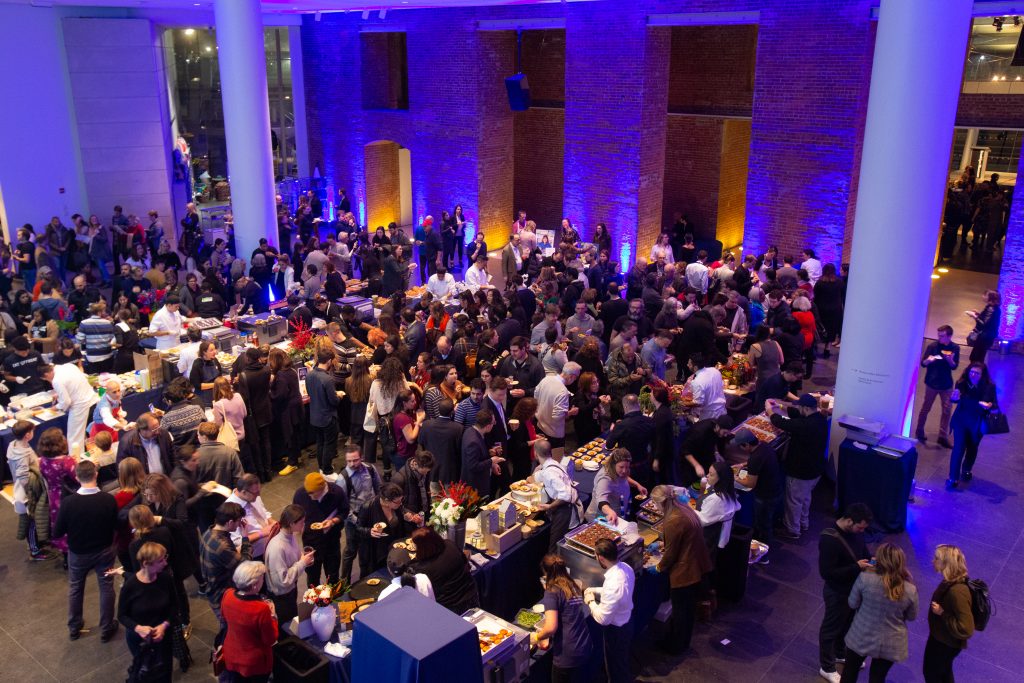 There was another tie for the judges' determination of Best Creative Latke: Chef Bao Bao of Baoburg's Okonomiyaki Latke — a Japanese-style octopus-potato pancake topped with sweet soy sauce, mayonnaise, and bonito flakes — scored the same number of style points as the Jewish Food Society's "Russian Latke," a smoked white fish and potato latke with horseradish sour cream and caviar.
The judges' nod for Best Overall Latke went to Hanoi House for Albert Nguyen's Banh Tom, a sweet potato and shrimp fritter. The judges also named Veselka's the Best Traditional Latke.
Two new categories were introduced this year, Best Vegetarian and Best Newcomer. First prize went to the "Classic Potato Latke," with whiskey-braised apples, horseradish crème fraîche, and chives developed by Sarah Flynn from Yellow Magnolia at the Brooklyn Botanic Garden. David Burke Tavern's Horseradish & Caraway Latke, with pastrami smoked salmon, claimed second place. However, the veteran celebrity chef behind the eponymous restaurant was not the only Latke Cookoff virgin to take home top honors. All of the winners this year, except Veselka and Yellow Magnolia Café, were newbies — also a record.
As the ultimate celebration of mouthwatering versatility, the event showcased latke creations ranging from the classic to the decadently imaginative by chefs from such establishments as Benchmark, Chela, Duet Bakery & Restaurant, Dizzy's Club, Graffiti Earth, The Norm, and Shelsky's of Brooklyn.
"The extraordinary range of the latke interpretations never ceases to fascinate me," said Liz Neumark, the founder and CEO of Great Performances. "This year that range encompassed the most vegetarian latkes we've ever seen at the event, which is right on trend with what's happening in the food world. It must have resonated with the attendees too, because we raised a record amount for The Sylvia Center, partly due to on-site text-to-donations, which increased fivefold over the previous year."
And now, without further ado, the recipes:
David Burke Tavern's Horseradish & Caraway Latke
Ingredients
5 lbs of potatoes, peeled and shredded
6 eggs
6 oz of matzo meal
3 bunches scallions, minced
2 tablespoons toasted caraway seeds
6 oz prepared horseradish
Salt and pepper to taste
Canola oil for frying
Directions
Combine potatoes and onion in a bowl and then turn out on to a kitchen towel or paper towels to squeeze out moisture.
Place mixture in large bowl. Add the next six ingredients and stir to integrate well.
In a medium heavy-bottomed pan over medium-high heat, pour in about 1/4 inch of the oil. Once the oil is hot (a drop of batter placed in the pan should sizzle), use a heaping tablespoon to drop the batter into the hot pan, cooking in batches.
Use a spatula to flatten and shape the drops into discs. When the edges of the latkes are brown and crisp, about 5 minutes, flip.
Cook until the second side is deeply browned, about another 5 minutes.
Transfer the latkes to a paper towel-lined plate to drain. Repeat with the remaining batter.
Vanay Coffey's Sweet Potato Latkes (The Bankers Club)
Ingredients
5 sweet potatoes (or 3 jumbo sweet potatoes)
3 Idaho potatoes
1 medium onion pureed
1 large egg, beaten
3 Tbsp ground cinnamon
2 Tsp ground clove
1 Tbsp ground nutmeg
2 Tbsp all spice
3 Tbsp salt
1 recipe marshmallow topic (see below)
1 recipe syrup (see below)
Oil for frying
Marshmallow Topping
½ cup brown sugar
½ cup granulated sugar
2 teaspoons cinnamon
1 teaspoon nutmeg
1 bag large marshmallows
Syrup
½ cup water
½ cup pineapple juice
1 cup brown sugar
1 cup granulated sugar
1 tsp molasses
Directions
Peel and shred sweet potatoes and potatoes.
Mix shreds together with egg, onion, and seasonings
Shape into small patties, squeezing out any water as you go.
Places patties on baking sheet lined with parchment paper. (Makes about 30 2-inch-round patties.)
Freeze for 2 hrs or until firm.
Deep fry in oil heated to 350 degrees until golden and crispy.
Drain on a rack or parchment paper-lined pan. Sprinkle with salt.
Marshmallows Topping
Mix sugar and spices in a bowl.
Cut each marshmallow in half.
Dip the sticky side (center after cutting) into sugar mixture.
Syrup
Combine all ingredients in a small saucepan and bring to a boil.
Mixture will thicken as it cools.
Assembly
Place a marshmallow half on top of each cooked latke. Use a torch to brulée the top of each marshmallow to a desired char. Drizzle with syrup and enjoy.
See also…
The 11th Annual Latke Cookoff Is Coming, but This Time It's Personal