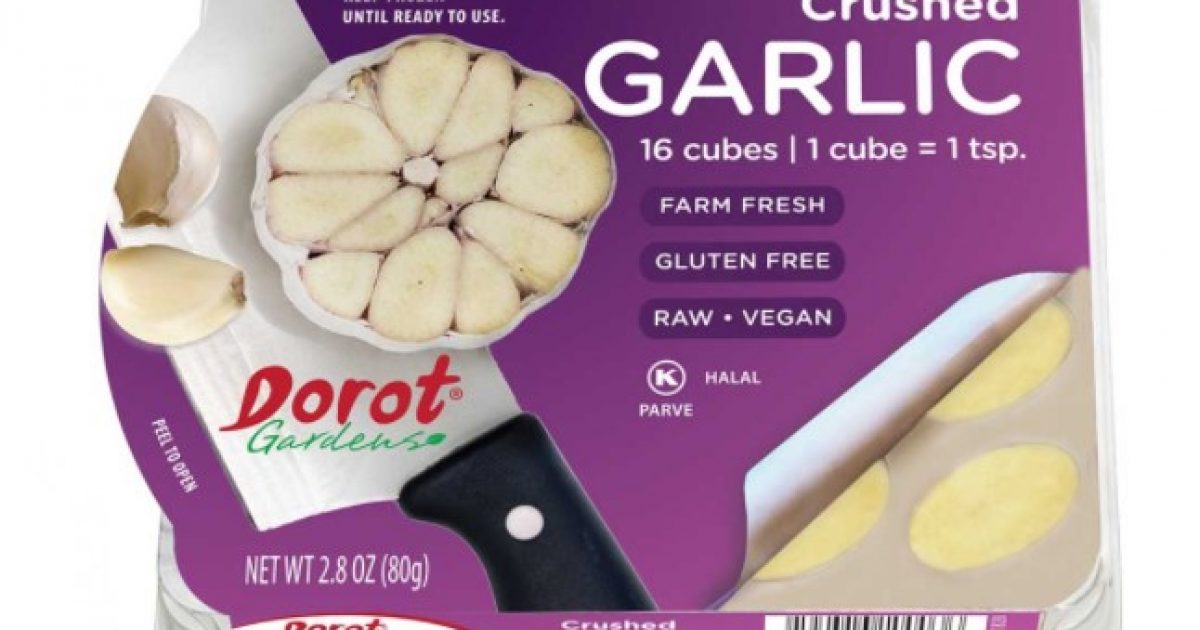 If you're like most home cooks, you probably find few kitchen tasks less pleasant than separating a head of garlic, coaxing the paper off the cloves, and getting the raw garlic "aroma" off your hands and cutting board. If you've tried substituting those jars of pre-minced garlic, which smell as though they've been preserved in formaldehyde, you know that's not the answer.
But now there is an answer. Dorot Gardens, a company dedicated to simplifying the task of adding flavor to your culinary creations, has come out with a line of fresh pre-portioned garlic, onions, and herbs.
The garlic and other flavoring agents come frozen but ready to use. Each package contains  16 pre-portioned cubes of crushed garlic ready to be sautéed or just added as is to sauces, soups, and gravies. No peeling or chopping is required, and neither is measuring. Each garlic cube is the equivalent of one clove.
We tested out the product in our favorite garlic mashed potato recipe, which you can find here. The recipe calls for 6 or 7 large cloves of garlic minced fine and macerated in olive oil. We substituted Dorot Gardens garlic cubes and proceeded with the recipe. The end-product was identical, according to our tasters.
We then tried eliminating a step by adding the raw cubes of Dorot Gardens garlic directly to the hot potatoes, and the result was even better, meaning more garlicky!
Dorot Gardens garlic comes with a two-year shelf life (not that you'll likely need it).
The product is available in the New York City area at Trader Joe's, Whole Foods, and Target. The price of a 16-pack of cubes runs between $4 and $5, though you can find it for as little as $2.28 online.
See also…
How to Make Perfect Garlic Mashed Potatoes