In the last couple of years, the New York restaurant scene has witnessed a spate of spinoffs of restaurants that originated overseas. In July 2017, Burger & Lobster, a London-based chain, set up its second New York outpost, while earlier this year Nusr-et, a Turkish steakhouse, established its thirteenth satellite in Manhattan's Theater District.
In between, another newcomer to the Apple quietly opened for business last September in the Sheepshead Bay section of Brooklyn. Like its parent restaurant in Moscow, its name is Belarussian Xata. And based on recent up-close and personal encounters with the cuisine, the ambiance, and staff, I'm here to tell you it's a winner.
The restaurant makes its home in smallish but convivial surroundings with cream-colored walls lined with ethnic art and objets. The wooden chairs and tables appear to be hand-carved, the latter adorned along their axes with strips of rushnyk, a native cloth embroidered with symbols and cryptograms of the ancient world. These are picked up in the uniforms of the eager and accommodating servers.
To the food: Herring "village style" emerges as six little open-faced sandwiches (your waiter quips they are Belarussian sushi), the foundation of which is a disk of potato, the starring ingredient a plump slab of briny Santa Bremor herring. The second and third stories of the four-story assemblage are occupied respectively by a slice of hard-cooked egg and another of cucumber.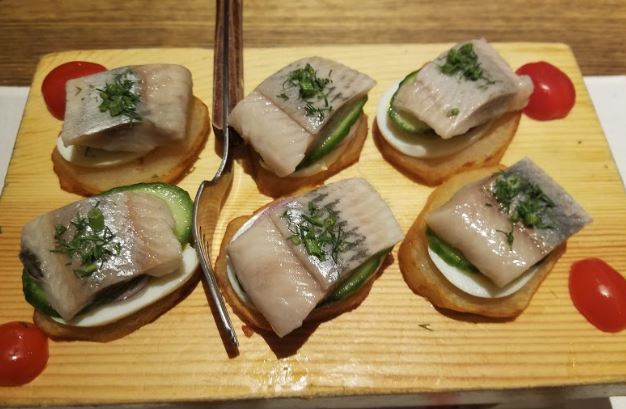 If you avoid ordering beef tongue, it's probably because of its appearance or tendency to be tough. Here both problems are circumvented in the cooling salad "polesie," in which tender slivers of the meat are joined by chunks of tomato, mushroom, and fried onions, the entirety bound by mayonnaise: a good warm-weather dish.
The Belarussian borscht, served hot, is decidedly not a warm-weather dish, but have it anyway. The broth at the foundation of the beef and cabbage soup has the rich and satisfying flavor of long-cooked beef bones.
Crispy potato pancakes and their larger stuffed cousin, kolduni, are available with an almost imponderable variety of toppings that include lobster, duck, and pork cracklings. The pancakes come four to a generous order — perfect for noncombative sharing or a hearty main course. Slather on the sour cream and you're in business.
Belarus is landlocked, but the kitchen knows its way around seafood. Witness a generous slab of zander (a cousin to walleye), sautéed just until the proteins set and the fillet falls into snowy tufts at the slightest prodding of your fork. In true Belarussian fashion, the fish is served in an earthy mushroom sauce and under a blanket of browned and bubbly melted cheese.
They turn out terrific stuffed cabbage, the beef and pork filling homey and rich. The meat-and-cabbage bundles come to the table partly draped by a thick sour cream sauce.
For dessert look no further than the "chocolate salami" (aka rulyada), a trompe-l'oeil confection coaxed out of crumbled cookies, cocoa, hazelnuts, and prunes. The dish, which falls somewhere between a candy and a cake, is cut into cross-sectional slices and served under a blizzard of confectioners' sugar.
Prices are modest, especially in light of the size of portions, ranging $8 to 17 for starters, $10 to $25 for main courses, and $7 to $12 for dessert.
Belarussian Xata, 1655 Sheepshead Bay Road, Brooklyn, 718-332-4292.