Naming a restaurant El Cartel, after a Colombian television series on the life of drug lord Pablo Escobar, seems like a daring move. Then again, opening a Colombian restaurant on the island of Manhattan could be described the same way. The "city" is not exactly teeming with Colombian eateries — which is really a pity. This is a bright and colorful cuisine, familiar to Americans in its ingredient selection but not their often-novel combination.
Begin with the tostones rellenos, a trio of small cups that have been formed from mashed plantain and filled with octopus, chicken, or steak.
No Colombian restaurant would be worth its salsa if it didn't offer salchipapa, a street food popular throughout Latin America that unites cross-sectional slices of grilled hot dog with fries. Frequently the dish is adorned, as it is here, with a hard boiled egg and a sauce made by combining ketchup and mayo (viz, "Russian" dressing).
The menu describes the picada El Cartel as "a finger licking contraband [sic]." The dish, a kitchen-sink affair, brings together morsels of steak, chicken breast, Colombian chorizo, pork cracklings, blood sausage, whole boiled small potatoes in the jackets, arepitas, fried cassava, tostones, and wedges of fresh tomato. The production arrives festively in a colorful wooden boat. It is billed as serving two but will easily appetize three or four.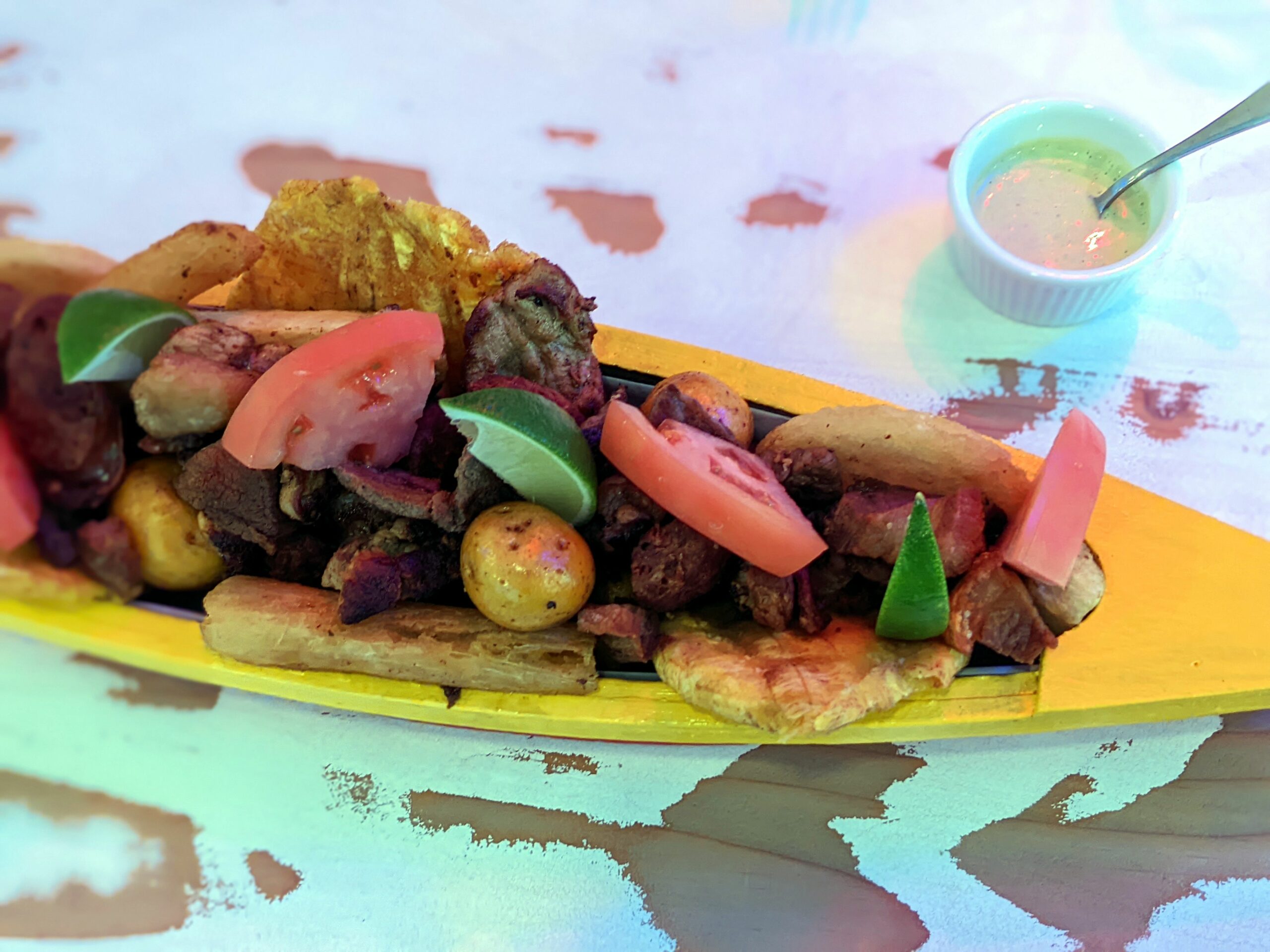 A handful of dishes from the world's cuisines are notable for combining seafood with non-seafood proteins such as beef or pork. El Cartel's pechuga Buenaventura deserves at least an honorable mention on that list. The dish begins with a thoroughly pounded, deeply browned chicken breast and is completed by a mélange of seafood that includes shrimps, mussels, clams, scallops, octopus, and squid, all in a creamy sauce.
Here comes your carne asada, just about blackened from its intense searing. The steak is joined by several sections of sweet plantain, a bowl of good pinto beans, and a mound of fluffy rice.
One of the desserts, oblea, is helpfully transliterated on the menu as "OH-BLEH-AH." Order it and you are brought wafers similar to the ones used to make Sugar Wafers. These, however, are used to sandwich arequipe, a rich caramel paste made by simmering sugar and milk for several hours, and homemade blackberry sauce. The kitchen turns out a serviceable tres leches cake.
Service, provided by waiters sporting black El Cartel T-shirt, is cheerful and accommodating.
Price range: Tapas—$8 to $25; main dishes—$18 to $38; desserts—$10. El Cartel, 613 Ninth Avenue (bet. 43rd and 44th Sts.), 212-540-6613, is open for lunch and brunch on Saturdays and Sundays, and seven days for dinner (see website for specific hours).