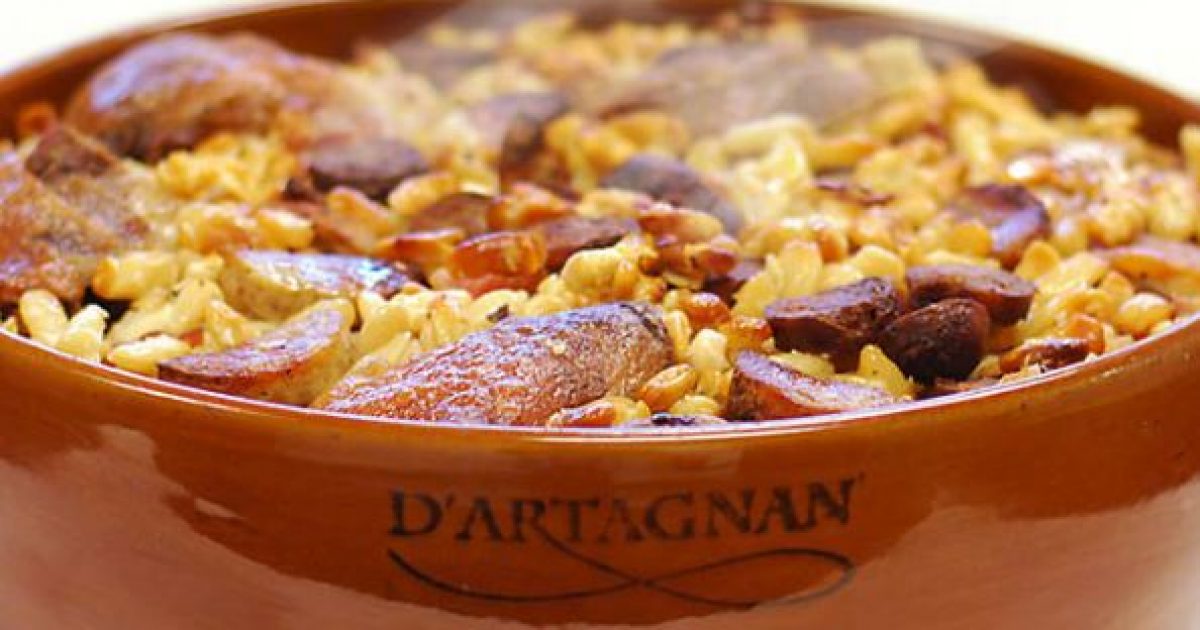 You may not recall learning in your world history courses about the "Cassoulet Wars," but if you're a fan of the hearty, cold-weather meat-and-bean stew (yo!), you won't mind doing a little remediation at the Kimpton Hotel Eventi on Feb. 18 when the fifth annual Cassoulet Wars are to be waged.
The event, sponsored by D'Artagnan and benefiting Action Against Hunger, a global humanitarian organization that takes decisive action against the causes and effects of hunger, will pit 30 of the city's top cassoulet chefs against one another.
The battle commences at 7:00 p.m. and continues until only one chef is left standing at 9:30 p.m. In between guests will roam among cassoulet stations sampling individual sample-sized portions of the stew while sipping Madiran, Cahors, and Armagnac.
When all the feasting and imbibing have ended, a panel of judges will crown the "Most Authentic" and "Most Daring" cassoulets. You and other attendees will also cast votes to choose the "Most Popular" cassoulet.
One lucky guest will go home with a round-trip ticket to France, courtesy of La Compagnie airline, to be used if desired to accompany the winning chef to the Fete du Cassoulet in Castelnaudary (one of several cities that claims to be home to the dish).
Participating chefs and restaurants include:
•       Adam Kopels & Elizabeth Ronzetti, 18 Bay Restuarant, Shelter Island, NY
•       Dan Weiland, About Last Knife, Chicago, IL
•       Ryan Lory, Ardyn, Coming Soon to Greenwich Village NYC
•       Christophe Santos and Jean Pierre- Vuillermet, Bar Bouchee, Madison, CT
•       Dieter Samijn, Bar Boulud, NYC
•       Laetitia Rouabah, Benoit, NYC
•       Thomas Ciszak, Brasserie Memer, Coming Soon to Northern NJ
•       Patrick D'Amico, Chez Ben Bistro, Philadelphia, PA
•       Ari Bokovza, Claudette, NYC
•       Jeanie Roland, Ella's Fine Food & Drink, Westerly, RI
•       Pierre Landet, Felix Restaurant, NYC
•       Lee Styer, Fond, Philadelphia, PA
•       Robert Hohmann, Gaby Brasserie Française, NYC
•       Harold Moore, Harold's Meats + Three, NYC
•       Joseph "JJ" Johnson, Henry at Life Hotel, NYC
•       Philippe Lievre, Le Rendez-Vous Bistro, Kenilworth, NJ
•       Andy Knudson, Restaurant Marc Forgione, NYC
•       Charly Rodriguez, OCabanon, NYC
•       Blake Verity, Piping Rock Country Club, Locust Valley, NY
•       Ben Smallman, Ristoro del Cinghiale, NYC
•       Doug Psaltis, RPM Italian / RPM Steak, Chicago, IL
•       Chris Vergara, Saint George Bistro, Hastings-on-Hudson, NY
•       Chad Bowser, SPiN, NYC
•       Priscilla Yeh, STATE Grill and Bar, NYC
•       Erik Oberholtzer, Tender Greens, NYC
•       Franck Loquet, University Club of DC, Washington, DC
•       Suzanne Cupps, Untitled at the Whitney Museum, NYC
•       Charlie Mitchell, Villanelle, NYC
The cost of the event is $75.
Kimpton Hotel Eventi, 851 Sixth Avenue, New York, N.Y.
See also …