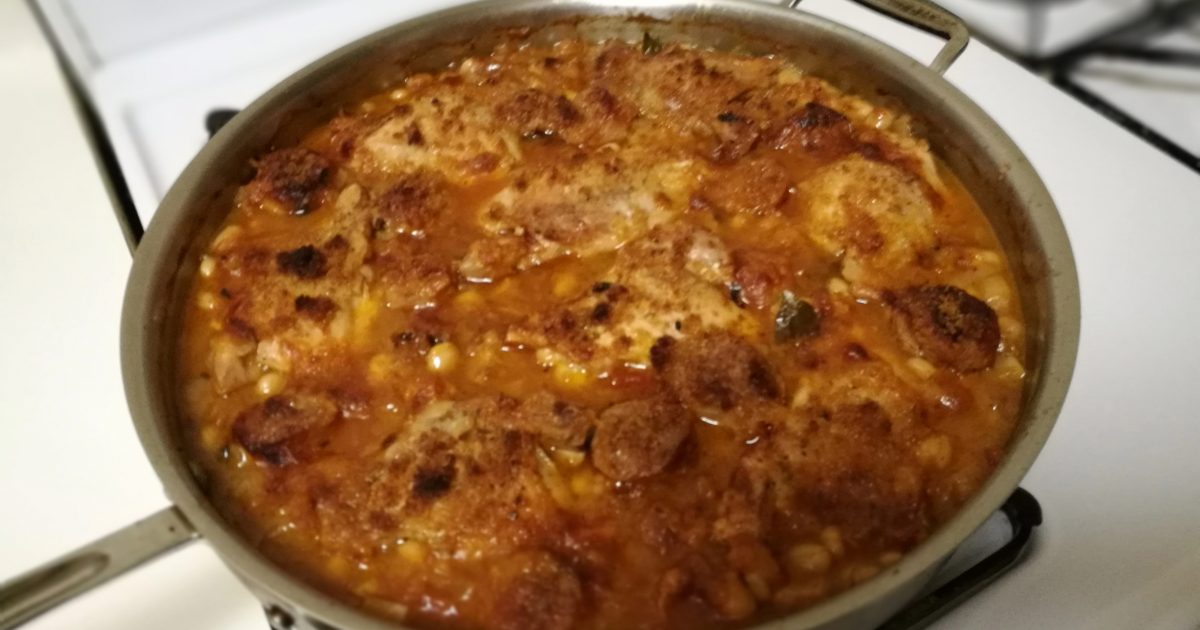 It has been said that there is approximately one cassoulet recipe per person in the city of Toulouse, one of three in France that claim to be the birthplace of the hearty bean-and-meat casserole.
If there is one other commonality among the recipes it is their labor-intensity. Classic recipes for cassoulet specify cooking the dish in a slow oven, preferably overnight. This allows seven turnings of the crust, which any cassoulet worth its salt reportedly receives.
Another aspect of the original dish that adds time, as well as expense, is the use of duck confit. My recipe obviates that requirement by substituting chicken thighs, which do a splendid job of mimicking the preserved duck.
To further simplify the process by using ingredients found in any supermarket, I use Italian link sausages (preferably seasoned with fennel) and canned cannelini beans, which have a nice creamy texture and mouth feel.
Quick and Easy Cassoulet
Ingredients
Olive oil
2 cloves of garlic, minced
1/4 lb slab bacon or 5 strips thick-sliced bacon, cut into lardons
6 plump skinless chicken thighs
4 links of sweet or hot Italian sausage
1 cup onion, chopped
1 tbsp tomato paste
½ cup white wine
3 1-lb cans cannellini beans, liquid reserved
½ large can whole tomatoes, liquid reserved
3 bay leaves
1 tsp sugar
½ cup breadcrumbs, preferably homemade
Salt and pepper
Directions
Preheat the oven to 350° F.
Heat olive oil in large skillet and add garlic, cooking over low heat. Remove garlic with slotted spoon once it begins to color.
Add the bacon. Crisp, and render fat.
Add the chicken. Once browned on one side, add sausage links. After browning chicken and sausage thoroughly, remove from pan. When cool enough to handle, slice sausage into ½-inch discs.
Add onion and sweat. Add tomato paste, and stir until lightly browned.
Deglaze pan with white wine. Add cannellini beans and reserved liquid.
Add tomatoes and reserved liquid, 3 bay leaves, and sugar.
Return bacon and onions to pan, and allow beans and tomatoes to cook. Add salt and pepper to taste.
Return chicken and sausage to pan, buried under beans.
Dust ½ cup breadcrumbs over the top, and drizzle with olive oil,
Place in preheated 350° oven, and bake for 45 minutes. Increase oven temperature to 425°, and bake another 15 minutes.
Allow to cool on top of stove 15 minutes before serving.
Yield: About 4 generous servings
See also…