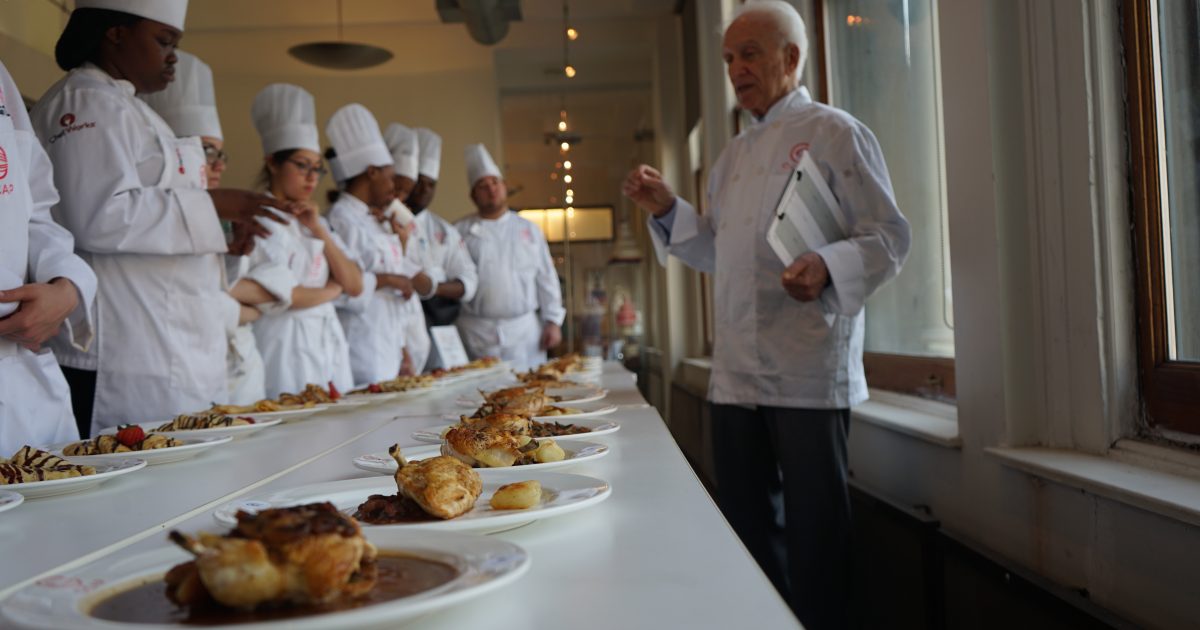 Singers sing for their supper. Cooks cook for theirs.
That in a very real sense is precisely what 24 underserved students from New York City public high schools will be doing this coming Saturday, March 7, when they don their chef's whites for a cooking competition that will net lucky winners hundreds of thousands of dollars in scholarships. The annual event, the Cooking Competition for Scholarships sponsored by Careers through Culinary Arts Program, or C-CAP, will take place at the International Culinary Center (ICC) in SoHo.
The 24 contestants are finalists, who will be tasked with preparing two plates of two different dishes, a main course and a dessert, in two hours. One plate of each dish will be judged by a panel of industry chefs purely on presentation, while the other will be evaluated on taste alone. The preparations of the two dishes — Hunter's Chicken with Turned, Sautéed Potatoes; and Crêpes with Pastry Cream and Chocolate Sauce — involve a number of skills, including, knife mastery, execution of cooking techniques, sauce building, and plating. All are essential building blocks for a career in a professional kitchen.
This year's competition is particularly meaningful as it is part of the year-long celebration of C-CAP's 30 years of empowering underserved youth through the culinary arts. The nonprofit, founded by noted culinary educator and cookbook author Richard Grausman in 1990, annually works with 150 public high schools nationwide to support 15,000 students. The goal is to develop their interest and skills for careers in the culinary and hospitality industry through:
job training and internships;
career exploration and consultation;
college discovery and advisement;
teacher professional development; and
product donations for classrooms.
The program has benefited more than 350,000 students and awarded more than $62 million in scholarships over three decades. Since C-CAP began in New York City in 1990, the local program has served 46,000 students and awarded almost $10,600,000 in scholarships to students, teachers, and alumni. Annually, C-CAP's New York City program works with nearly 3,000 teens in 15 of the city's public high schools.
Notable New York C-CAP alumni include: Kelvin Fernandez, Jennifer Lopez's personal chef; Amar Santana, executive chef/partner of Broadway by Amar Santana in Laguna Beach, Calif. and Costa Mesa's Vaca; and Yvan Lemoine, executive chef of New York City's Casa Nomad, Gitano Jungle Room, and Gitano Garden of Love.
Two C-CAP alumni, Tiana Gee, sous chef of Harlem's Red Rooster, and Paige Nebrig, a caterer, will serve as judges for this year's competition. They will be joined by the likes of: Marc Bauer, senior director of culinary and pastry arts for ICC; Sebastian Rouxel, executive pastry chef of JF Restaurant Group; and Robert Harbison, U.S. Food Fanatic Chef for Metro N.Y.
The winners and exact nature of their scholarship prizes will be announced at an awards ceremony on May 1.