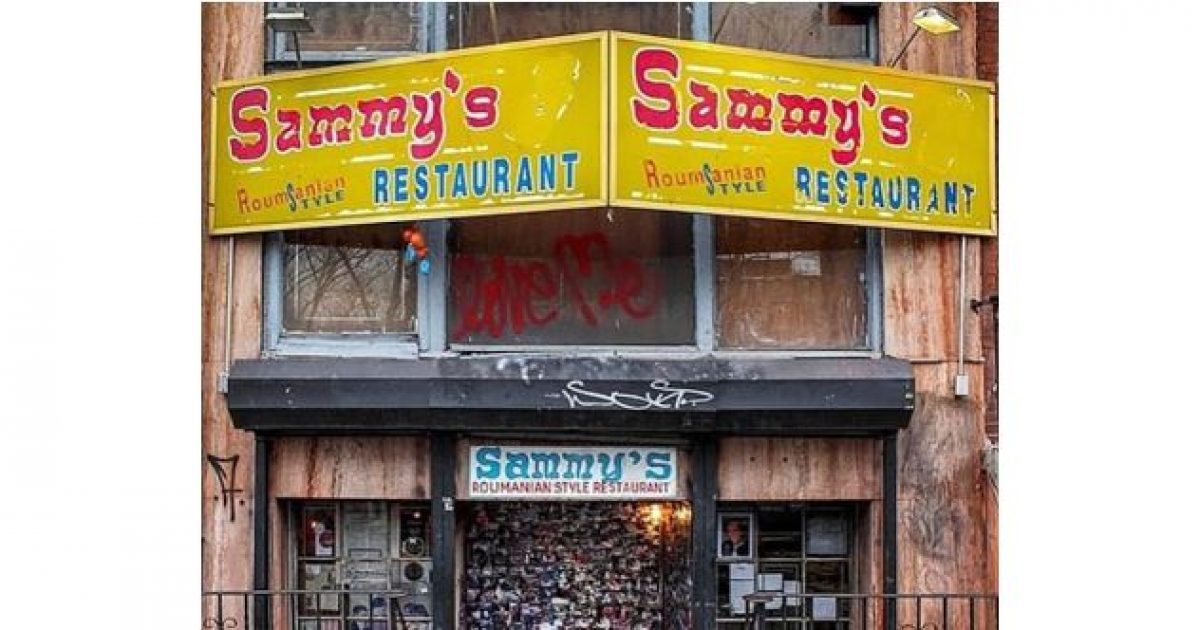 It's a distressingly familiar story. Another New York institution announces it is closing its doors but promises to return in another life. But some promises are hard to keep, especially when you're as old (47 years) and quirky as Sammy's Roumanian Style Restaurant on Chrystie Street. Known better to regulars as "Sammy's Roumanian Steakhouse" or just "Sammy's Roumanian," the restaurant is one of one kosher steakhouse within the boundaries of New York City.
Where else but this ramshackle basement can you hear choruses of "Hava Nagila" as patrons dance the hora? Where else can you alternate between shots of vodka and sips of an egg cream? Where else can you order the gel extracted from calves' feet known as pitcha (emphasis on the second syllable) or unborn chicken eggs?
Owner David Zimmerman announced the closure last Sunday, writing on Instagram:
It is with great sadness that we announce that the rumors are true and we have had to shut the doors to the infamous basement.

Sammy's Roumanian is more than just a restaurant. It's a community. A celebration of tradition. An experience difficult to put into words. It's where families come to dine weekly, where partygoers begin their night (if they survive the frozen vodka), and where Simchas are celebrated,' the restaurant wrote on Instagram.
It was a blast while it lasted, and we wish David well in his quest to find a new home. But Sammy's isn't the only landmark that has resolved to rise out of ashes of the plague years. Most have failed.
Let's hope Sammy's proves me wrong.