It might be said that restaurateur Danny Emerman is a follower of the arts. When the gallery scene began to migrate from TriBeCa to west Chelsea some two decades ago, Emerman — who had been feeding gallerists and their clients at his convivial Tuscan trattoria, Barocco — followed them north, opening Bottino, which, a recent visit revealed, is still going strong after 21 years.
You enter to a lively bar scene and pick your way carefully through the crowd to the dining room proper, which at 6:30 on a weeknight was already three quarters full. By 7:00, there was a wait for a table. Bottino is a popular place.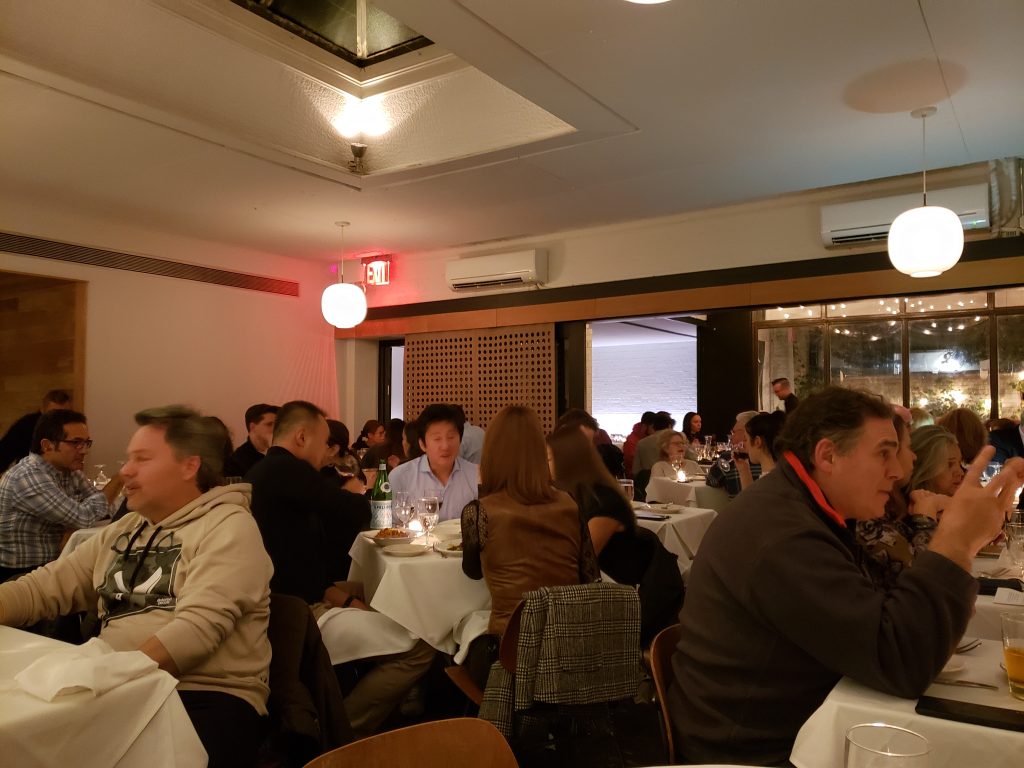 You'll understand why when your food begins to arrive. The menu changes from time to time so what you see described here may not be available when you visit.
If bait fish is numbered among the first courses, consider yourself lucky. You are served a dense tangle of the tiny swimmers, each about the width of a drinking straw, all of them battered in malt powder and vinegar (reminiscent of fish and chips) and exactingly fried. In their final moment, they are brought you on a pile of crisp arugula.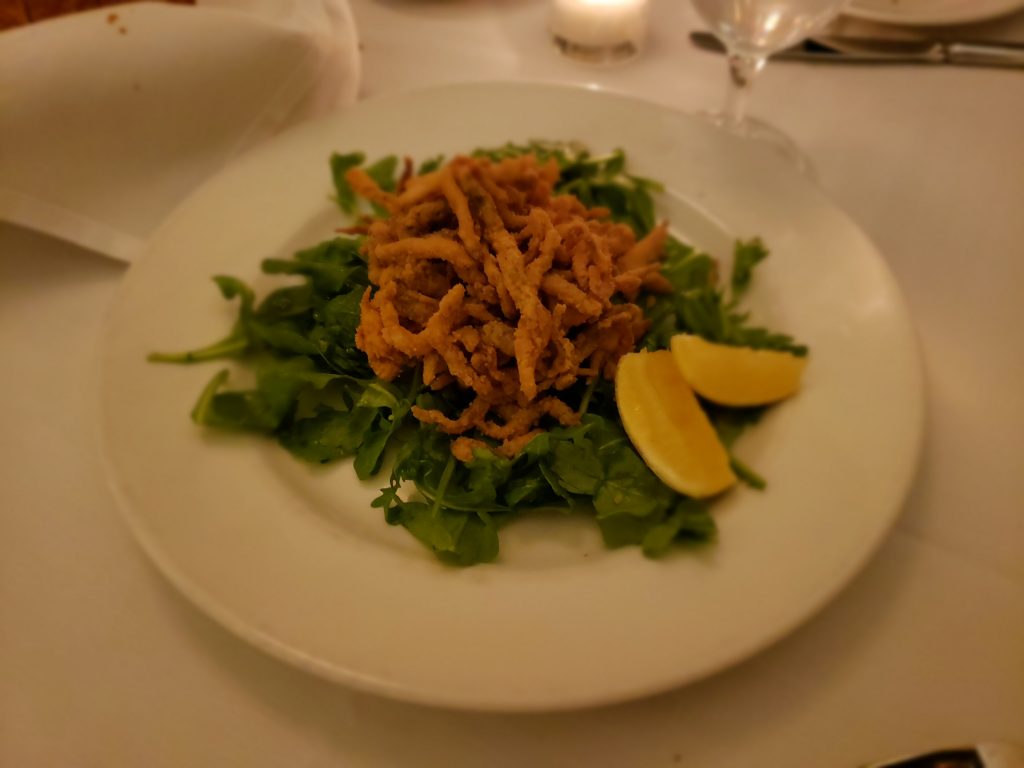 Duck and chicken liver parfait arrives deconstructed, the rich liver mousse in one receptacle, an invigorating concord grape chutney in another, cornichons in still another, thick slices of eggy housemade brioche stacked alongside. If there's one revelation that comes of ordering this appetite-builder it's that concord grapes have more noble uses than as juice or jelly.
There are four or five pastas each night, and you'd be wise not to skip over this section of the menu. Spaghetti nero con capesante — squid-ink pasta and bay scallops glistening with saffron butter — is given a slight blast of heat through the addition of chili flakes and a textural counterpoint via toasted breadcrumbs. It's the sort of dish that's so infectiously delicious that you could easily dispatch a second helping without much thought.
A whole baby chicken is pan-roasted to the point where the skin is crisp but the flesh — and even the white meat — is still succulent, moistened with a few tablespoons of the rich pan juices. The dish is described on the menu as tea-brined (which you take on faith) and accompanied by a hillock of spaghetti squash studded with gaeta olives and shards of a spicy red pepper.
A good, creamy tiramisu is served under the requisite blizzard of cocoa powder. The unusual flavors you pick up are undercurrents of chamomile and Mezcal.
When it's available don't miss the warm Tuscan bread pudding — very custardy, lent a boost of sweetness by plump golden raisins. The dessert is completed by a generous dollop of excellent vanilla gelato.
The space is clean and inviting with white-painted bare brick walls and touches of wood trim. You sit on recycled Eames chairs or on a burnt-orange banquette. A garden at the rear is open when the weather is fair. In deference to the art-world clientele, there is no art on the walls.
The name is Italian for "booty" — the kind acquired through military conquest, not the kind you shake.
Price range: Starters—$8 to $18, mains—$22 to $38, dessert—$12.
Bottino, 246 Tenth Avenue (bet 24th and 25th Sts.), 212-206-6766, is open for lunch Tuesdays through Saturdays, seven days for dinner.