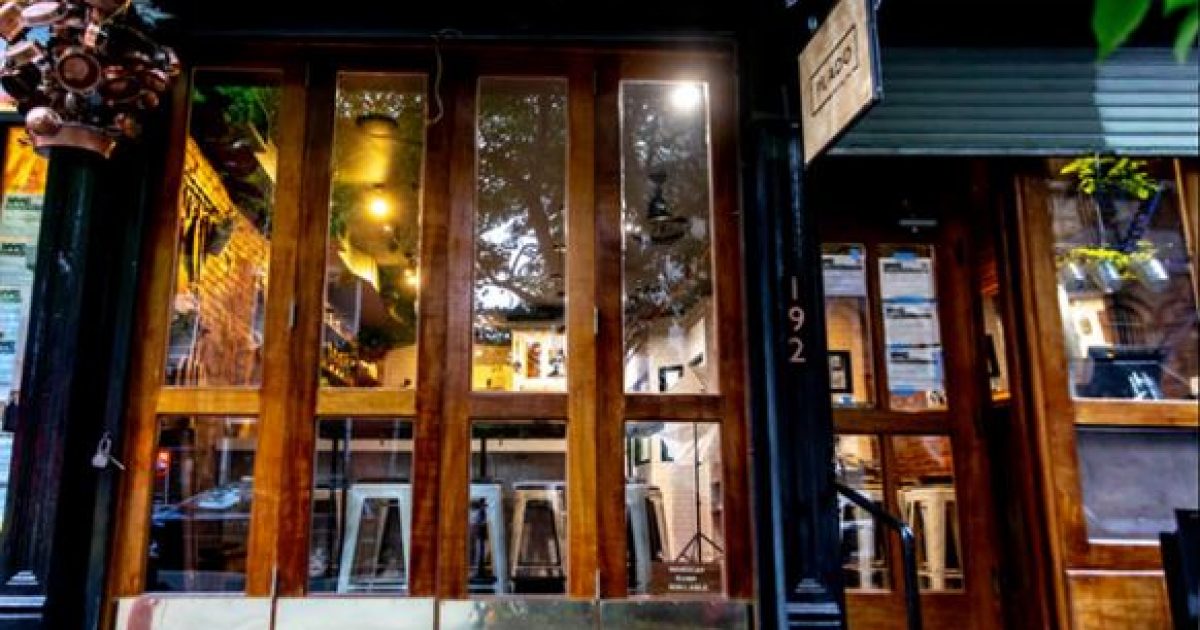 When tapas first reached New York menus several decades ago, they came in altered form. Unlike their Spanish counterpart —snacks served to bar patrons to renew their capacity to imbibe — the small plates on this side of the Atlantic were (and still are) strung together to make up a complete meal. Plado, a newcomer to the East Village, breaks with tradition even further by serving its "small plates" in a variety of sizes, many far too large to sit comfortably atop a glass of sherry. The idea is to enforce the restaurant's unifying principle, which is sharing. Dishes are meant to be passed around the table so that everyone in your party gets a little (or a lot) of this and that. The idea should be manna to the habitually indecisive.
You enter to a rustically furnished room with exposed brick walls and bare-topped wooden tables. Along one side is a white-tiled bar, and at the rear is the open kitchen.
New restaurants usually require six months or so to get up to speed, but Plado, which opened in July, has hit the ground running. This is evident in a sturdy, well-balanced dish of crumbled chorizo and fava beans, sautéed in the presence of abundant garlic, the entirety livened with lemon: a good starter if you missed lunch.
The chef and owner, German Rizzo, is a native of Italy, which likely explains the presence of an item on the menu styled "Italy vs Spain," an assortment of charcuterie — thin-sliced Serrano ham, prosciutto from Parma — accompanied by house-marinated olives, ricotta, and grilled bread.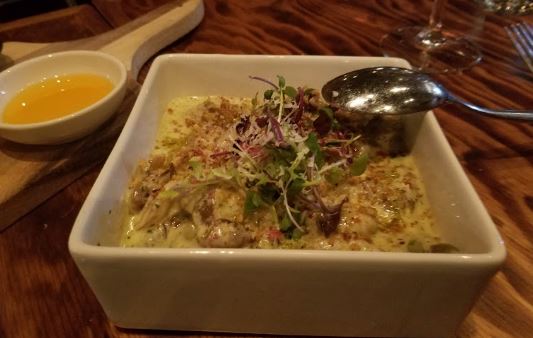 Don't miss the gnocchi, fashioned ingenuously of taro root. The impossibly light pasta pillows arrive immersed, along with with oyster mushrooms, in a thick and decadent truffle cream: a cross-cultural tour de force. Whole wheat cavatelli bolstered with clams, lardo Iberico, chick peas, asparagus, and rings of fried red onion will provide sustenance to a small army.
Wild boar (cinghiale) is cooked low and slow in aromatics and red wine till it is fall-apart tender, but the real show-stopper is the cheesy polenta served alongside. The cornmeal mush is light and creamy but sports an infectiously delicious toasted crust.
Among the dessert offerings is an item that provides a little theater. It is called "S'more and More" and is smoked at tableside beneath a bell jar. The jar is lifted with a flourish and you dig into an intensely smoky layered confection comprised of toasted marshmallow, melted chocolate, graham crackers, a thick and chunky raspberry sauce, and a shimmering Bavarian cream.
Service is attentive and accommodating.
Prices per dish range from $8 to $22, with the majority of items in the low- to mid-teens.
Plado is open for lunch Thursday through Sunday, brunch Saturday and Sunday, and dinner seven days.
Plado, 192 East 2nd Street (bet. Aves. A and B), 646-850-5151.