It's a little like watching the sequel to a movie before you've seen the original. In May I reviewed — quite favorably — the fast-casual Lebanese restaurant Balade Your Way, never having dined at its slow-food parent in the East Village. I recently decided it was time to complete the circle.
The Lebanese were centuries ahead of us here in the West in the service of small plates. Listed as mezze, these form the starting point — and in some cases, entirety — of most Balade meals. There is a lemony hummus and sprightly tabouleh, the traditional blend of minced parsley, bulgur wheat, and chopped tomatoes and onions.
But to get the most out of the Balade experience, you are advised to veer off the beaten path every now and then. Such as by choosing the sautéed shrimp with ginger, scallions and jalapeños. The fact that there is no Lebanese translation speaks volumes about the dish's provenance. The shrimp are fresh and sweet, and an unheralded sauce of sweet pepper and cream nicely counterbalances the heat from the jalapeños.
Several of the dishes on the Balade menu unsurprisingly turn up on the menu of its offspring. One of those is manakeesh, aka Lebanese pizza (which at Balade Your Way is listed for some reason as manouche, an alternate name). There are seven toppings to choose from at Balade. You can sample three by choosing the Taste of Lebanon assortment.
Chilean sea bass, advertised on the menu as a fillet, arrives instead as a cross-section cut from a larger fish, which might be forgivable if the dish weren't overcooked.
More care goes into the preparation of baby lamp chops from New Zealand, which are pink and tender. If you and a dining companion are both habitually indecisive, the restaurant has you covered with its supreme mixed grill, which includes a couple of the aforementioned chops as well as chunks of beef kafta, lamb kabab, and chicken tawook. The dish is presented at table as a large pie whose top crust your server furls back like the flag of some tasty nation.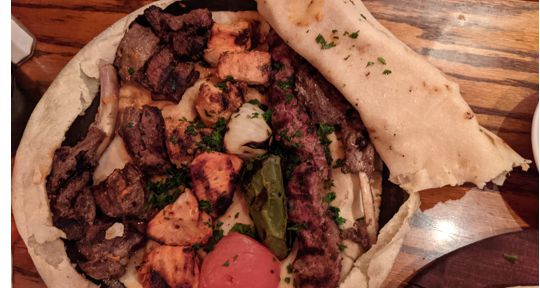 The one standout item among the desserts is styled chocoba and consists of dough baked with Nutella and topped with sliced bananas and pistachios. There is also baklava and "milk pudding." (If you have to ask…)
Bare wood floors and tables conspire with whitewashed naked brick to make for a rustic setting that is ably overseen by alert and accommodating young waitresses.
Price range: $9 to $17 for mezze, $26 to $38 for main courses, and $7 to $10 for dessert.
Balade, 208 First Avenue (bet. 12th and 13th Sts.), 212-529-6868. Hours 5 p.m. to 10 p.m. Monday through Friday, 12 p.m. to 10 p.m. Saturday and Sunday.