A glimpse at the menu listings — items like porcini confit of Arctic char, poached quail egg in fennel cream and caviar, soupe de poisson — might persuade you you've stumbled onto a French restaurant. You wouldn't be entirely wrong even though Mifune bills itself as Japanese and is even named for a film star best remembered for his sensitive portrayals of samurai.
Part of the explanation for the conundrum lay in the CVs of the executive chefs (you read correctly: there are two of them). Both cut their teeth in the kitchens of triple-Michelin-starred restaurants in France. Yuu Shimano is an alumnus of Guy Savoy in Paris, Tomohiro Urata of La Maison Troisgros in Roanne. The plates that are set down before you are artfully conceived, often playful integrations of eastern and western techniques and ingredients. Even the cocktails evince a flair for the dramatic. A blend of rye and koshu-aged sake that answers to the name of Seven Samurais is served in a glass fogged with fragrant bamboo smoke.
You enter past the sushi bar to a minimalist high-ceilinged room with much in the way of rough-hewn wood. A wall of whitewashed cinder block is fronted by black lacquered panes, giving the illusion of rustic shoji screens. Lighting, provided by wagon wheel chandeliers, is diffuse. Ceiling fans arc lazily overhead. Mifune is clearly a food-first restaurant.
You won't find more impeccable nigiri and sashimi, orderable by the piece. But to appreciate the full measure of the chefs' artistry, you are advised to opt for one of two multi-course tasting menus, one priced at $85, the other $125. (There is actually a third, unpublished, $70 tasting menu, asking for which will make you look like one of the cognoscenti. On it you will find enticements such as ham and eggs: deeply flavored house-cured duck ham and asparagus beneath a creamy onion mousse that conceals an expertly poached duck egg.)
Dinner commences with an amuse bouche. On some nights you are presented with a velvety porcini cream with pistachio foam and garlic croutons accompanied by a slice of smoked trout; a sweet potato chip curled around a refined but earthy liver mousse; a salad of fork-tender duck gizzards and endive moistened by a sprightly ginger dressing; globes of fresh uni, redolent of the sea, perched on a slab of toasted brioche.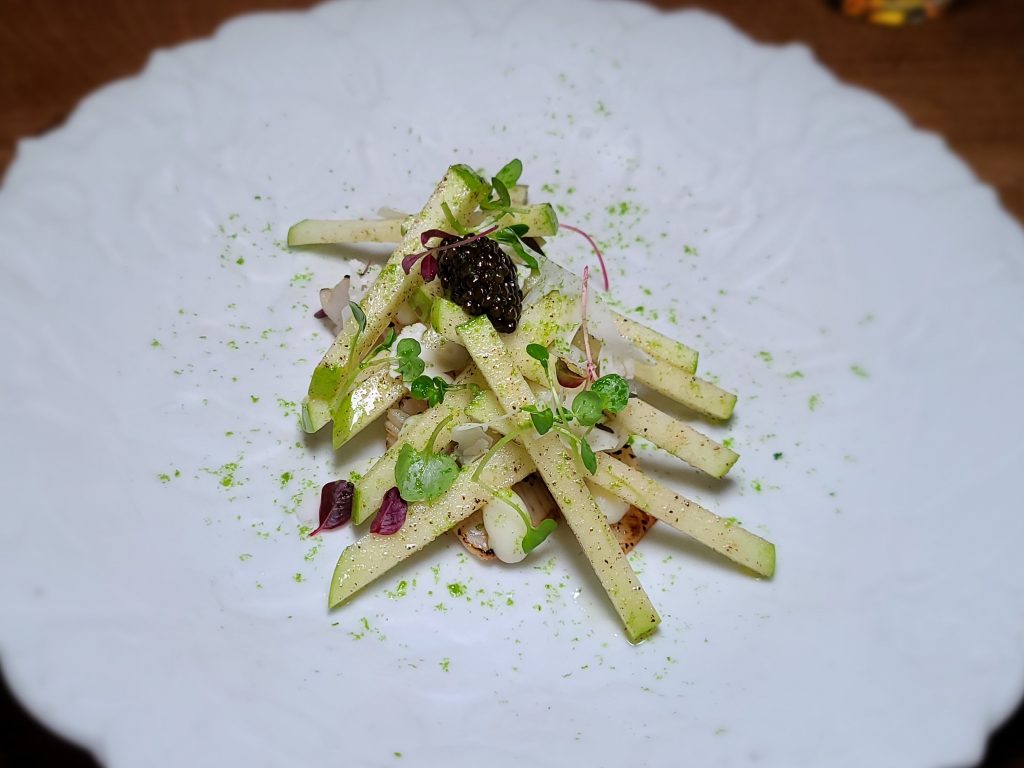 You proceed on the $85 side to slightly smoky soy-charred squid accompanied by a silken cauliflower puree, batons of green apple, and a dollop of sturgeon caviar. On the $125 side you tuck into the afore-mentioned quail egg, enmeshed in a dense tangle of matchstick potatoes meant to resemble a bird's nest. A strip of crisp buckwheat crepe — the tree trunk — completes the visual metaphor.
Creamy house-made tofu is combined with fingers of sweet Alaskan king crab and more of that infectious uni. Back to the $125 menu and a pan-seared scallop, cooked just until the proteins have set, paired with an ethereal but concentrated truffle scallop liver foam, the entirety livened by strands of lime zest.
The spartan menu listing "foie gras brioche" translates to a pan-seared block of the rich meat on a foundation of toasted brioche that has been spread lavishly with a savory shallot confit. A crown of crunchy fried sunchoke chips and a drizzle of tart rhubarb jam complete the dish.
A side trip to the secret tasting menu provides a close encounter with the house's confit of monkfish. The chunk of sweet and delicate fish is balanced by an assertive puree of eggplant and anchovy and arrives in a puddle of shiso sauce, garnished by ribbons of refreshing daikon.
Here comes your soupe de poisson, its arrival heralded by the intense aroma of a shellfish stock reduction. A section of roasted red snapper is the centerpiece of the near-bouillabaisse. It is accompanied by a slab of toasted bread slathered with a garlicky rouille.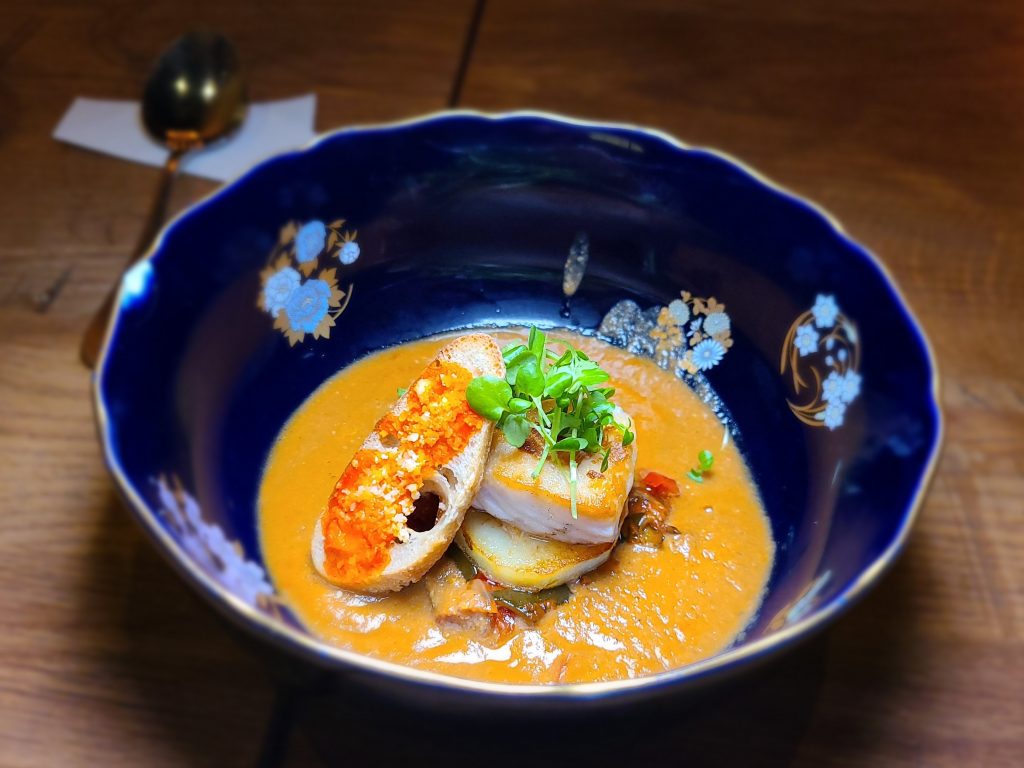 Time for a palate cleanser, realized at Mifune as a sorbet of red wine and fig that is like a distillate of those flavors.
Next on your hit parade is the beef course — a thick slice of A5 Wagyu with yet more fois gras (can there be such a thing as too much foie?) if you're flying first class, a prime black angus filet mignon if you're not. The surprise is not the butteriness of the Wagyu, which will cut with a spoon but the fact that the black angus runs a close second. Both are imbued with a deep beefy essence, exactingly cooked, moistened with a few tablespoons of a Bordelaise that would make Escoffier smile.
You are eased into dessert with either a nigiri or chirashi course, the particulars of which vary with what's freshest in the market. Choices have been known to include impeccable lightly seared bluefin fatty tuna, succulent king salmon, glistening yellowtail.
Dessert, presented as three separate courses, also varies from day to day. There might be a tag team of creamy, yet light, riz au lait (rice pudding, to you) and a refreshing granita of mango, green apple, and pineapple mediated by a spoonful of lemon-ginger jam. A mousse of fromage blanc is united with a mango-pineapple compote, a shingle of crunchy lime meringue, and a green apple yuzu: a compelling contrast in textures and flavors.
The final course is a trio of tea cakes — one-inch cubes of housemade marshmallow (made improbably from powdered soybean), decadent chocolate terrine, and chiffon-like olive oil cake. The cakes are served with a cup of bracing green tea, which every good tea cake deserves.
The tasting menus are offered with an optional wine and sake pairing for $65 and $75.
Mifune, 245 E 44th Street (bet Second and Third Aves.), 212-986-2800, is open Monday through Friday for lunch, and Monday through Saturday for dinner.