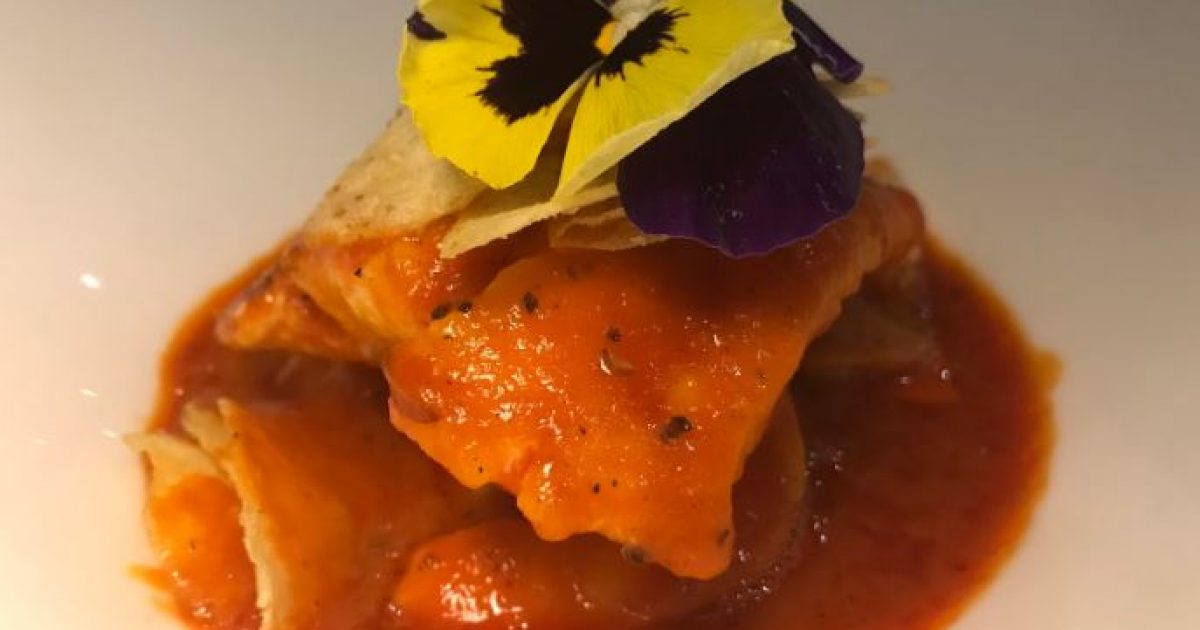 In the heart of Downtown Brooklyn, beyond the double doors of the Hilton Hotel, is the unseen prize that is Black Walnut. Though the restaurant labels itself as "new American with Vietnamese influence," Black Walnut evokes many cultures: Japanese, French, Italian, and even Southern.
Between walls decked out in tastefully minimalist modern art, with mood-setting soft jazz piano in the background, it's easy to forget that you're sitting just beyond a hotel lobby. Hotel guests and gastronomes alike come to enjoy the space originally presided over by Chef Robert Newton (Nightingale Nine, Wilma Jean), who has since parted company with Black Walnut. His influence remains in the eclectic menu — which reflects his extensive travels through Asia and his Arkansas roots — now ably executed by Chef Antonio Tardio, formerly of the renowned Gramercy Park Hotel.
If you fancy a beverage before dinner, Black Walnut has an extensive list of international wines, local draft beers, and craft cocktails. The wait staff is extremely knowledgeable about selecting a wine, so don't be afraid to ask questions.
Draft beers are local to New York, stretching from Saratoga IPAs to Bushwick Pilsners. The cocktail menu includes classics, such as bloodies and mimosas, as well as original concoctions like the Sunset Park, a sassy combination of Mezcal, chili liqueur, and lime, while old souls like myself sip on the Wilma Jean (which like Newton's eponymous sandwich restaurant is named for his grandmother), an old-timey blend of Rittenhouse rye, Koval Honey Liqueur, fennel and lemon bitters.
If you start feeling peckish, you're in luck. The waiter is already on his way to the table with fresh, warm bread and a generous side of paprika-spiced maple butter.
To start, I recommend the panzanella. In this slightly unorthodox rendition, heirloom tomatoes are complemented by tangy mozzarella, chopped basil, and oil-cured Kalamata olives — chewy croutons soaked in caper vinaigrette lend the dish its name.
You can't miss with fried broccoli, another summery highlight. Lightly fried oyster mushrooms and stalks of broccolini encircle a small bowl of lemons, intended for drizzling over the warm gouda-dusted vegetables.
Smoked salmon roulade, an earthy bite-sized treat, is realized as three thick slabs of smoked salmon encasing buttery dollops of shrimp mousse, presented as small sushi-like rolls. The three roulades border a mountain of spring vegetables and edamame, which are dressed in a citrusy mustard vinaigrette.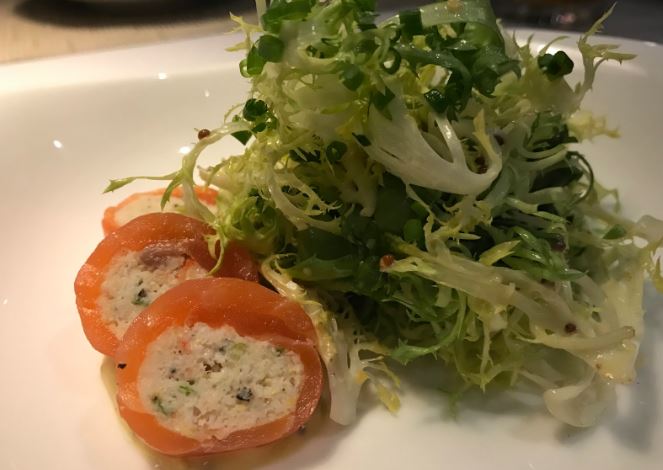 The house's pate de campagne is more of a mousse, creamy and thick, spread over small crunchy toasts. Topped with pickled onion, blueberry jam, and cornichons, the pate combines a pleasurable fusion of sweet, salty, and savory flavors.
I'm all set on my main course — the seared sea scallops and octopus — when the waiter brings bad tidings: The kitchen is fresh out of scallops.
The warm farro bowl selected as a stand-in turns out to be delightfully robust. A hearty mix of vegetables mesh with a sea of the grain, all drizzled in a light Parmesan vinaigrette, with hints of oregano and red pepper flakes. Opting for a fried egg on top adds a certain richness and is strongly recommended.
The East Coast fish muddle offers a unique twist on a down home fish stew. Flaky bass and shrimp bring a taste of the ocean to salty cured pork. The three proteins arrive ankle deep in a fiery red tomato-based essence. The housemade potato chip topping adds a slightly-chewy, slightly-crunchy unanticipated accent.
Though dessert may seem like a challenge, for those of us endowed with a "dessert stomach" there's always room. You can finish with a classic apple strudel: warm and crumbly, accompanied by a substantial scoop of vanilla ice cream drizzled with caramel: hard to beat. For something lighter opt for the sorbet or ice cream. Strawberry cheesecake is on my radar for a future visit.
Black Walnut is located in the full-service Downtown Brooklyn Hilton Hotel. There isn't abundant street parking, but there are several parking garages and lots in the vicinity. The restaurant is also just a few blocks from the Hoyt-Schermerhorn station, served by the A, C and G lines.
Price range: $9 to $17 for starters, $19 to $34 for main courses, $3 to $10 for dessert.
The Black Walnut, 140 Schermerhorn Street, Brooklyn, (929) 337-1280. Open daily for breakfast and dinner, weekdays for lunch, weekends for brunch. Major credit cards are accepted.