Most restaurants communicate a vibe or sensation the moment you enter. Usually they're designed that way. One place may strike you as understated and elegant while another comes across as business-like and strictly food-first. At David Burke Tavern, situated in a townhouse on East 62nd Street, your first impression is one of clubbiness. Warm polished wood walls fitted with shaded sconces rise up beyond a tufted red leather banquette. Then you notice the stuffed toy penguins. They are everywhere, sometimes snuggled into corners, other times in your face. A stylized likeness of them, clad in a three-piece suit and derby, appears on the menu.
Speaking of which, what are we to make of that menu? Clothesline bacon? A crab cake pretzel raft? A cheesecake lollipop tree with bubble gum whipped cream? To understand the bill of fare, we need first to understand the man behind it, David Burke. He is a chef, entrepreneur, artist (the drawing of the penguin on the menu is his), and inventor.
He is also a character. Last year around this time, he posted a cooking demo shot in his home kitchen. His sous chef for the occasion, Lefto, was a portly bespectacled fellow, not unlike Burke himself in appearance except that Lefto is a hand puppet.
Begin with that bacon; almost everyone does. You order by the piece: $22 for three strips, $42 for six, $60 for nine. True to the name, the thick slices of meat are suspended from a string by clothespins and cooked with a blowtorch. Periodically they are painted with maple syrup and coarsely grated black pepper so that they arrive lacquered, calling to mind a pair of overalls that have been too heavily starched.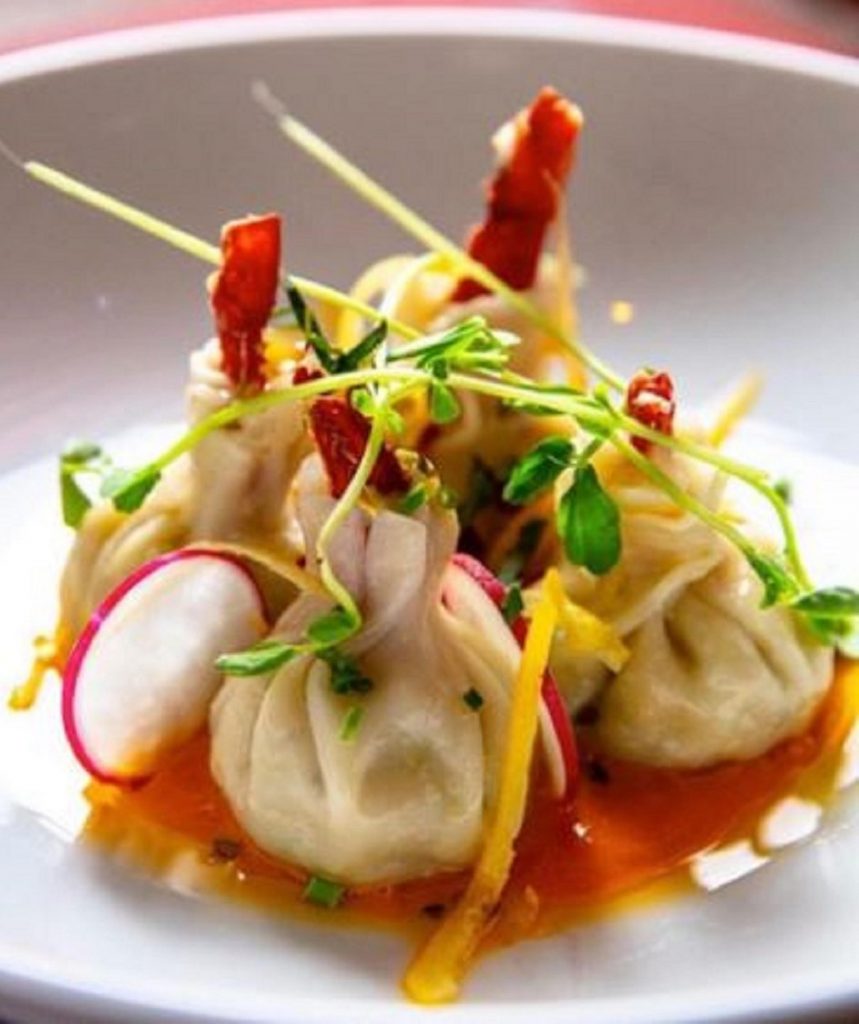 Plump little beggar purses fashioned of pasta dough are stuffed with lobster meat and proffered in a peppery tomato sauce tinctured with lemon, perfumed with basil. Or consider the aforementioned crab cake pretzel raft, a crab cake sandwiched between planks of a tender soft pretzel dough, complemented by Old Bay tomato jam and a sprightly chipotle tartar sauce.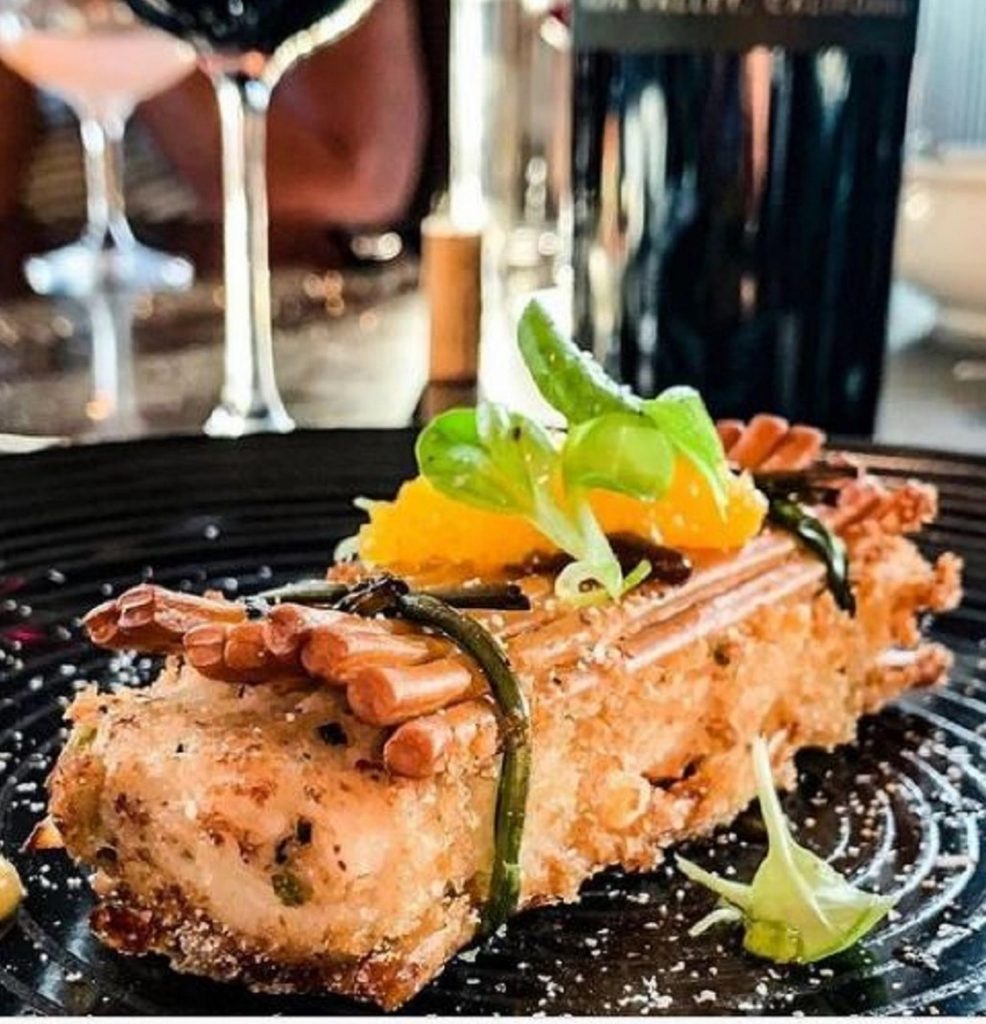 I was reminded of that old Monty Python tagline "Now for something completely different" as I sliced into my Himalayan-pink-salt-aged filet mignon. The process, which Burke has patented, imparts an uncommonly pronounced minerality to the beef, which sports a dark "smoke" ring beneath the surface.
That the kitchen knows its way around seafood is evidenced by an impeccably cooked block of salmon redolent of ginger and black pepper. The fish is accompanied by sweet and sour Brussels sprouts and a velvety celery root puree.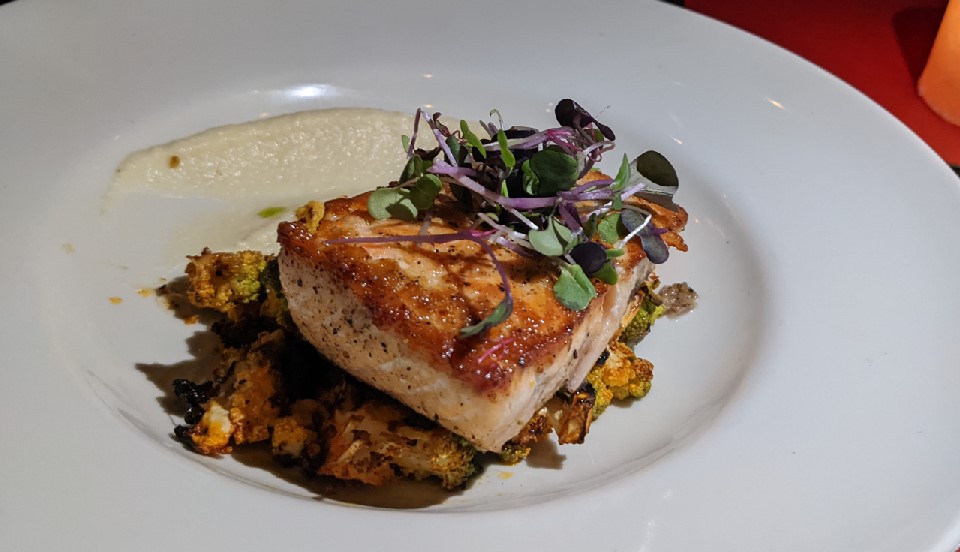 That signature cheesecake lollipop extravaganza is crowned by a balloon of cotton candy, elevating the affair to a child's fantasy for adults. If you crave something still more grown-up, opt for the chocolate crunch cake, a slice of a moist loaf with a creamy chocolate filling.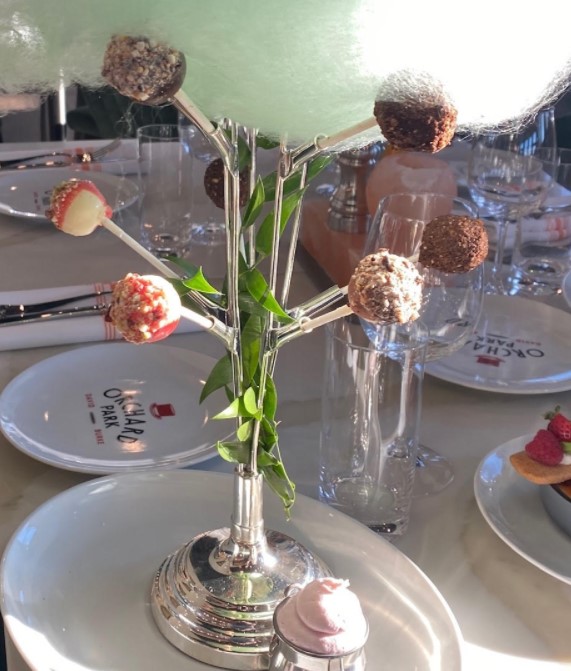 Price range: $20 to $26 for starters, $26 to $54 for main courses, and $12 to $24 for dessert. The prix fixe menu is $95.
David Burke Tavern, 135 E. 62nd Street, 212-988-9021, is open from Tuesday through Sunday, from 4 p.m. to 10 p.m. and for Saturday brunch, from noon to 3 p.m.
See also…