Generally, the term dinner theater connotes a play acted out in a dining space. In the new production of Stephen Sondheim's macabre musical "Sweeney Todd," at the Barrow Street Theatre, that formula is altered somewhat. For $22.50 beyond the price of your ticket, you can get dinner before the show. But the communal tables at which you sit are essentially part of the set!
The show, for those unfamiliar with it, centers on Sweeney Todd, a vengeful barber who has returned to England after years in exile for a crime he didn't commit, and Mrs. Lovett, the matronly owner of a pie shop that serves — by her own lights — "the worst pies in London." In order to procure meat for her pies, which is scarce ("Times is 'ard," she laments), Mrs. Lovett suggests that Todd murder his customers whose remains may then be ground into pie filling.
For the production, the entire Barrow Street Theatre has been transformed into Mrs. Lovett's pie shop. Fittingly, the pre-perfomance menu consists of "pie and mash." The two general options are chicken pot pie — with mushrooms, carrots, onions, black truffle zest, and Jerusalem artichokes — or a vegetarian pie. Both are served with Yukon gold Gruyere mashed potatoes.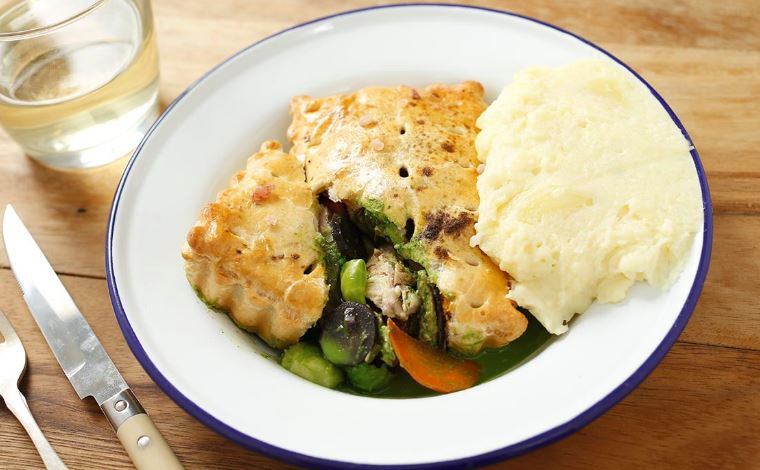 Between Dec. 19th and 31st, a "holiday pie" — described somewhat confusingly as a "Chateaubriand en croûte pot pie" — is featured.
Dinners come with a beer, glass of wine, or non-alcoholic drink.
Tickets are on sale through Feb. 25.