In Italian, Easter is Pasqua. But regardless of what you call it or where you celebrate it, Easter would not be Easter without spring lamb.
Here is a tantalizing dish of lamb chops and caponata for those looking to give their table an Italian accent. The dish comes to you courtesy of Chef Renzo di Filippo, of the Massimo d'Azeglio Restaurant in the Hotel Massimo d'Azeglio in Rome.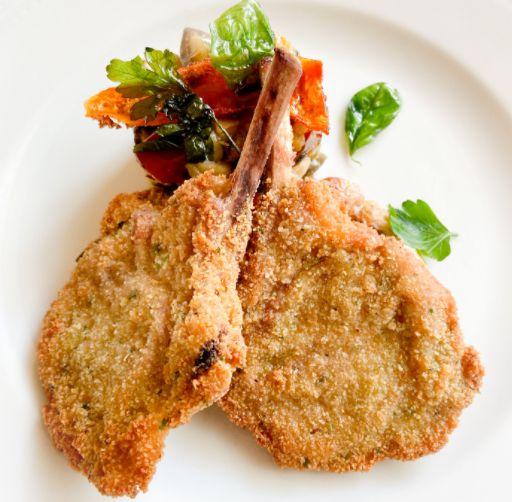 LAMB CHOPS
Ingredients
12 small lamb rib chops
Two eggs
1 cup of breadcrumbs
1½ Tbsp parsley
3 Tbsp hyme
3 Tbsp rosemary
3 Tbsp oregano
2 Tbsp olive oil
Yield: 4 servings
Directions
Tenderize the chops by pounding, then and then dip each slice into the beaten eggs.
Prepare the breadcrumbs by blending in the parsley, oregano, rosemary and thyme, then bread the chops.
Heat the oil in a pan over medium-high heat. When the oil is hot, add the lamb and cook until nicely browned on both sides and cooked to your liking.
Serve with caponata.
CAPONATA
Ingredients
2½ cups olive oil
Salt and fresh-ground pepper to taste
1 cup onion, chopped
1½ cups zucchini, coarsely diced
1/3 cups sweet red pepper, chopped
3 cups eggplant coarsely diced
3/4 cups tomato, chopped
Directions
Heat oil in a heavy bottomed pan over medium heat.
Add all vegetables to pot. Salt and pepper to taste.
Cook until all vegetables have softened and browned.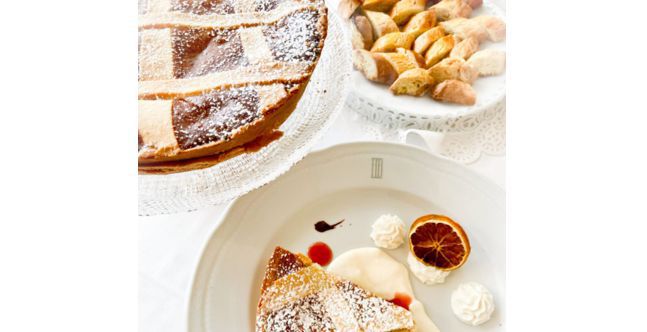 For dessert enjoy this delightful cross between cheese cake and fruit cake. This version of the dish, a classic, was created by Chef Antonio Vitale, of the Roof Garden Restaurant in the Hotel Mediterraneo in Rome.
NEAPOLITAN PASTIERA
Ingredients
Pastry
2 ½ cups flour
1¼ cups butter
1¼ cups sugar
1 pinch of salt
Filling
3 cups ricotta, preferably sheep's milk, forced through a sieve
2¼ cups sugar
6 eggs, separated
2½ cups cooked wheat (available from Italian specialty food stores in Manhattan or by mail order)
Zest of 4 lemons, finely minced
2½ cups cooked wheat (available from Italian specialty food stores in Manhattan or by mail order)
1 tsp orange blossom water
1 tsp cinnamon powder
1/4 tsp vanilla
2 tbsp of Limoncello
1 cup mixed candied fruit
Directions
Preheat the oven to 320°F.
Begin by making the pastry. Pour the flour onto the work surface. Make a well in the center and add 1¼ cups of sugar, butter, and salt. Form the dough into a ball, and allow to rest for at least 30 minutes in the refrigerator wrapped in transparent food wrap.
While the dough is resting, make the filling. Add the ricotta to a large bowl and mix in 2¼ cups sugar. Stir in the 6 egg yolks one at a time. Add the cooked wheat, lemon zest, orange blossom water, cinnamon, vanilla, Limoncello, and candied fruit.
Beat the egg whites till they form stiff peaks, and fold into filling.
Remove the pastry from the fridge and divide into two parts, one slightly larger than the other. Roll out the larger part into a disc about 3/8 inch thick and 11 inches in diameter. Grease a false-bottom tart pan, and insert the disc in the pan, trimming to remove the excess using your rolling pin.
Roll out the remaining dough, and cut into strips about 3/4 inch wide.
Pour the filling into the tart pan and and smooth with an offset spatula. Top with strips at 90-degree angles to form a lattice crust. Bake for about 80 minutes, or until pastry is golden.
Sprinkle the cooled pie with confectioners' sugar. Serve with whipped cream.