Summer is almost upon us. You know what that means. Sadly it means we can expect a fresh crop of morons to film themselves removing a half gallon of ice cream from their grocer's freezer, dragging their tongues across the surface, then capping and returning the carton to the deep freeze.
This has happened before. In one incident from 2019, the perpetrator was identified and faced real jail time for her actions but ended up receiving only a slap on the wrist because she was a minor.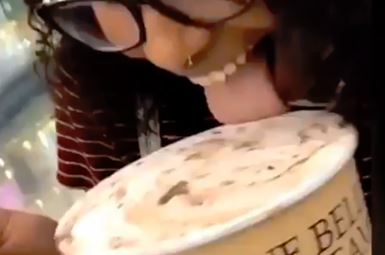 According to TMZ, the "pranksters" who star in this recent incident claim the whole thing was faked  — that they actually bought the ice cream they licked and that no harm therefore was ultimately done. Even if this were true, I would submit that the legions of cretins who watch their performance on social media and then go out and film their own hilarious reel will have no idea that the couple faked it.
1-Cent Bacon Cheeseburgers at Wendy's
I grant you that it's not as cheap as a White Castle slider, which is free on National Slider Day (May 15). But for a one-week period beginning May 26 and running through June 1, Wendy's is selling its Junior Bacon Cheeseburger for 1 cent in recognition of National Hamburger Month.
Yes, there are caveats. You have to order through the restaurant's app, and the offer is good only with a purchase.
See also…