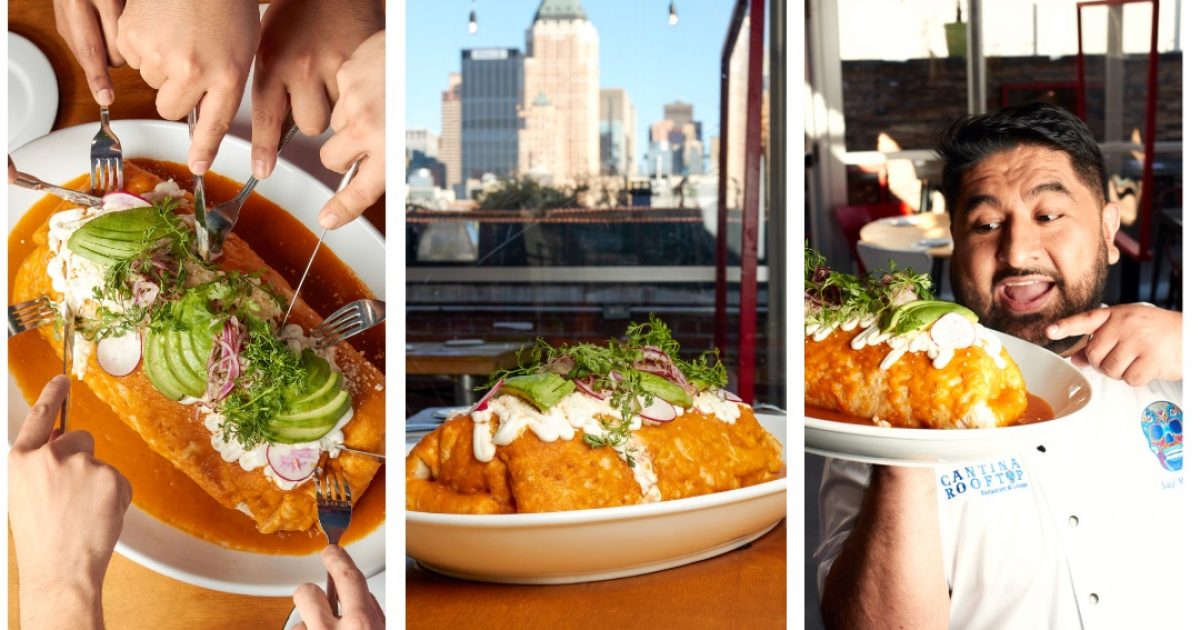 Thursday is April Fool's Day. Apr. 1 is also National Burrito Day, and to commemorate the day, Cantina Rooftop, a Mexican restaurant on way-West 48th Street, is unveiling its Big Ass Burrito. That's their description, not ours, though the name seems fitting considering the item's dimensions. It weighs in at 15 pounds, and the tortilla that forms its foundation is gargantuan enough to accommodate mammoth quantities of chicken (or hanger steak: your call) Mexican rice, chipotle purée, black beans, Chihuahua cheese, lettuce, avocado, queso fresco, radishes, pico de gallo, salsa ranchera, Morita and avocado sauces, and sour cream. This colossal culinary creation feeds six to eight people and is priced at $80, making it the ultimate sharing plate.
Alert readers may recall that a previous post in this space announced the birth of the Big Ass Burrito's little brother, the Big Ass Taco, which tips the scales at a comparatively slender 14 pounds.
The Big Ass Burrito is available for a limited time — through the end of April — and will set you back a modest $80 considering its acreage. All we can say is you better be hungry when you place your order. No fooling.
Cantina Rooftop, 605 W. 48th Street (bet. Eleventh and Twelfth Aves.), 212-957-1700.