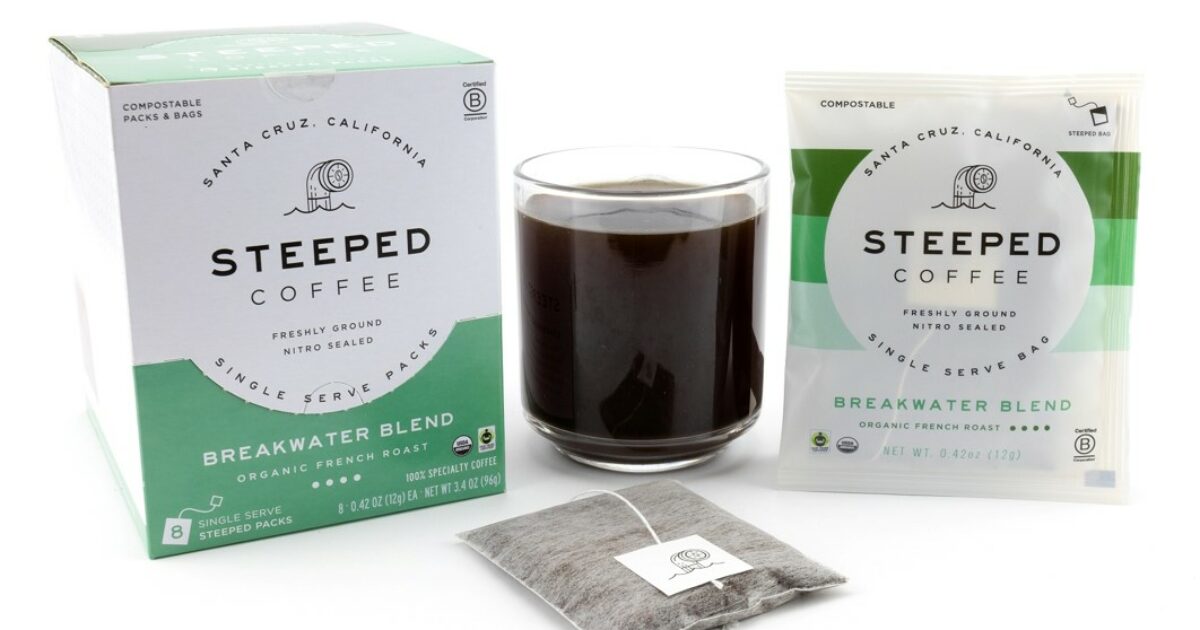 If anything good has come out of the pandemic, it is that more and more coffee drinkers have awakened to a world beyond Starbucks. Forced telecommuting has opened their eyes to alternatives, such as the Keurig. But as the number of people working from home has risen, so have alternatives to pod-based single servings, which require special equipment.
The latest innovation is the brainchild of a company whose name — Steeped Coffee — says it all. If you've ever made a cup of tea using a teabag, you have the skills needed to make a cup of Steeped coffee. The product comes in single-serving sachets that are nitro-sealed to lock out oxygen and lock in freshness.
The Particulars
Brewing a cup of perfect Steeped Coffee requires following a few steps, which we found become second nature after you've done it a few times:
You place the bag in a cup and add 8 ounces of water that has not quite reached the boiling point.
Dunk the bag for 15 to 30 seconds. The longer you dunk, the stronger the brew. If you swirl the bag as you dunk it will release crema, the caramel-colored foam that forms  atop an espresso.
Allow the coffee to stand another 5 minutes or more before drinking.
Steeped Coffee is available in five roasts: Sunrise Light, California Medium, Odyssey Dark, Driftwood French Roast, and an Eventide Decaf. We found it to be on a par with most barista-made coffees. The product filled our kitchen with a wondrous vaguely smoky coffee-house aroma that intensified with each cup brewed. The coffee itself was rich, smooth, and peaty.
The beans used in Steeped Coffee are ethically sourced and the packaging is fully compostable. The company donates 20% of sales to non-profit organizations, including Feeding America.
Steeped Coffee can be purchased directly from the manufacturer at $17.95 for a 10-pack and $49.95 for a 30-pack. Amazon sells 8-packs of the product for $14.20, which comes out to a few pennies less per cup than the manufacturer's 10-pack. If you really get hooked on the coffee, Amazon also sells a 500-count bulk pack for $649 ($1.30 a cup).