If the name conjures up images of a hapless customer wearing a steaming plate of spaghetti on his head, you're not far from the quirky vision that informs Spaghetti Incident, whose logo is a stylized drawing of a human head with a colander inverted on it.
Dim lighting, solid pasta choices (strands only — no shapes), and an eclectic crowd make this two-year-old Lower East Side fixture a great go-to option for a casual date night that won't break the bank but is still undeniably romantic.
Spaghetti Incident is perhaps best known for its takeaway "spaghetti cones,"
perfect for those who want to slurp down their noodles on the go. The website even includes a crash course on how to eat pasta out of a cone (which "facilitates the 'twirl method' by giving natural purchase to the tines of the fork as they twist").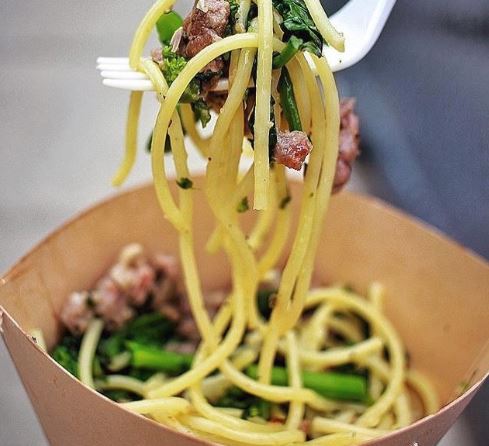 But this intimate 35-seat restaurant also holds its own as a sit-down venue, with a fresh and varied pasta selection and rotating daily specials.
Their classic chitarra features generous mozzarella squares, basil, and a satisfying marina sauce. Pesto here is made with kale, prompting your server to warn, "It's earthy." She's right, but the thick creamy sauce and generous hand with the Parmigiano make for a rich and satisfying dish.
Aside from the fresh pasta, visitors should not miss the arancini (rice balls), which come two to an order, though you can mix and match. We sampled the artichoke and parmesan balls, a creamy amalgam of the vegetable and rice, perfectly crisped on the outside. It's a subtle flavor that pairs nicely with their lightly sweetened marina sauce on the side.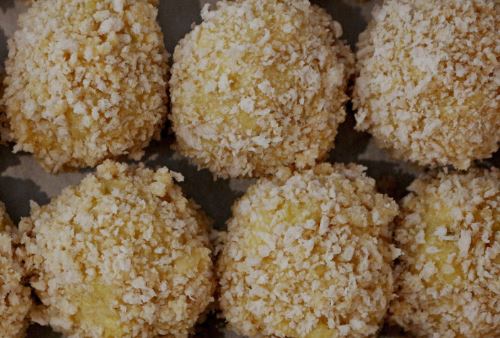 I also recommend the pesto and gorgonzola, which are delicious. You'll want to order a second round, but save room for the tiramisu, a light version of the layered dessert that finds an impressive balance between the espresso and chocolate.
The wine is reasonably priced, so go for the quarter liter at minimum.
Don't forget to bring along your greenbacks, as Spaghetti Incident is cash-only. But you won't regret making that last-minute ATM run once you're satiated with the restaurant's tasty offerings — you might even need a takeaway cone as you depart.
Price range: $3 to $8.50 for appetizers , $11 to $16 for spaghetti dishes, $10 to 11 for salads, $6 to $7 for desserts.
The Spaghetti Incident, 231 Eldridge St, 646-896-1446. Open daily from noon till 11:30 p.m. Cash only.