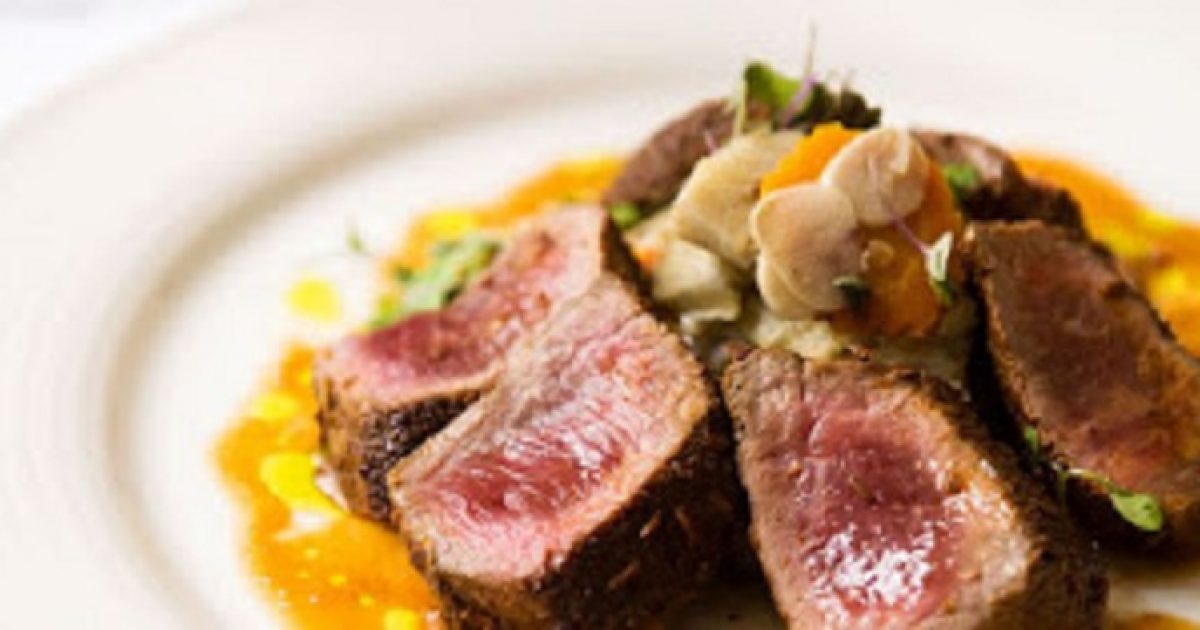 In professional sports, when a great athlete retires from the game, his number is frequently retired as well. When I read recently that Georges Briguet, founder of Le Perigord, that temple of haute gastronomy that turned 50 this year, described the five-course menu of dishes on its commemorative prix fixe menu as "retired," it registered a discordant note.
That term, "retired," has such an air of permanence, of finality, to it that I was unable to reconcile it with the dishes that put Le Perigord on the map of must-visit high-end restaurants in New York in the first place. We're talking classics: billi bi, duck à l'orange, soufflé. These are dishes that remain forever young, forever fresh in the memories of diners who feasted on them when M. Briguet, now 76, was a young man. I had to see for myself.
So I made a reservation and was delighted upon arriving at the dining room to find the same jewel of a space I remembered from my last visit five years ago: Pale yellow walls, chairs, and patterned banquettes, all repeated in mirrored columns. You are seated at one of roughly a dozen capacious tables decked out in snowy linen, overseen by a wait staff, in formal attire, that is as attentive as ever, almost fawning on visitors as though each is great royalty.
To celebrate its longevity, Le Perigord has implemented a prix fixe menu comprised of its greatest hits. Among the starters is quenelles de brochet, airy pike dumplings served in grand style above a pool of rich sauce Nantua, redolent of lobster shell and cream. Sweetbreads, described as "in a thin crêpe" with a "sherry vinegar reduction," were paired instead with harissa the night of my visit: The tender, crisped discs of the buttery organ meat took kindly to the heat of the North African hot sauce.
Of course there is lobster Thermidor, the stuffed crustacean halved and gratinéed before it is placed down in front of you in the company of creamy risotto. A few bites in, you find yourself wondering why this brand of delectable cooking ever gave way to the culinary tends that supplanted it.
The restaurant takes its name from the region of France famous for its black truffles. Many slivers of the fragrant fungus dapple the sauce sauce Périgueux that accompanies your individual beef Wellington, a thick slice of tenderloin, cooked as ordered, layered with goose liver and a mushroom duxelles, the entirety wrapped in pastry. The ultra-rich production is served sensibly with haricots verts and baby carrots.
Complete your trip down memory lane with a flourish by ending with the amazing Grand Marnier soufflé, the eggy confection as rich and airy as you would expect from a kitchen of this caliber. The surface of the soufflé is dappled with coarse sugar, which creates a delightfully crunchy counterpoint.
If you opt for a selection from the "chariot de dessert," know that the chocolate mousse cake is deep and decadent beneath its polished dark chocolate icing, and the blackberry tart is woodsy and complex above its crisp buttery crust.
The prix fixe will set you back $90, which is far less expensive than the time machine you will need to have built for you to enjoy the same meal at 1970s prices.  
Le Périgord, 405 East 52nd Street, New York, N.Y., 212-755-6244