I'm old enough to remember when the term Asian fusion first entered New Yorkers' culinary lexicon a couple decades ago, and looking back, the attempt at a unified cross-cultural cuisine manifest in restaurants like the now-defunct Maison Japonaise did seem innovative, if at times forced. Béarnaise with cilantro in place of the tarragon? Pass.
We've all grown up a bit since then, and so has the Asian fusion theme, which in skillful hands integrates the flavors of East and West into an organic whole. At Hortus NYC, which celebrates its first birthday next month, Executive Chef Youjin Jung (Del Posto, Osteria Mozza, DB Bistro & Oyster Bar, Boulud Sud) exhibits that skill level, which is evident in such improbably successful blends as Wagyu beef tartare studded with baby octopus, Asian pear, and rice chips.
Home to Hortus is a bi-level space. On the ground floor is an open kitchen fronted on two sides by a bar. It is here that businessmen in the know lunch on out-of-the-ordinary bento box-like affairs styled "lunch sets" (sea urchin, avocado, cucumber, cured yolk, ikura, puffed quinoa; sliced pork belly, shitake, bok choy, sunny side-up egg).
One flight up is the dining room, a clubby space with hunter green walls and a stamped-tin ceiling. An adjoining outdoor garden at the rear of the room is an option when the weather is fair. Hortus is Latin for "garden."
But we're here not to etymologize but to dine — on the likes of this salmon crudo, adorned with cucumber, avocado, and ikura (salmon roe, to you). The dish is listed under "Fresh Raw Selection," which also includes a couple of cooked items served at room temperature, among them a timbale of king crabmeat that has been livened with wasabi, enriched with crème fraîche, studded with apple and radish.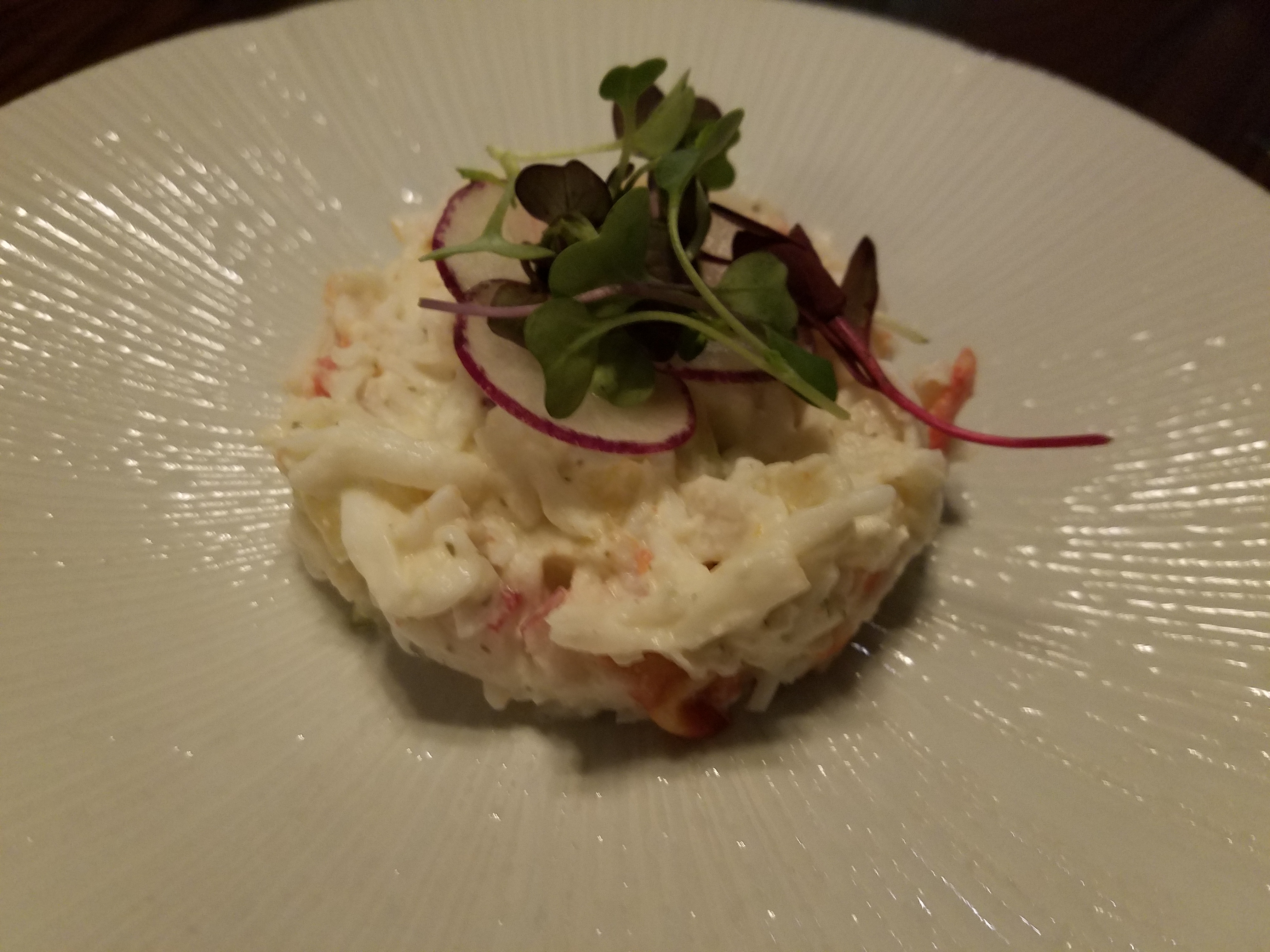 Mandoo, Korean for "dumplings," are rendered here as ravioli, each of the toothsome bundles concealing a dollop of a delicate scallop mousse. The pasta packages are napped with a thick creamy sauce and arrive under a blizzard of fragrant black truffle shavings: an elegant starter.
Daikon, usually served raw, assumes an entirely different character when it is exposed to high heat. This you discover when you tuck into the grilled block of the Japanese radish that serves as a pedestal for foie gras, the rich meat adorned with figs and moistened by a gastrique comprised of chicken jus and magnolia berry tea (omija).
A chimichurri made with shiso (aka beefsteak plant) provides a fitting — not to mention zesty — garnish to your grilled Wagyu New York strip steak. The meat is buttery and tender, and the little pitcher of beurre blanc that accompanies it picks up a citrus note from yuzu kosho. At $65, it is the priciest item on the menu but well worth the splurge.
A patch of assorted grilled wild mushrooms straddles the steak, but you can go "total steakhouse" by ordering a side of the excellent fried (pewi) potatoes, baby spuds that are smashed and deep-fried, sprinkled with crisp-fried rosemary.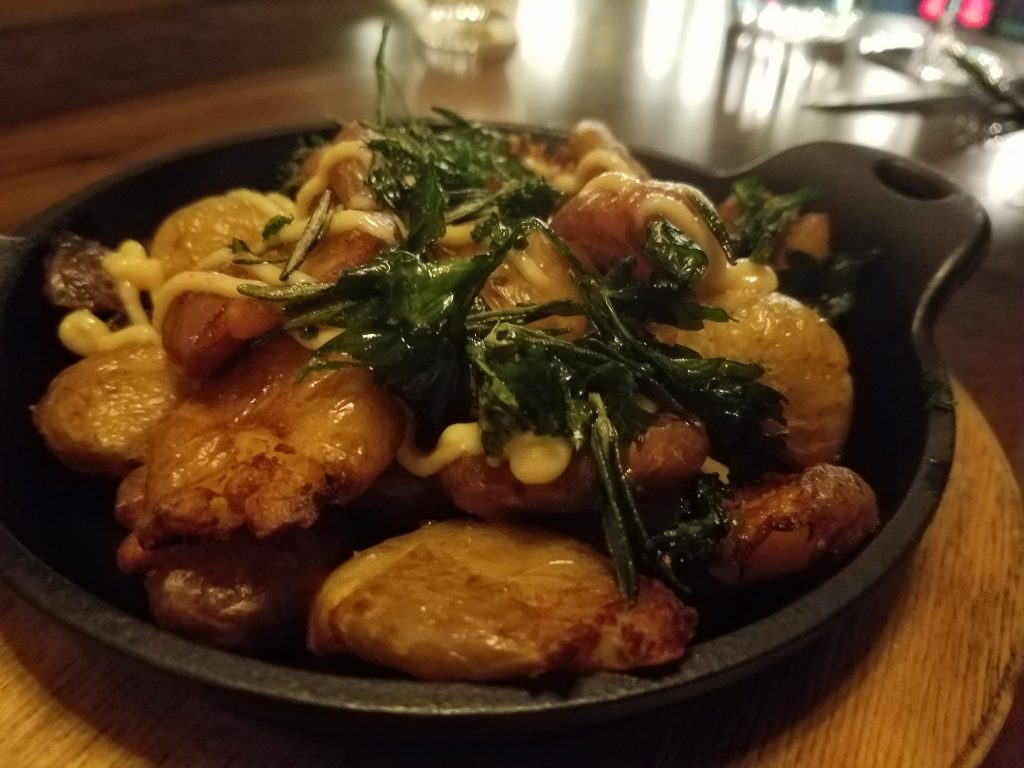 The house does a superb crème brûlée in which the liquid base of the custard is Thai tea. Sugared berries and a wedge of ripe fig complete the dessert. Mango rice pudding, infused with black lime, is made using sticky rice, which may account for the paucity of moisture in the dish. It's tasty, but if you look for creaminess in your rice pudding, look elsewhere.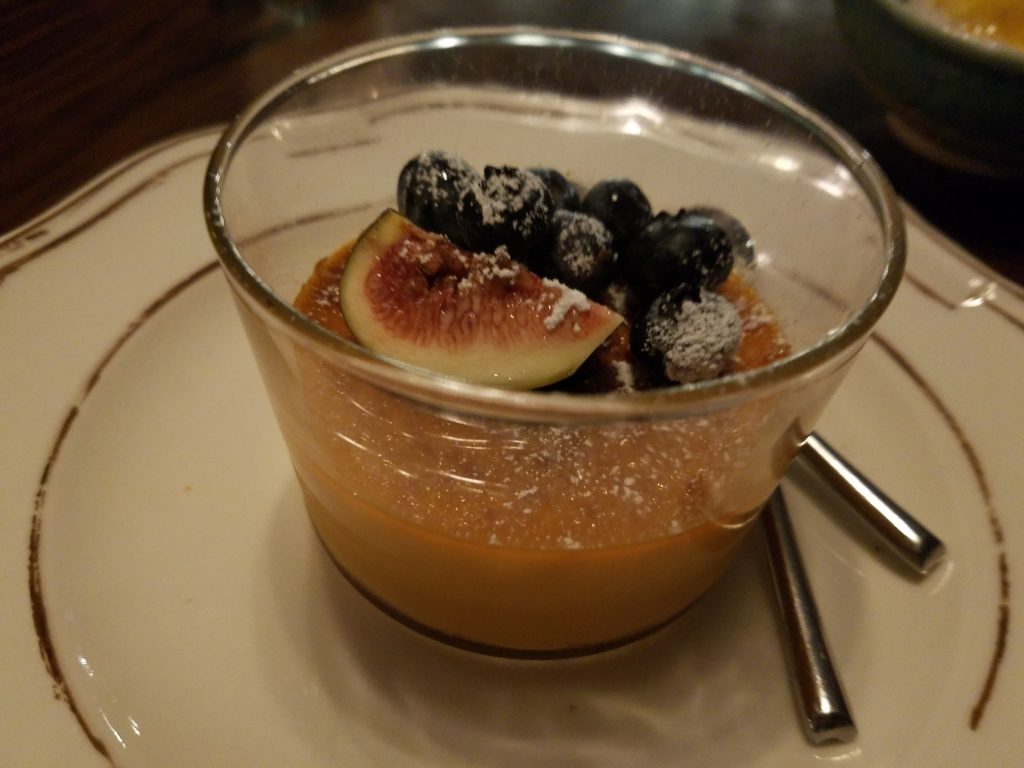 Price range at dinner: Raw bar, $10 to $16; starters, $15 to $27; large plates $28 to $65; desserts, $7.
Hortus NYC, 271 Fifth Avenue (bet. 29th and 30th Sts.), 646-858-3784, is open for Monday through Saturday for lunch, and seven days for dinner.