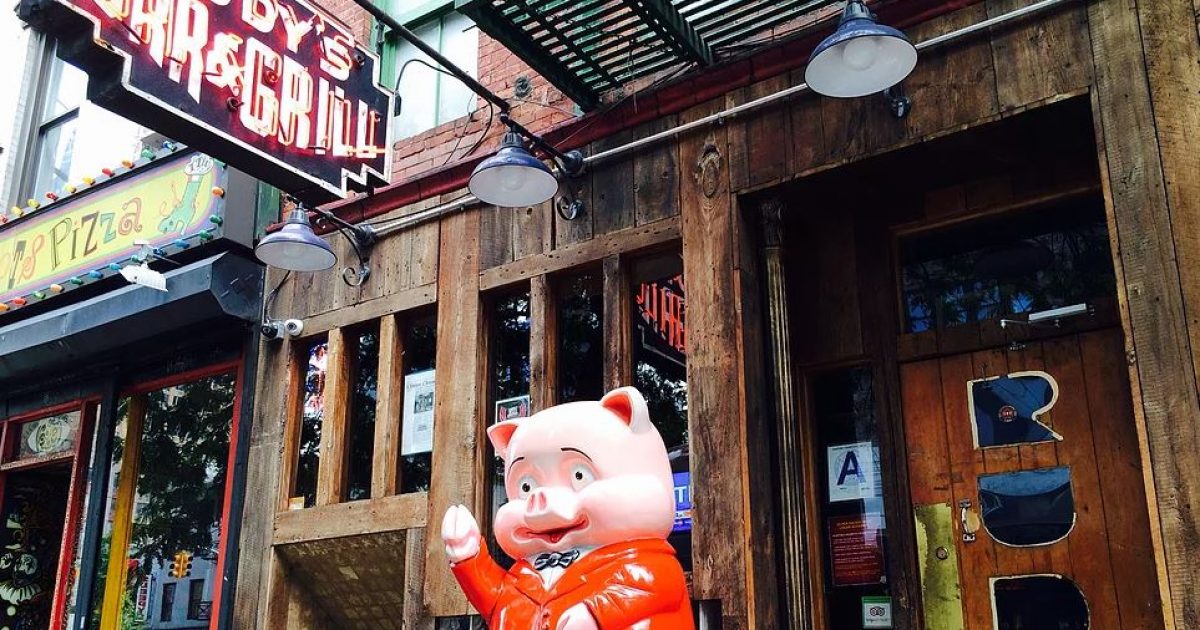 "There ain't no such thing as a free lunch," some unknown scholar declared back in the 1930s or 1940s. That may well be so, but there is such a thing as a free dinner. And it is yours for the asking at a select handful of bars around New York, which transcend the usual offerings of popcorn or peanuts to renew your thirst and capacity to hoist another.
Starting with the most humble, Rudy's (627 Ninth Avenue, 646-707-0890) has been a Hell's Kitchen fixture since 1933. This is no more and no less than your typical dive bar, but with one important exception. Every time you order a drink, you are presented with a grilled hot dog. And not just some off brand loaded with filler. These are Hebrew National franks. And if the free food isn't enough of an inducement to get you to visit, you can order a Bud for $3. That barely covers the cost of your red hot.
The first question most people ask when you give them the address of Ryan Maguire's (28 Cliff Street, 212-566-6906) is "Where's Cliff Street?" The answer is down in the Financial District. The more relevant question in the context of this article is "What's free?" The answer is "It depends." Maquire's features a happy hour buffet, weekdays from 5 to 7 p.m. The particulars vary, meaning one night you'll find past, another night stew, yet another time sausages. On Wednesday nights the bar hosts trivia contests.
Crocodile Lounge (325 E 14th Street, 212-477-7747) operates on a system similar to Rudy's, which is to say, you order a drink and you get fed gratis. Only here the freebie served with every drink you buy is a hot, freshly made personal pizza. There's a game room that features Skee Ball and the arcade hunting game Big Buck Hunter. If you live in Brooklyn, no sweat. Crocodile has a sister bar, the Alligator Lounge, in Williamsburg (600 Metropolitan Avenue, 718-599-4440.
Cheese and bread might seem like a curious choice for a bar giveaway, especially considering that the cheese comes from Murray's, a serious purveyor of the stuff, and the bread takes the form of baguettes, from Tom Cat Bakery. In light of which, you may want to switch to wine when you stop by Blind Tiger in the West Village (281 Bleecker Street, 212-462-4682). Come hungry, but come early. The bar orders two pounds of cheese, and once they run out, the show's over.
Feast on flautas, chimichangas and chicken wings at El Cantinero (88 University Place, 1-212-255-9378. The bar is mucho popular with NYU students, who come for the free buffet served daily from 5 to 7 p.m. If you miss the handout, you can still eat your brains out for next to nothing by ordering the all-you-can-eat special priced at $12.95